Chance's Trip to Sierra Leone, Africa
In March, my husband, Chance led a missions team of four to Sierra Leone to serve. You may remember that Chance and I work full time as representatives of Lifegate in Africa.
After teaching my man how to use his iPhone camera (hello, focus?!), the team was off! Once they returned, Chance had taken hundreds of pictures, and some of them were actually pretty good!
While there, the team helped with craft projects at schools, played games and hung out with kiddos at Lifegate's orphanage, co-led revival services at churches, and learned tie dying from the ladies at the ministry's trade school.
They. Had. A. Blast.
Below you will find a photo dump from the trip - with the captions written by Chance!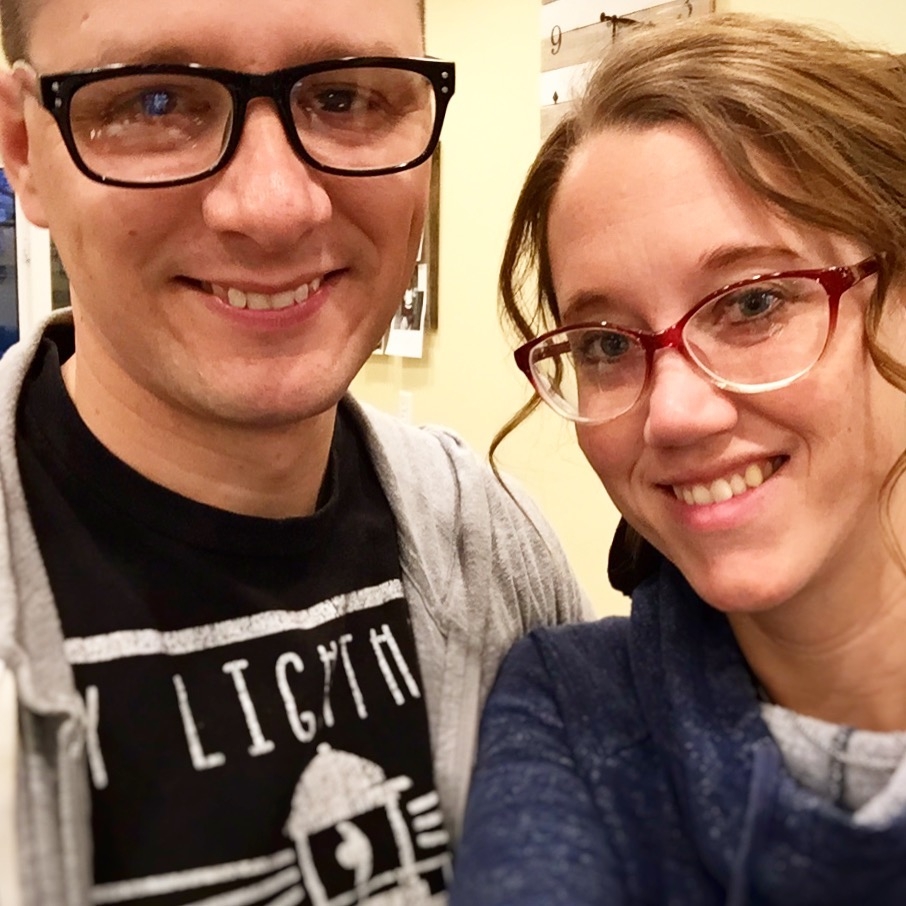 Here's Ginger and I right before I left the farm. Isn't she beautiful?!
Travel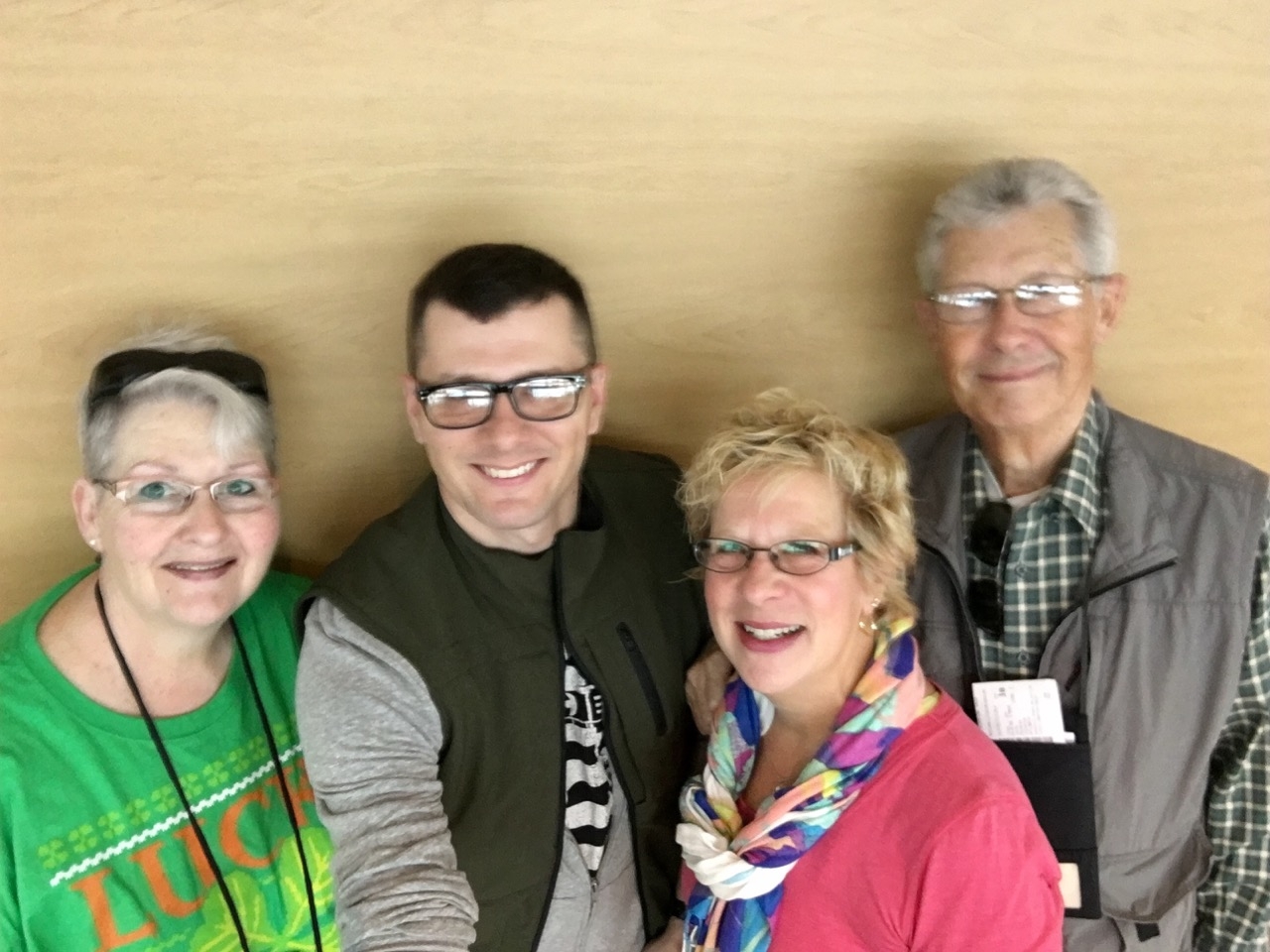 Mickey, Julia, Fred, and I were bound and determined to not let the rainy weather bring us down as we left Peoria, IL!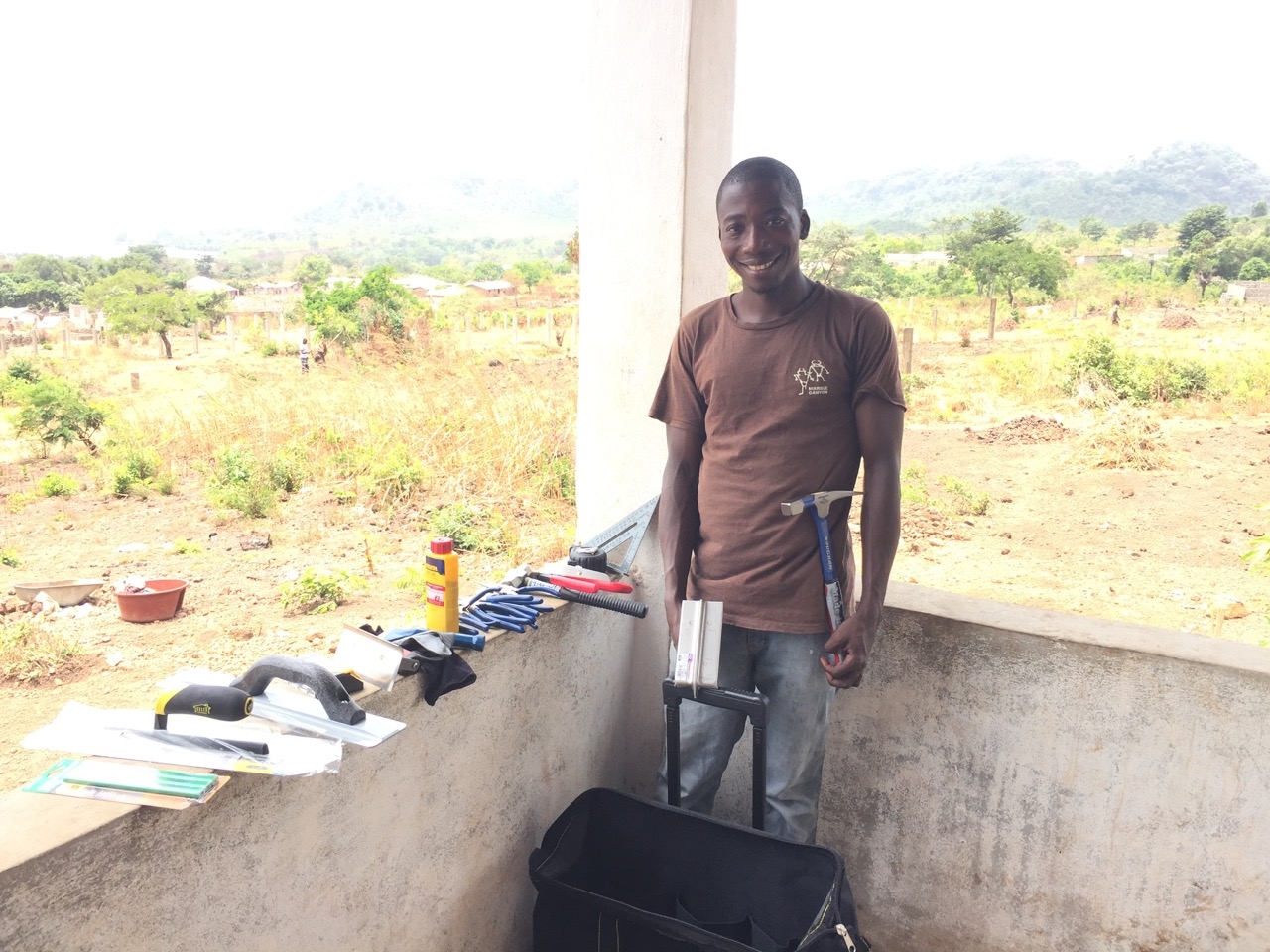 As we traveled, our suitcases were not only full of our personal items, but they also included tools for the ministry (chalk lines, masonry hammer, pliers, etc.). Musa, our head of construction, was very excited to have such nice equipment. Not only will he use it for Lifegate projects, but he'll also use it to teach trades to others!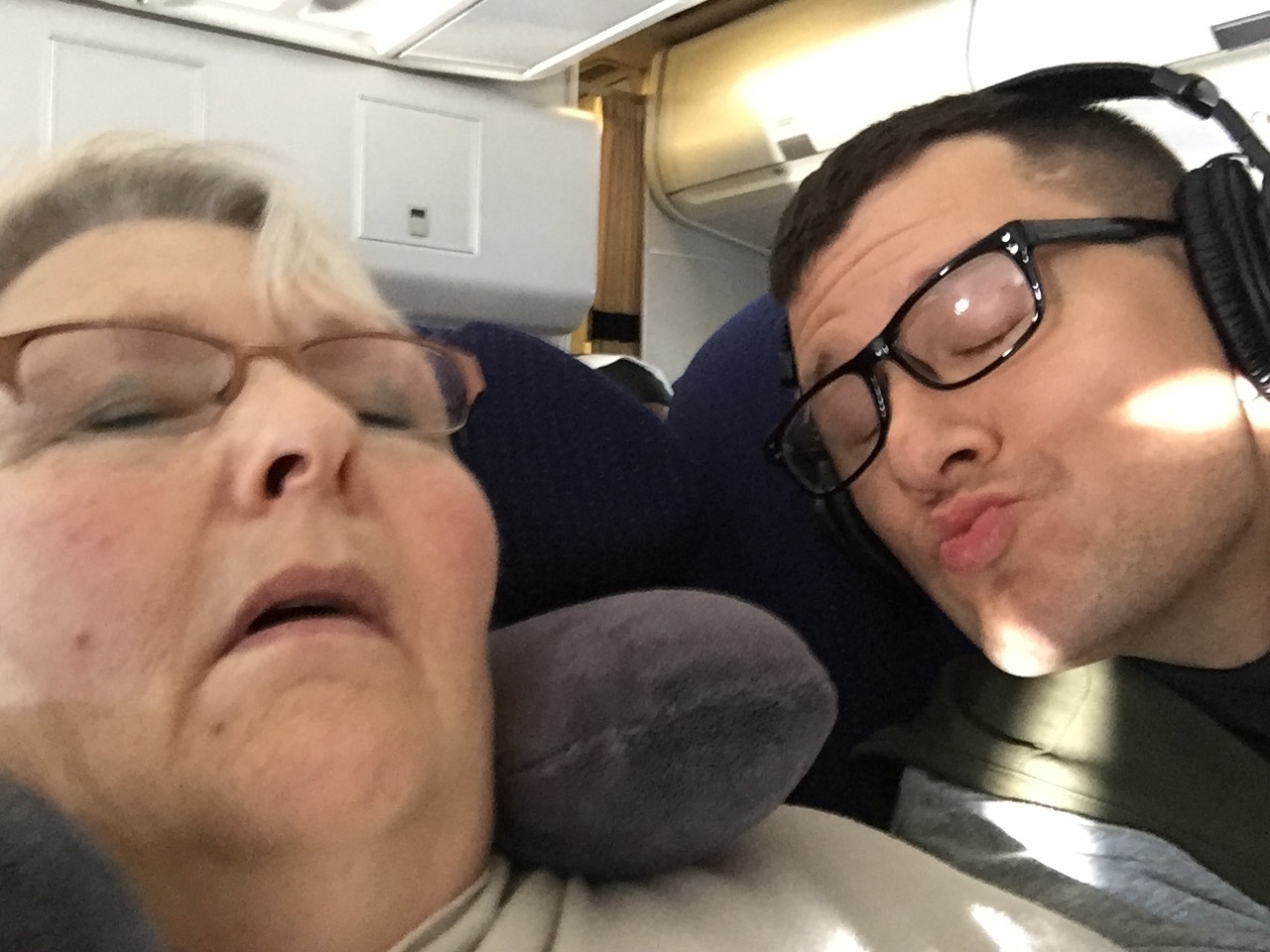 Mickey is like a grandma to me and my boys. I love her dearly, and it is because of my great love for her that I pretended to kiss her while she was sleeping on the plane and took a picture to capture the moment!
Schools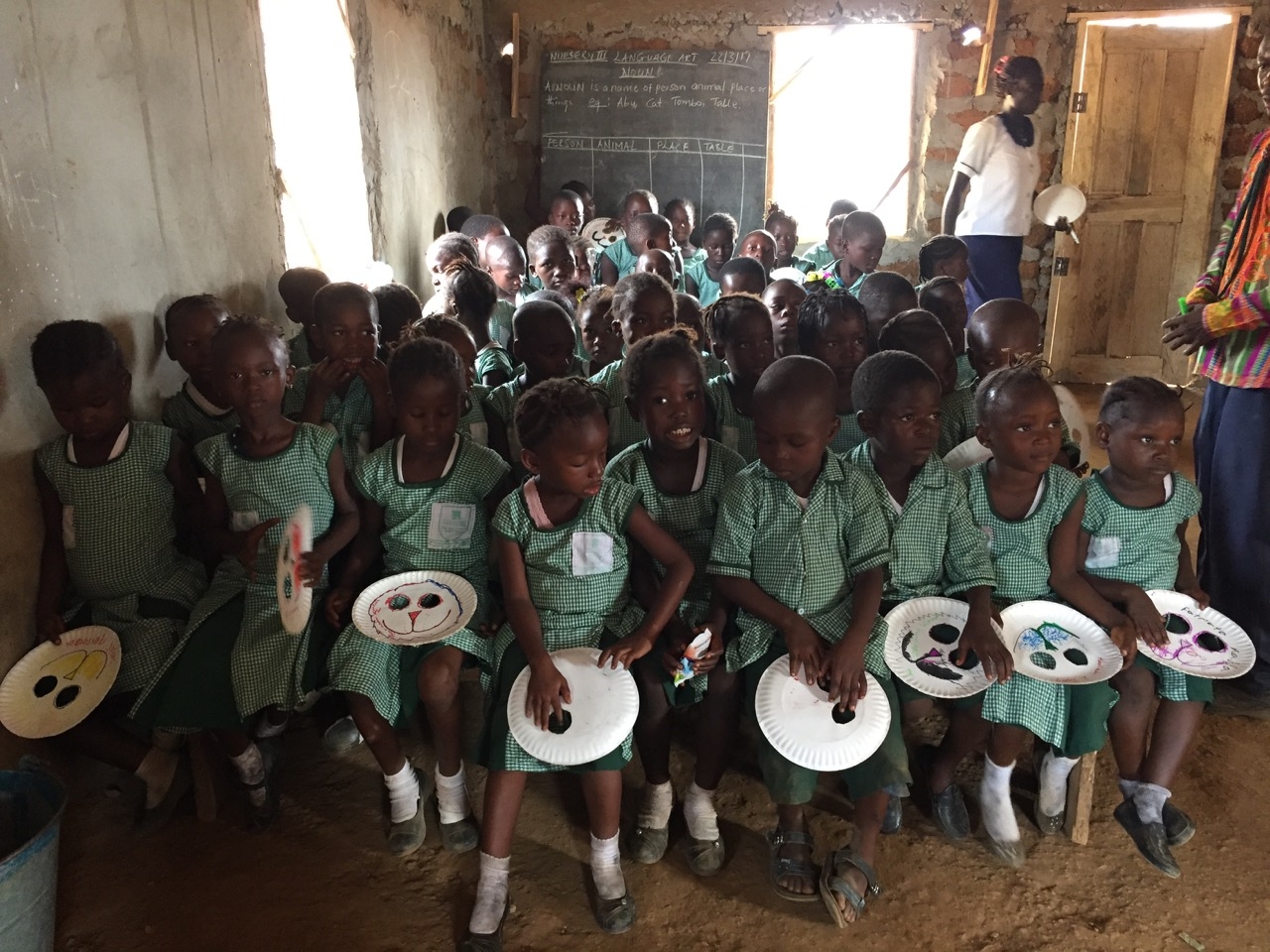 Sarah, one of Lifegate's in-country missionaries, told the story of Daniel and the Lion's Den at each of our schools. Then, the team helped students decorate paper plates to look like lion masks. It was fun!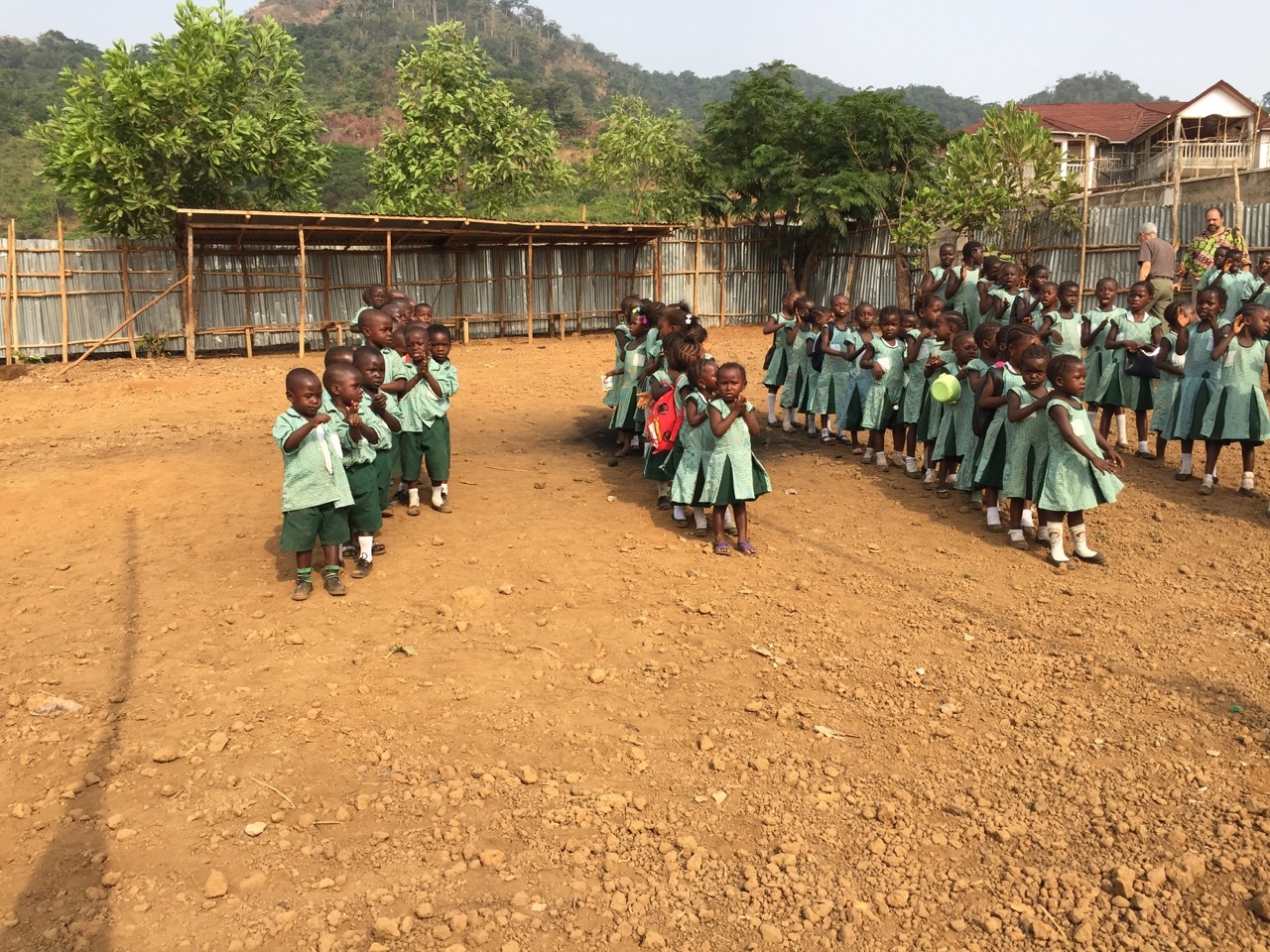 The students at Kassie School had prepared some songs for our arrival. They were adorable as they sang and swayed in their cute uniforms!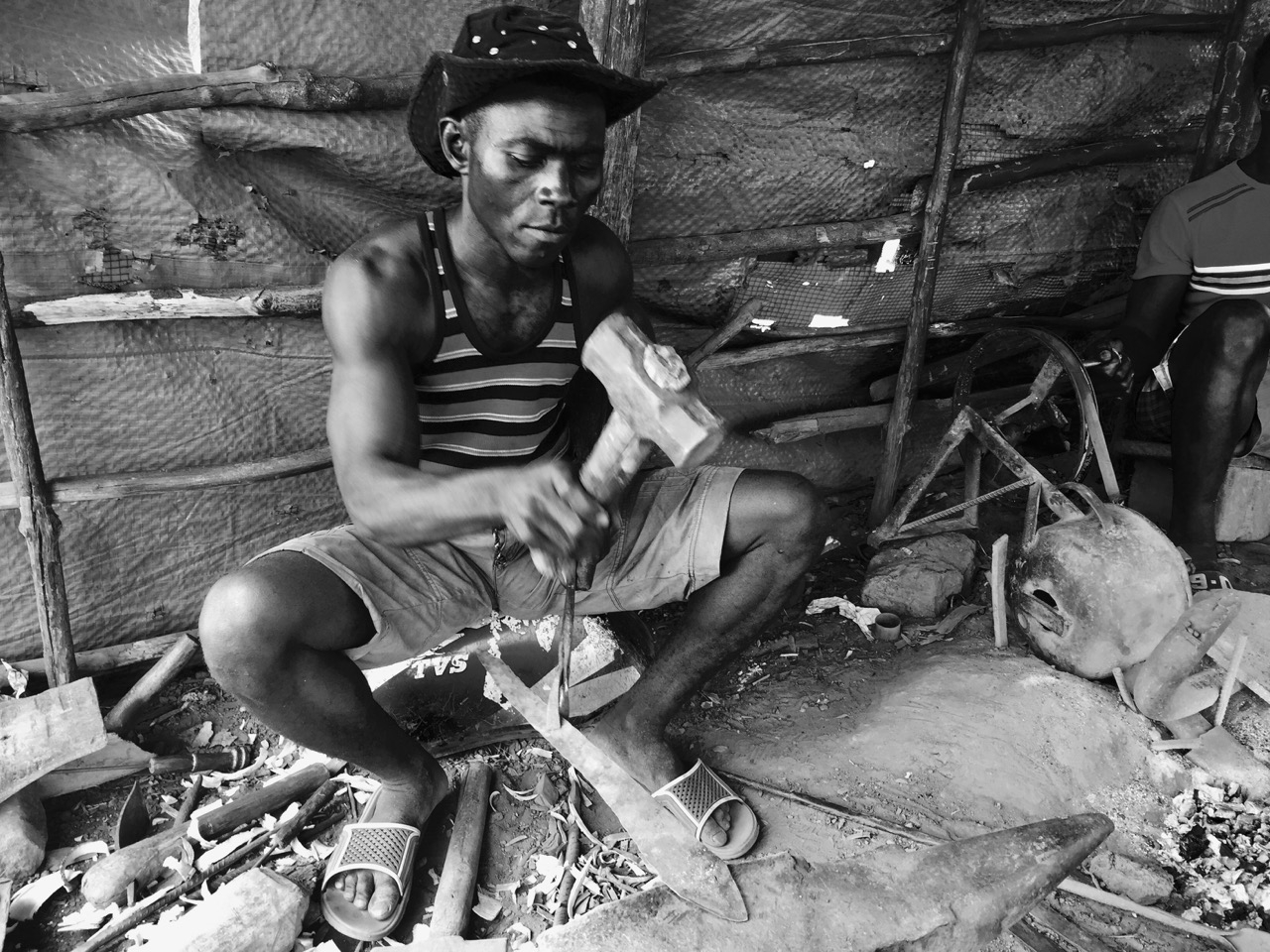 While visiting one of our schools, we witnessed this man working on the side of the road. He spends all day long creating a machete from old vehicle leaf springs; he heats the metal up in a small fire, and pounds and scrapes until it's razor sharp. He only sells them for about $2 each. I'm always blown away at the ingenuity displayed in Sierra Leone!
Children's Home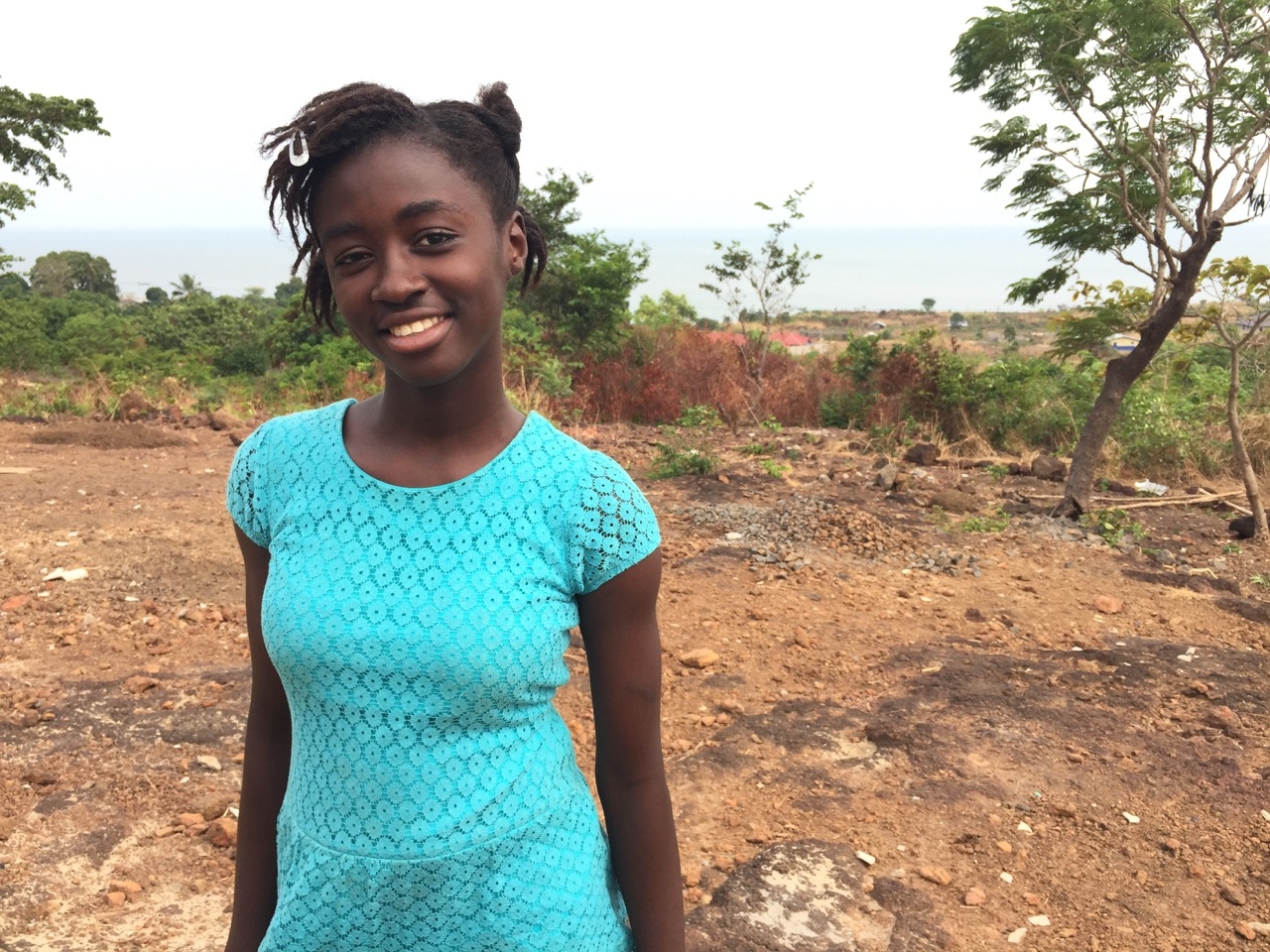 This is Mabinty, one of the older girls at the orphanage. She taught me how to play a jacks-like game using only rocks. She's sweet AND competitive!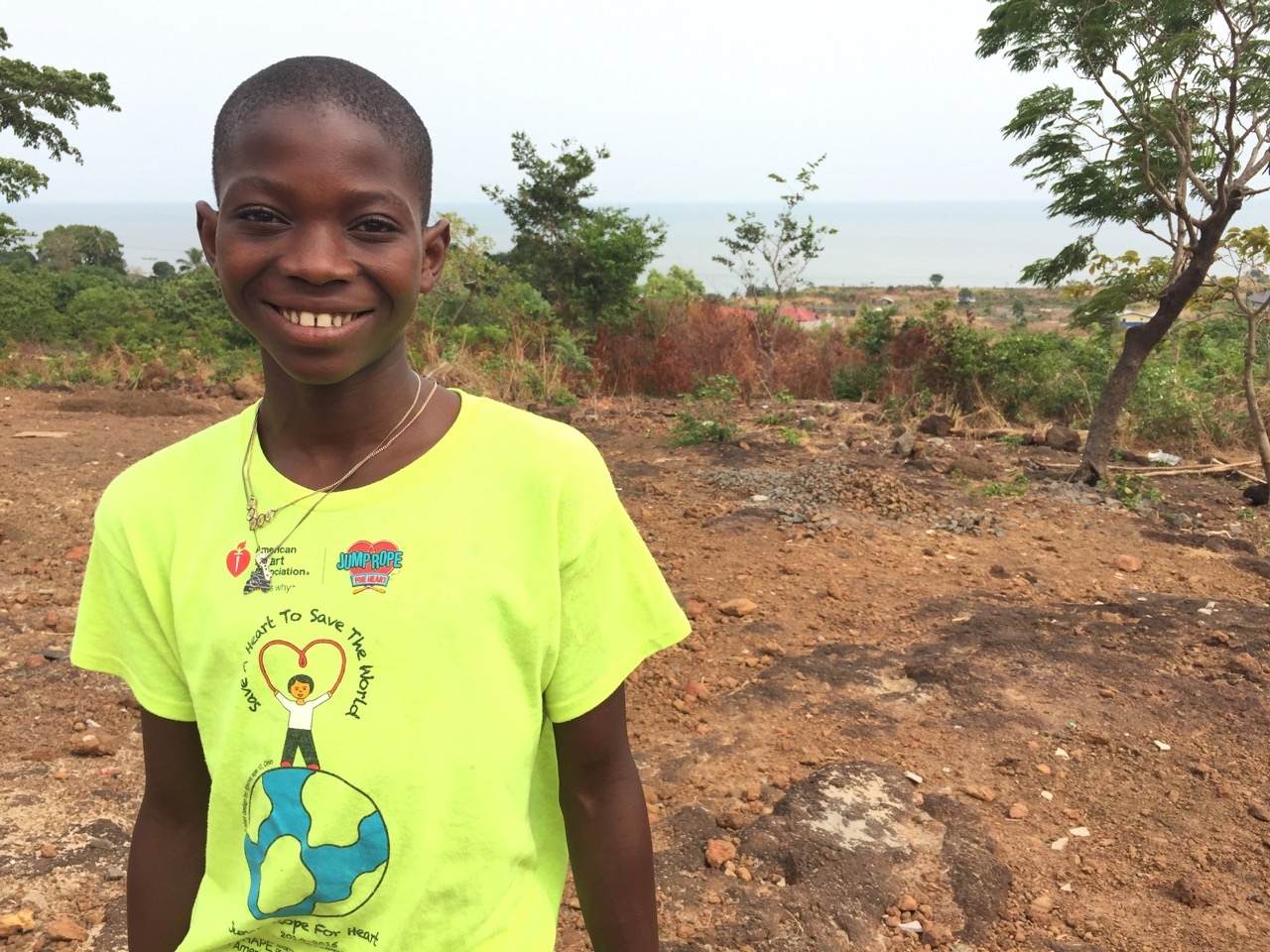 This is Lahai, one of the older boys at the orphanage. He's a ham, to say the least. He loves to be the center of attention.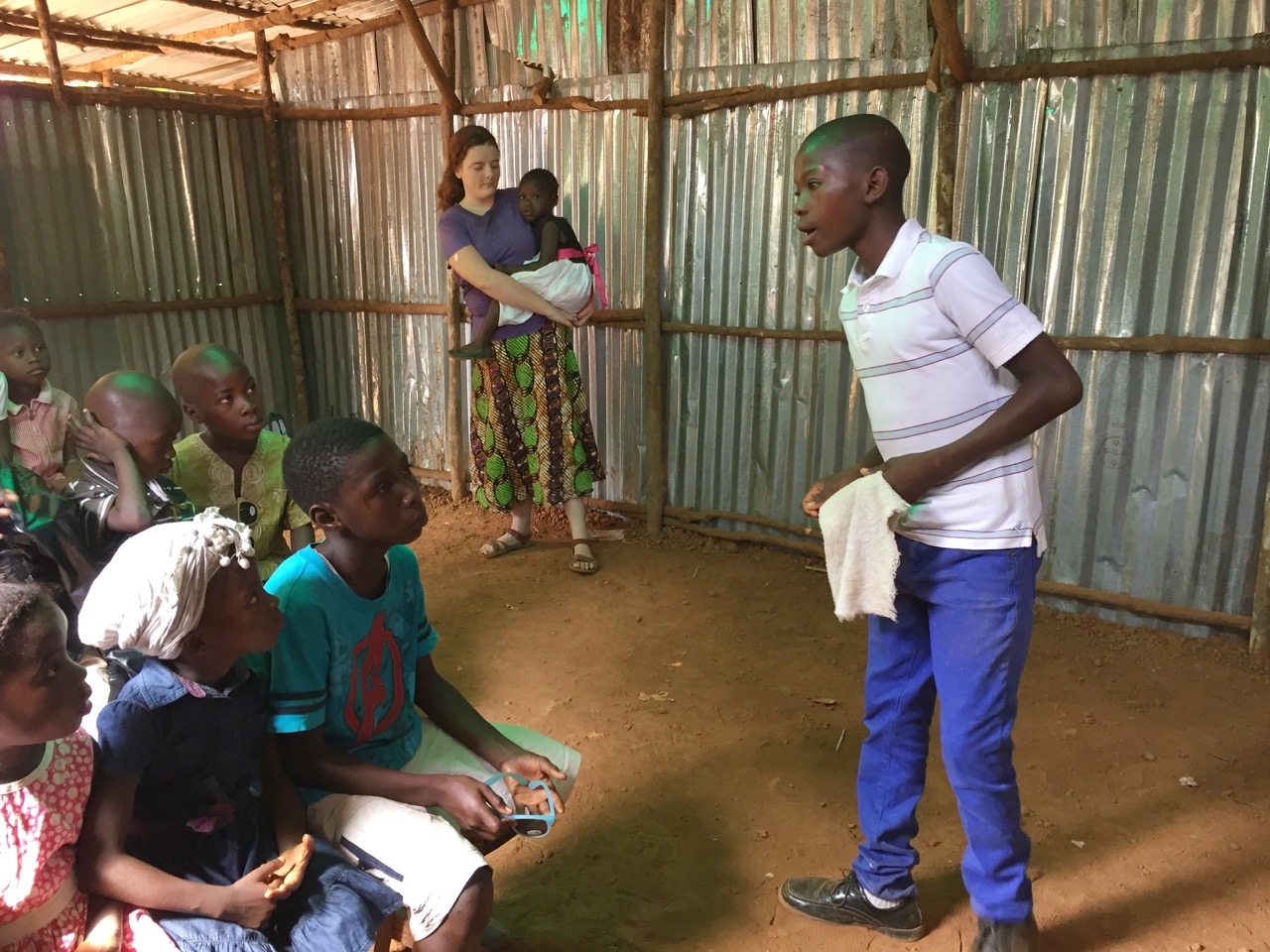 Lahai also loves to share God's Word with his peers. While there, we got to observe his passion!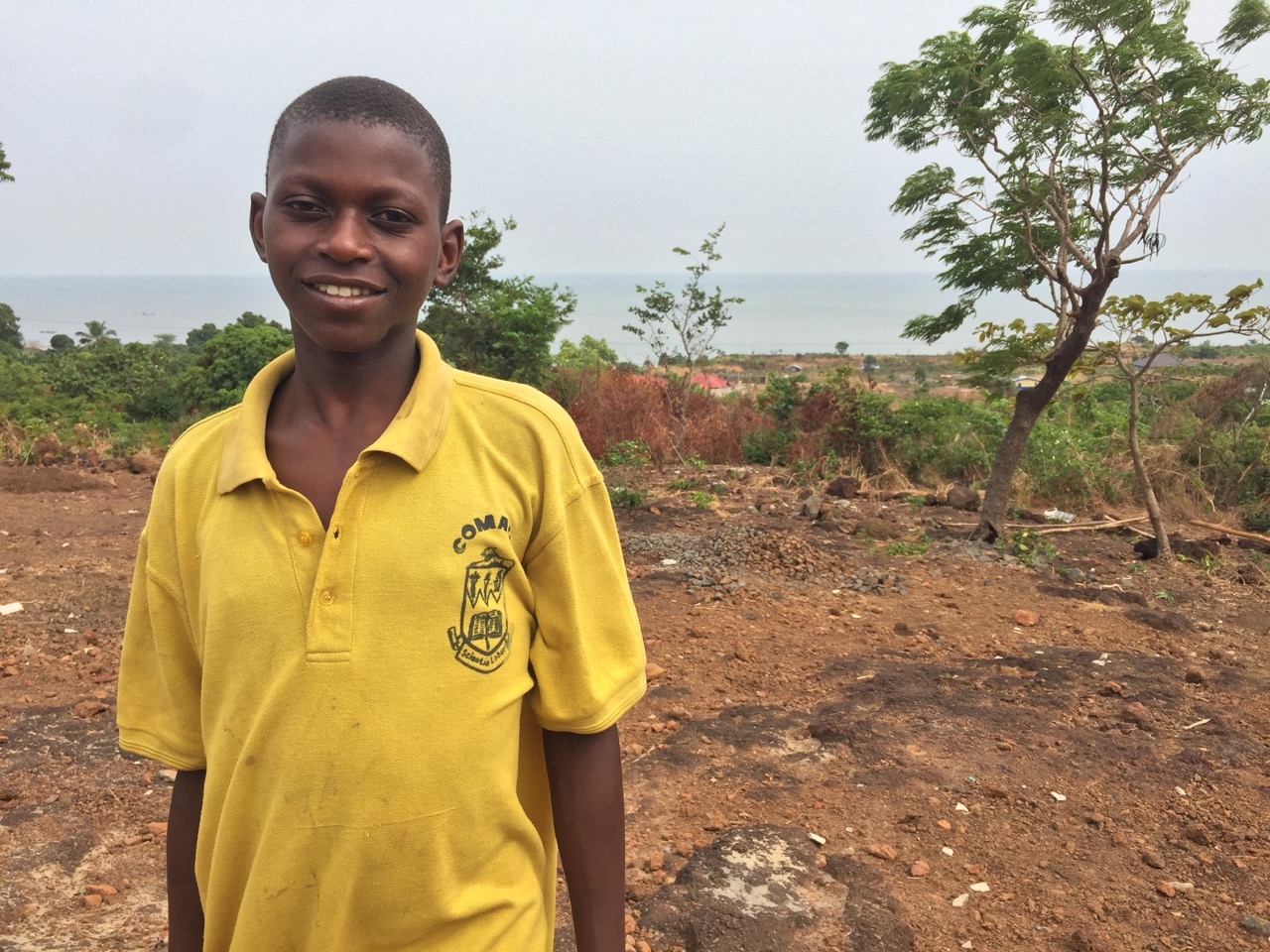 This is Alpha, another one of the older boys at the orphanage. He's a quiet kid who loves the Lord.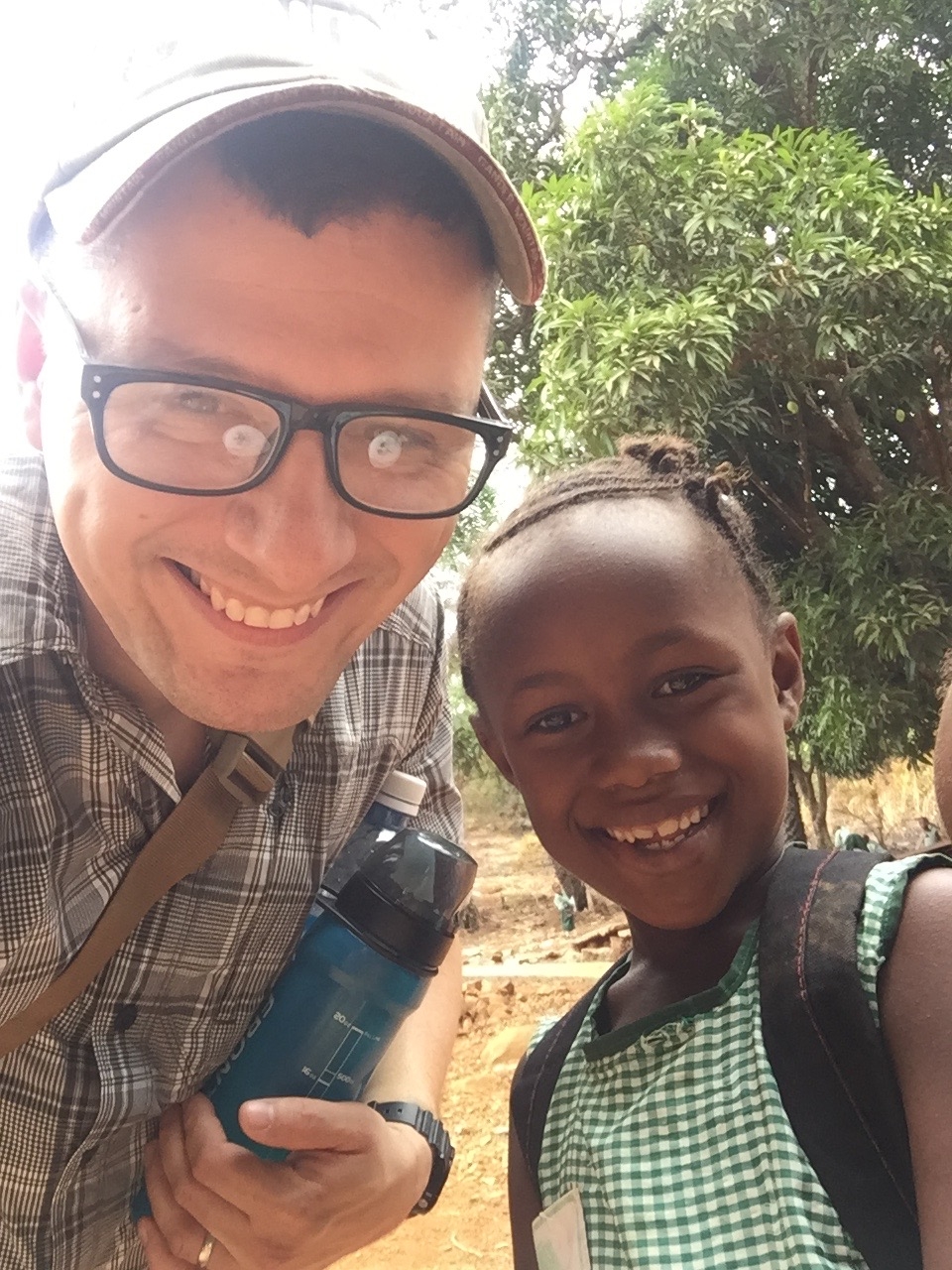 Fatmata, the youngest girl from the orphanage, is always up for a picture. She's such a cutie in her school uniform!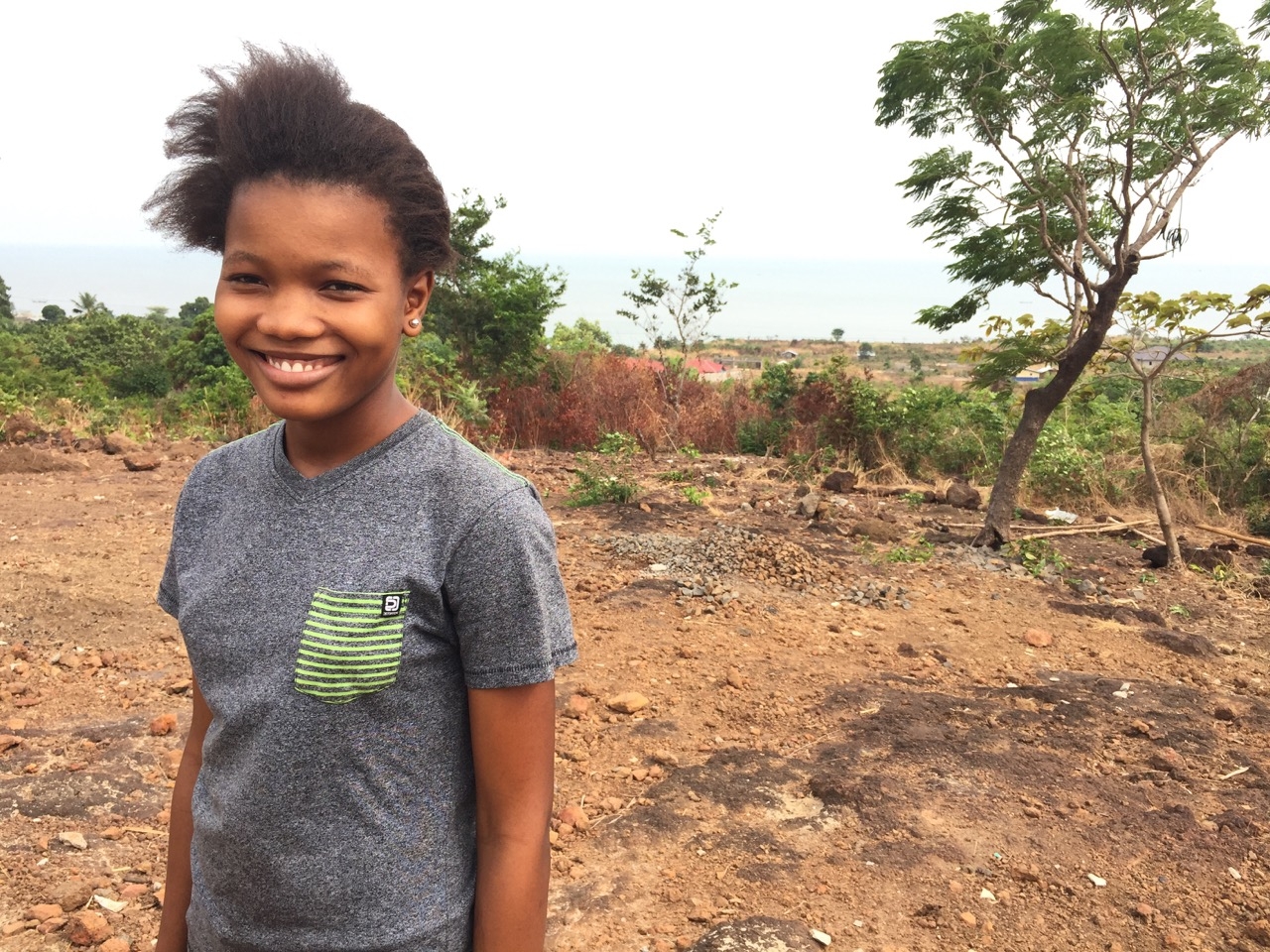 This is Matha, another one of the older girls at the orphanage. Ginger, the boys, and I have supported her financially for several years. It was so good to see her beautiful smile and talk about her future dreams of being a nurse. I was very proud the day I watched her help the Lifegate nurse do checkups on all the children; Matha was right there by her side.
Churches
When we visited each church, not only did we bring the Word of God, we also brought food! We considered it a privilege to hire local people to cook the food for the revival services.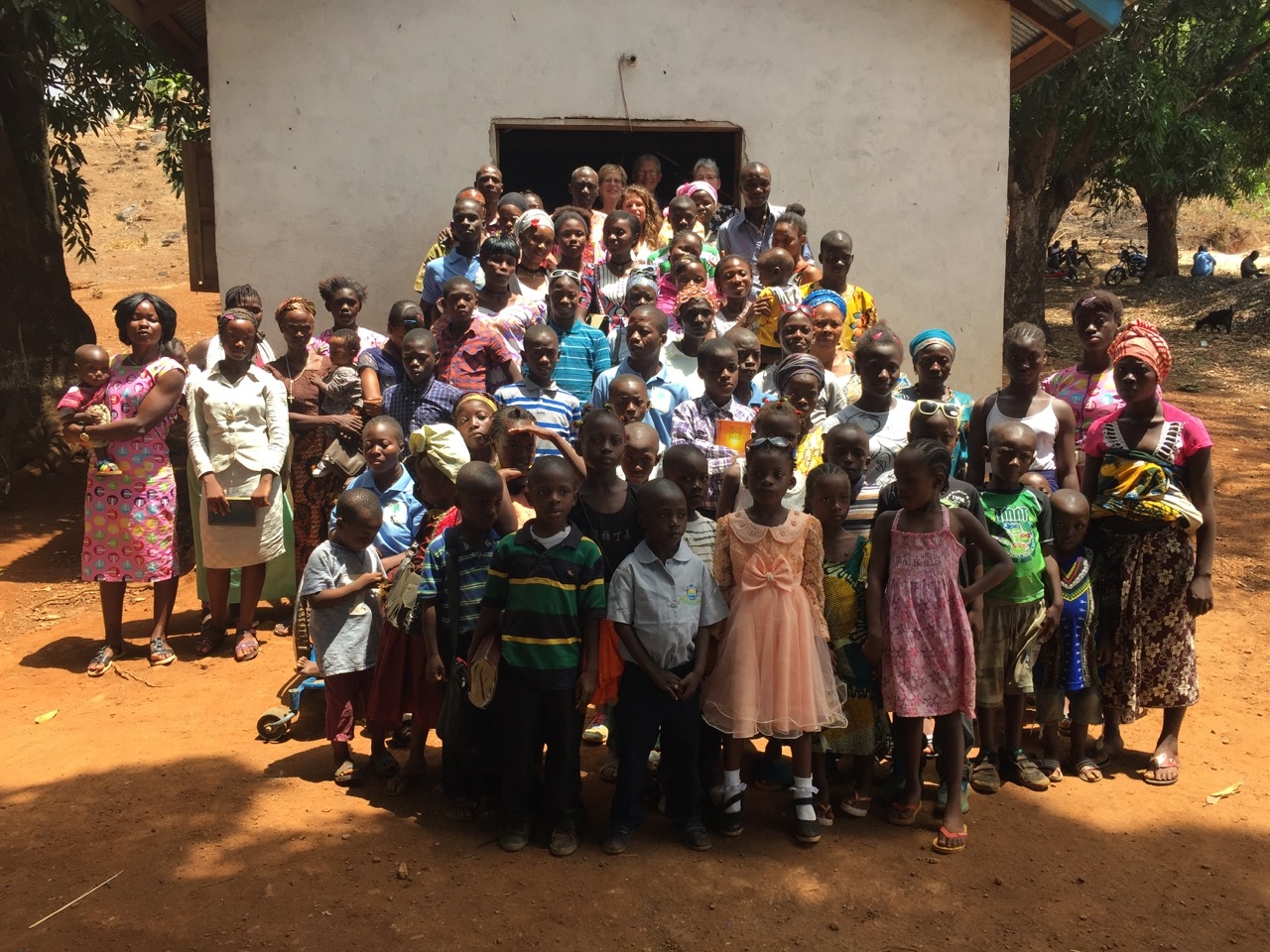 This picture was snapped right after church in Brigitte Village. Can you believe all those people fit in that little building?!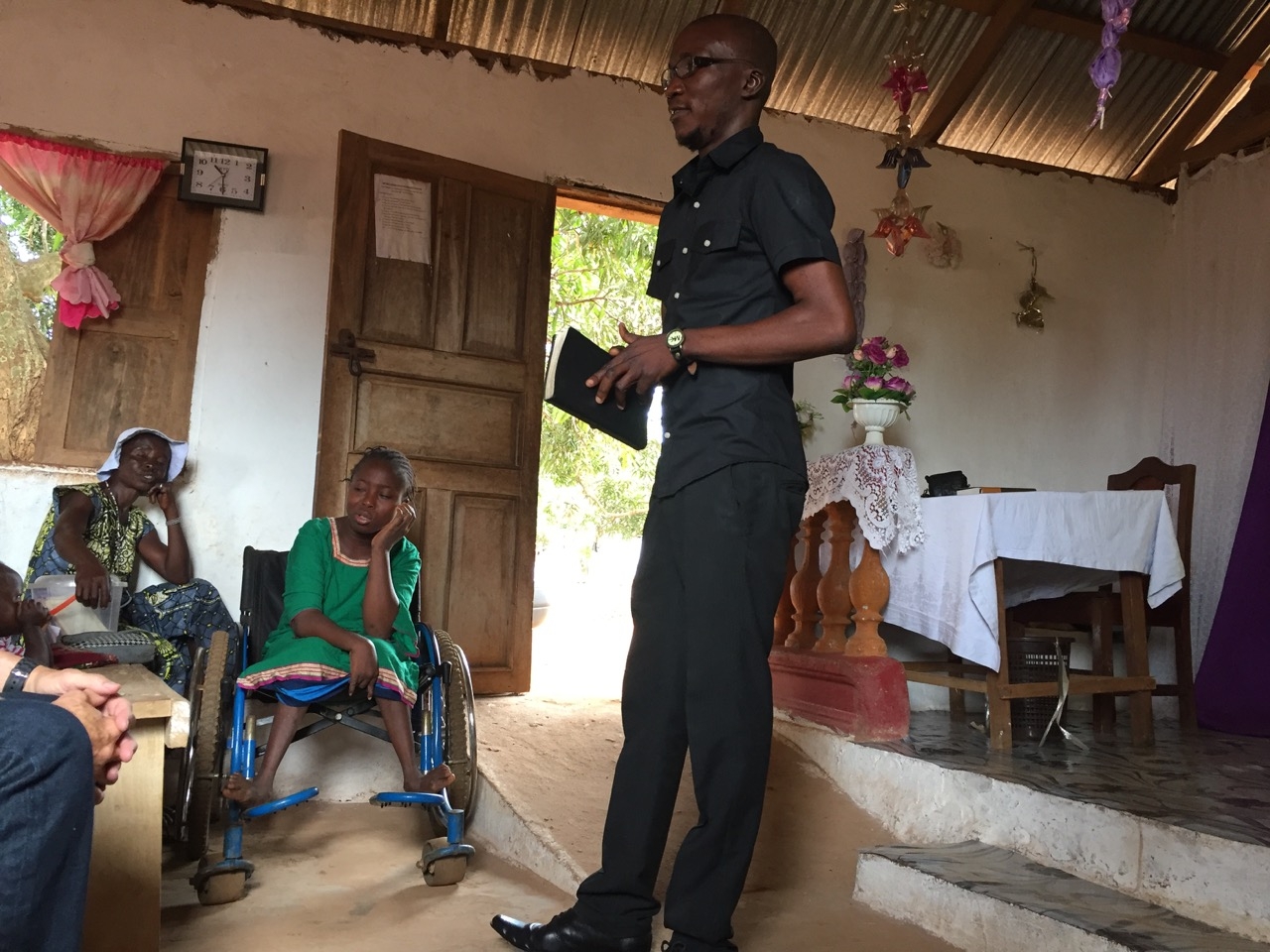 This is Tommy, one of the members at Lifegate Church in Brigitte Village. One year ago Tommy was living in sin (belonged to a gang, demonstrated violence, promiscuous life), but he's taken a turn for the better. He gave his life to Christ, and he's a new man. I even got to see him teach a Bible story to the people of the church in
Sunday
School!
Trade School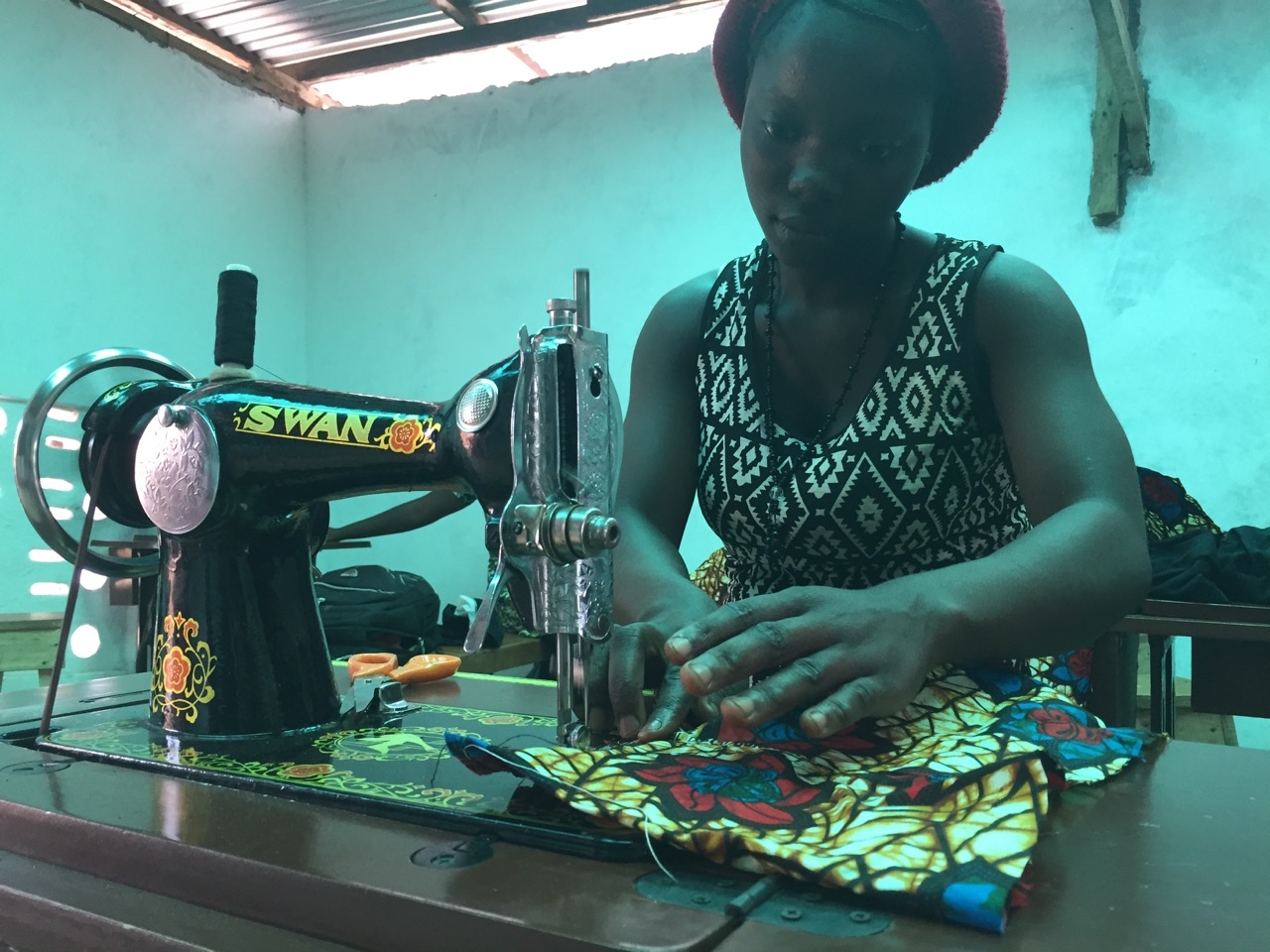 Fatmata is one of the ladies who has been learning God's Word and trades (sewing and tie-dying) since January. It was so cool to watch her work. We're so proud of the progress that she and the other students have demonstrated in the past few months!
One day on our trip, the students became the teachers. The gals learning to tie-dye were given the opportunity to teach our missions team the trade!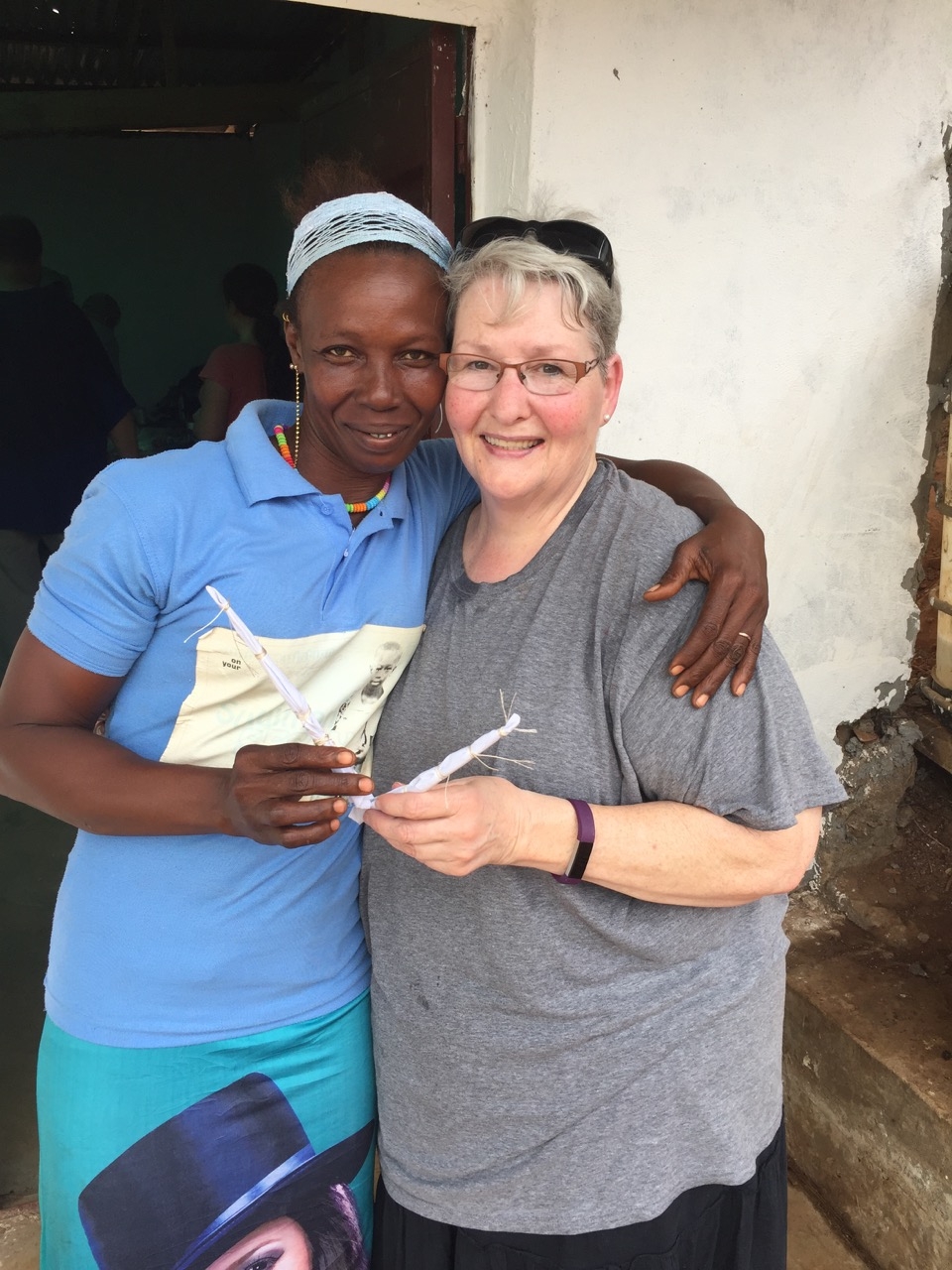 Once the fabric was folded properly, Mickey learned how to tie and knot the cloth.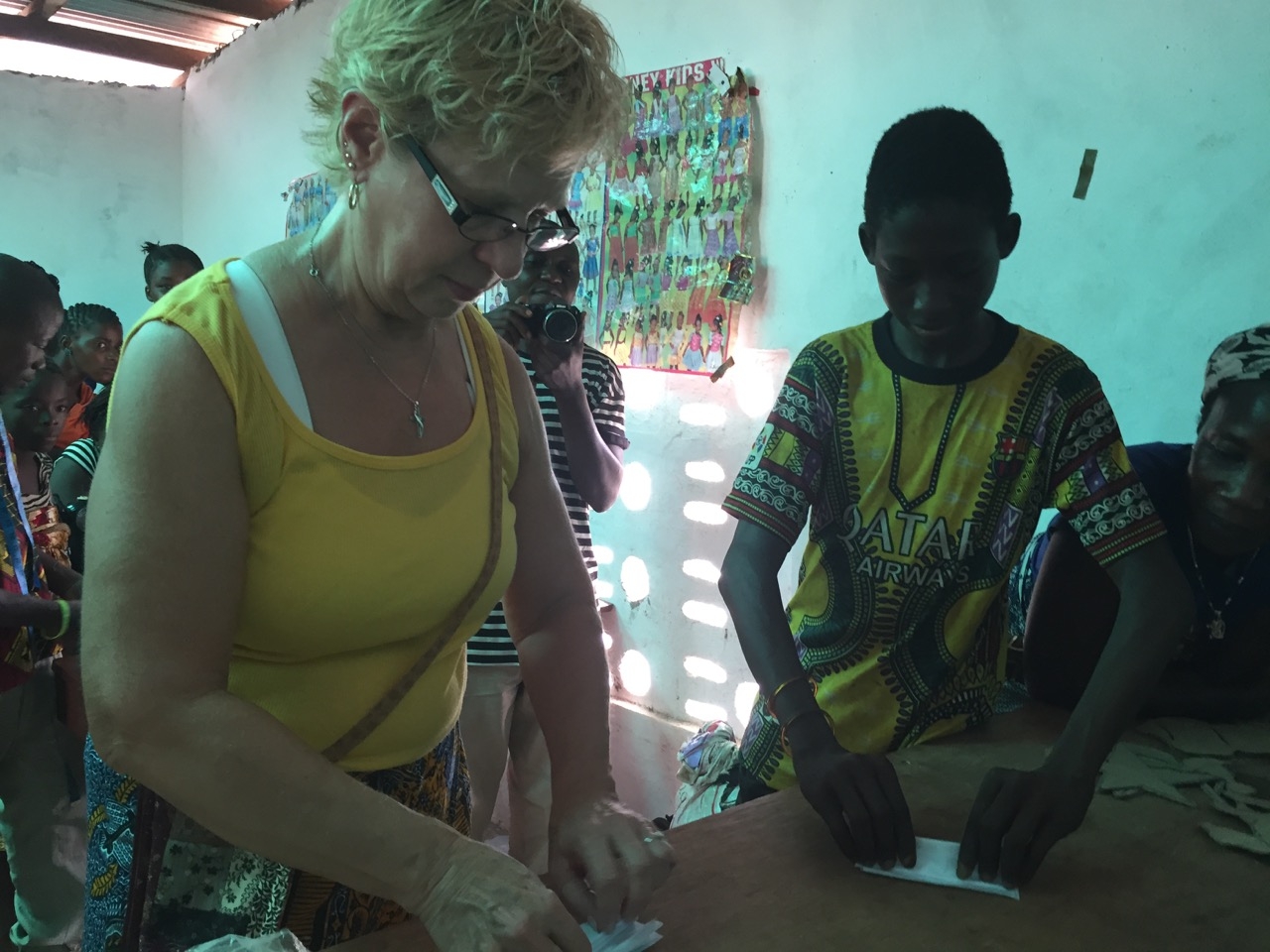 Julia was taught how to create specific designs by properly folding the fabric.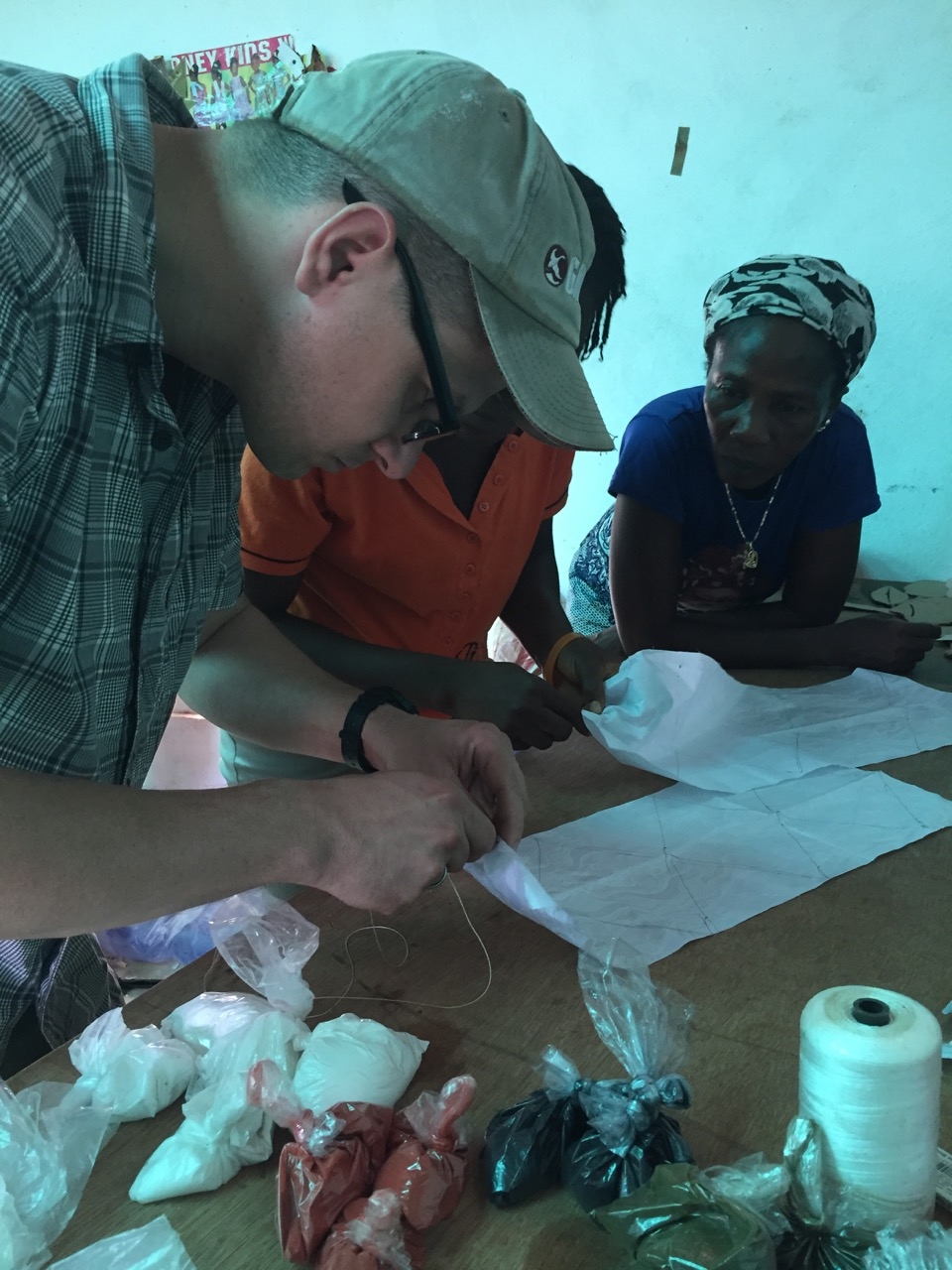 Of course, I was given the most complex design to create! They even trusted me with a huge needle! It was not easy work!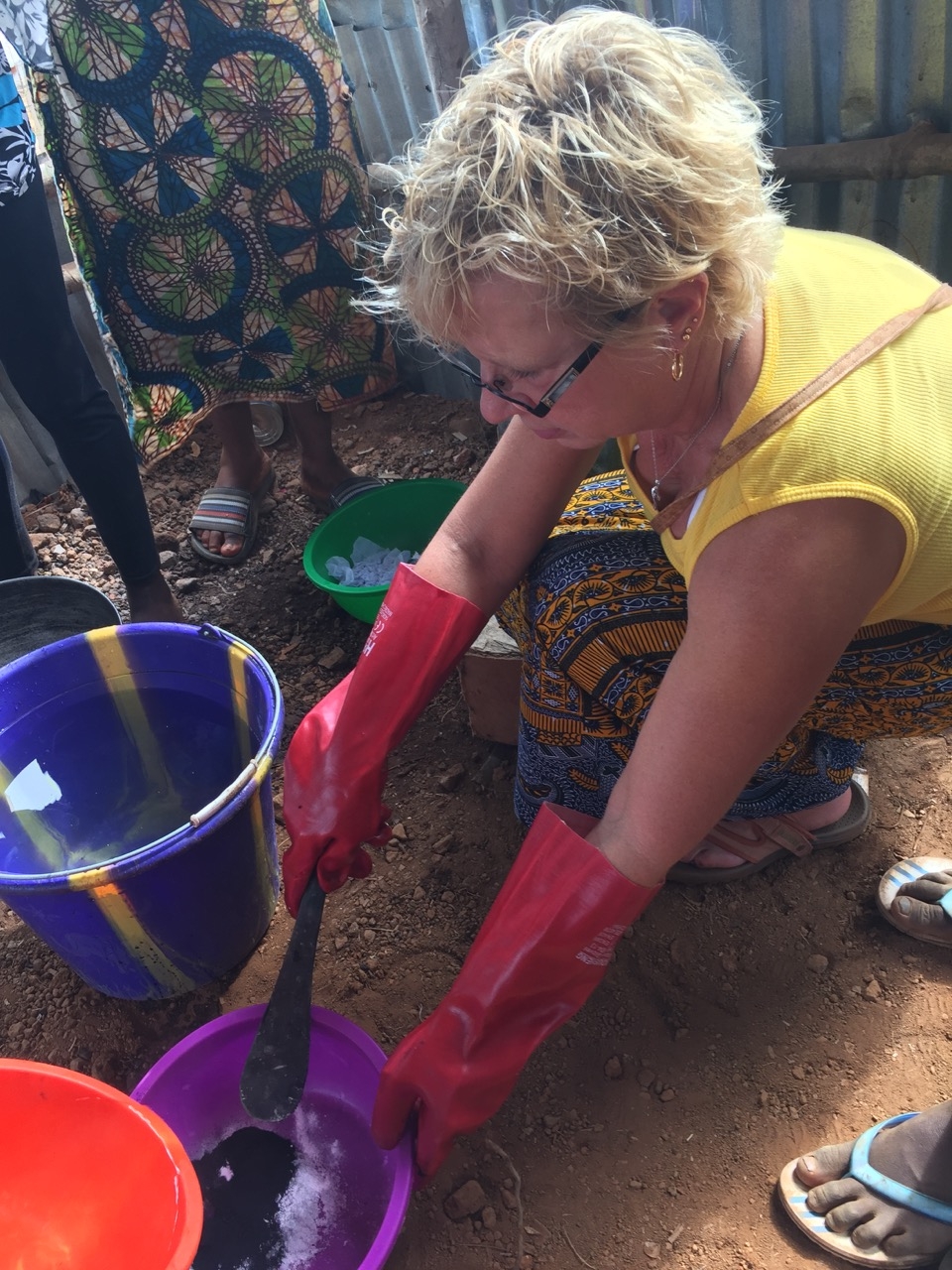 Julia mixed the dye and chemicals so that the fabric could be stained.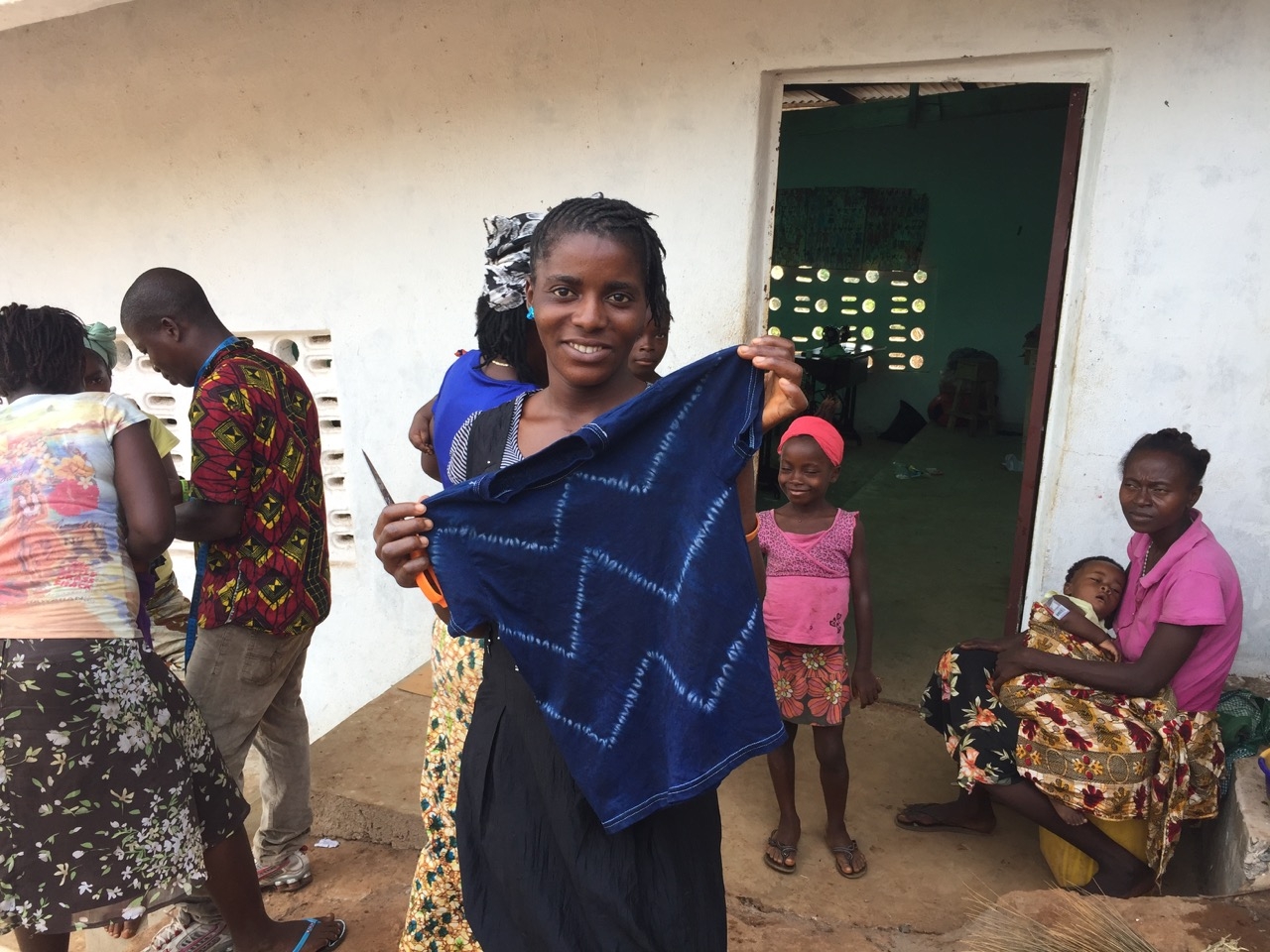 Ladies at the trade school tie-dyed 10 shirts that the team eventually brought back to the US. Ginger and I are excited to give them away this summer at VBS programs and church camps.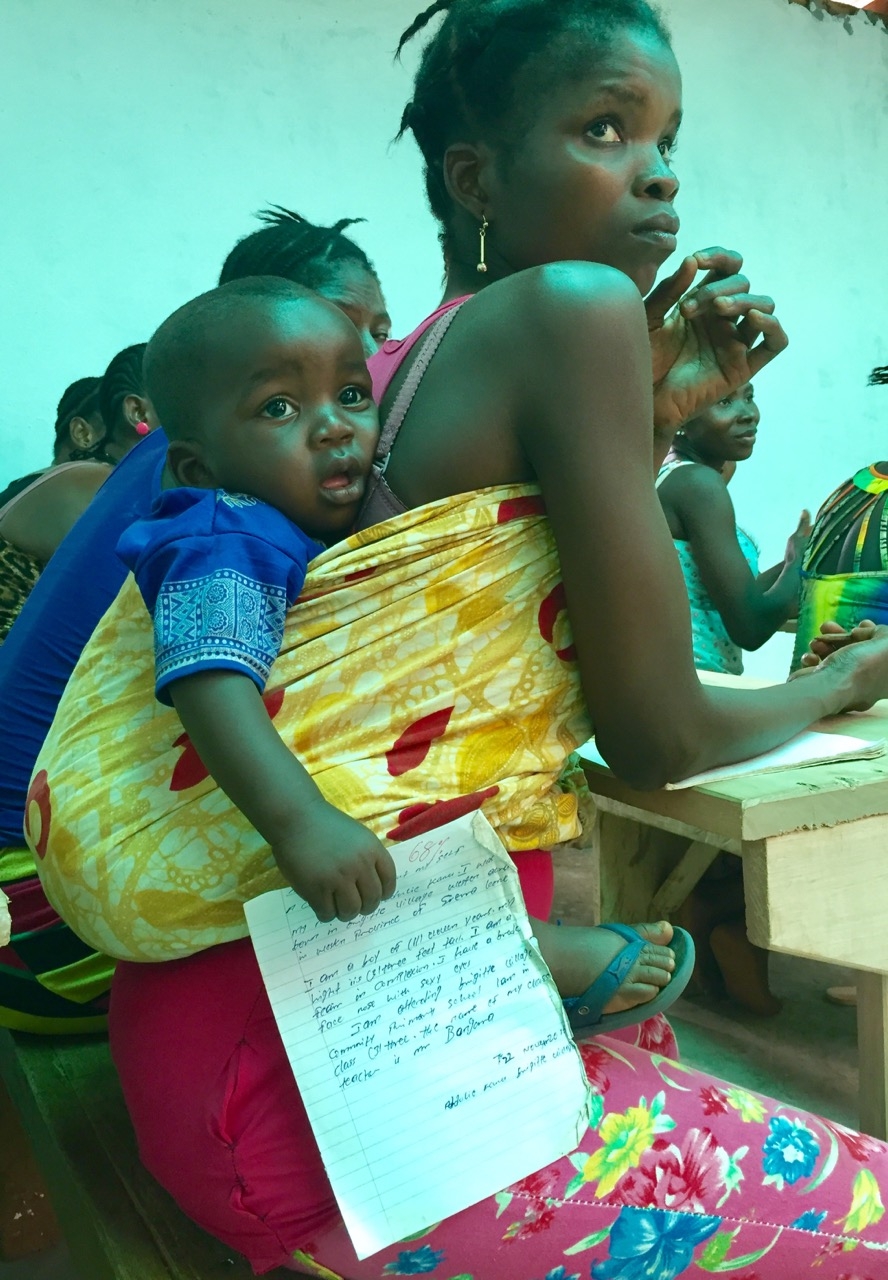 Since January, Lifegate has been teaching literacy classes at our trade school in Brigitte Village. Three days a week, nearly 25 students gather to learn how to read and write. This mama sees the value of education; because she loves herself and her son, she's made learning this life skill a priority (even if it means attending with a baby on her back!).
Daily Life In Sierra Leone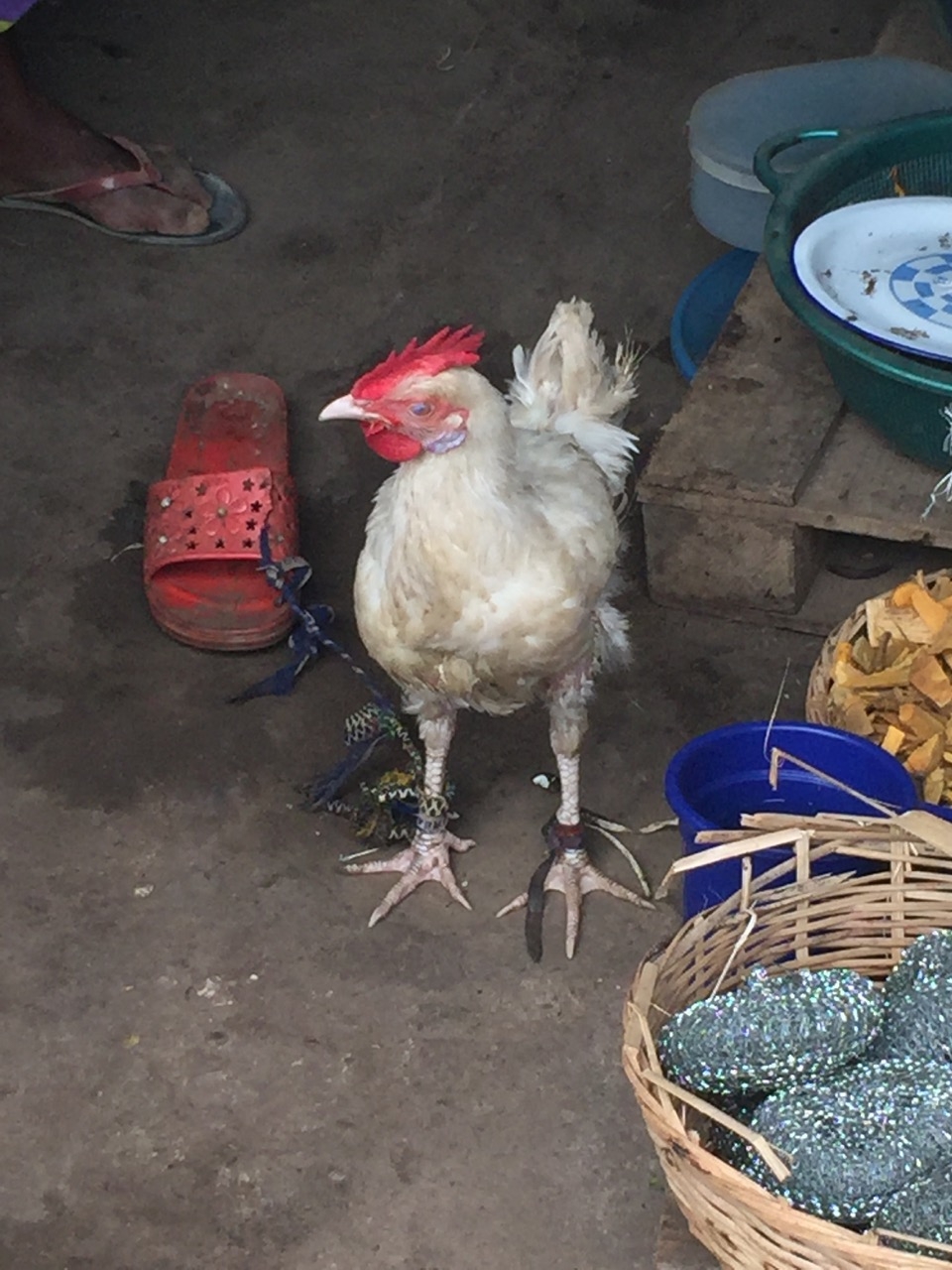 How does one keep a chicken close by in Sierra Leone, you ask? Simply tie a sandal to the chicken's leg, that's how!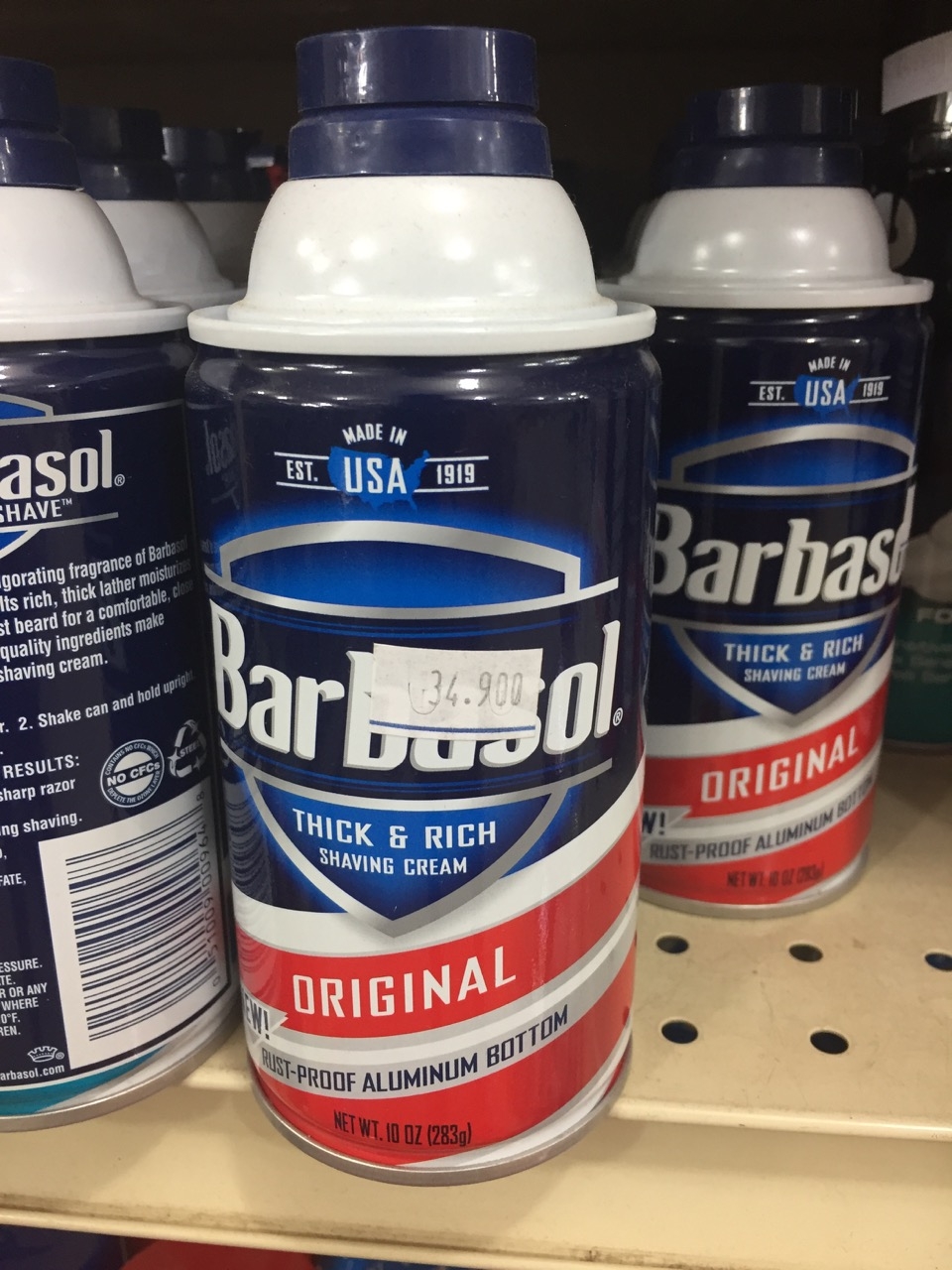 As for shaving cream, it's about $5 a can in Sierra Leone, even though in the states you'll pay about a dollar.
American-style food can be pretty expensive in Sierra Leone. A single pack of Ramen noodles was about 60 cents. In the US, they are about a dime each.
It's much cheaper to eat African; their diet consists of mostly rice and fish.
Fundraiser
Lifegate is planning a banquet fundraiser on November 2 (mark your calendars!) where items will be auctioned off.
A few of the hand-carved items include: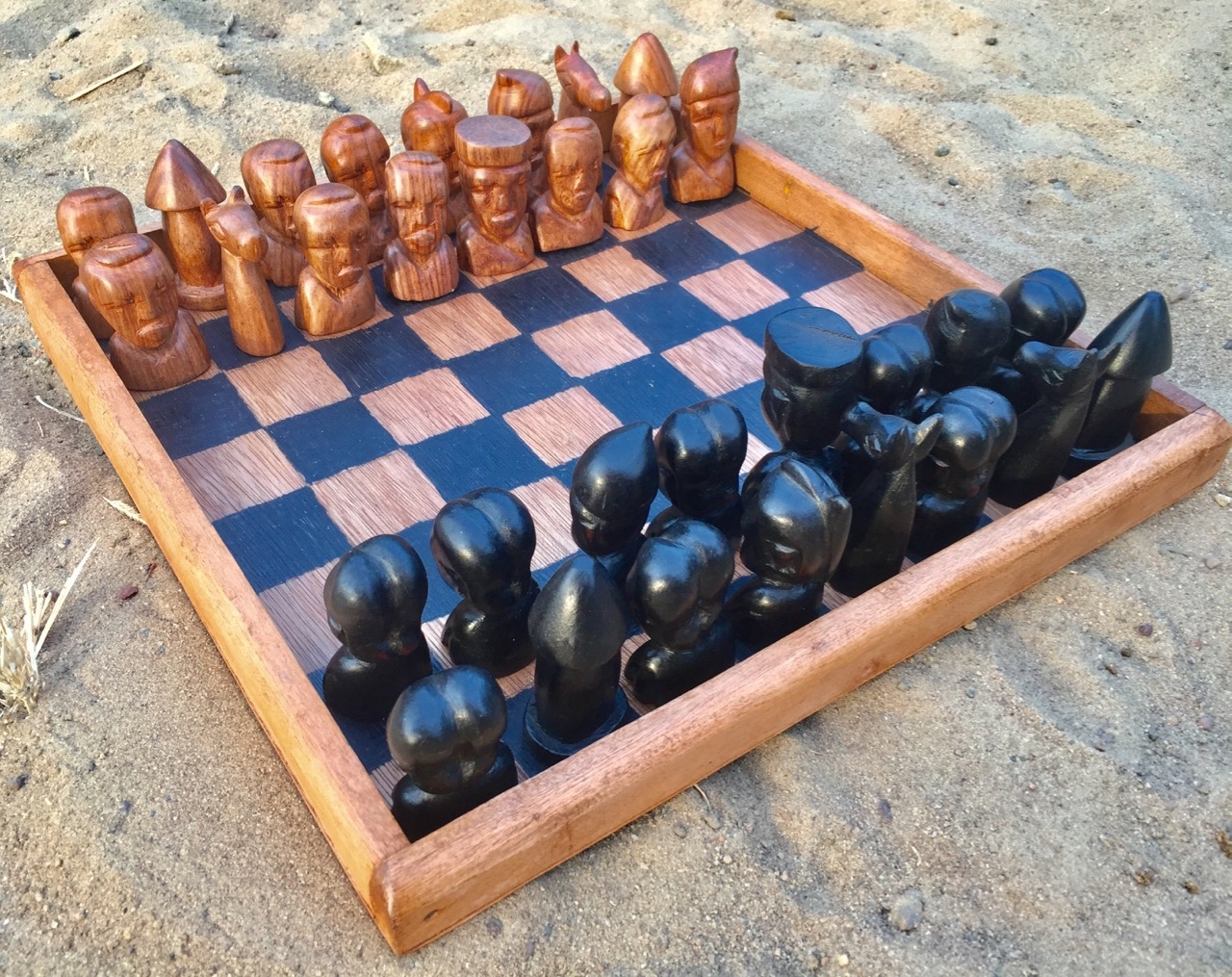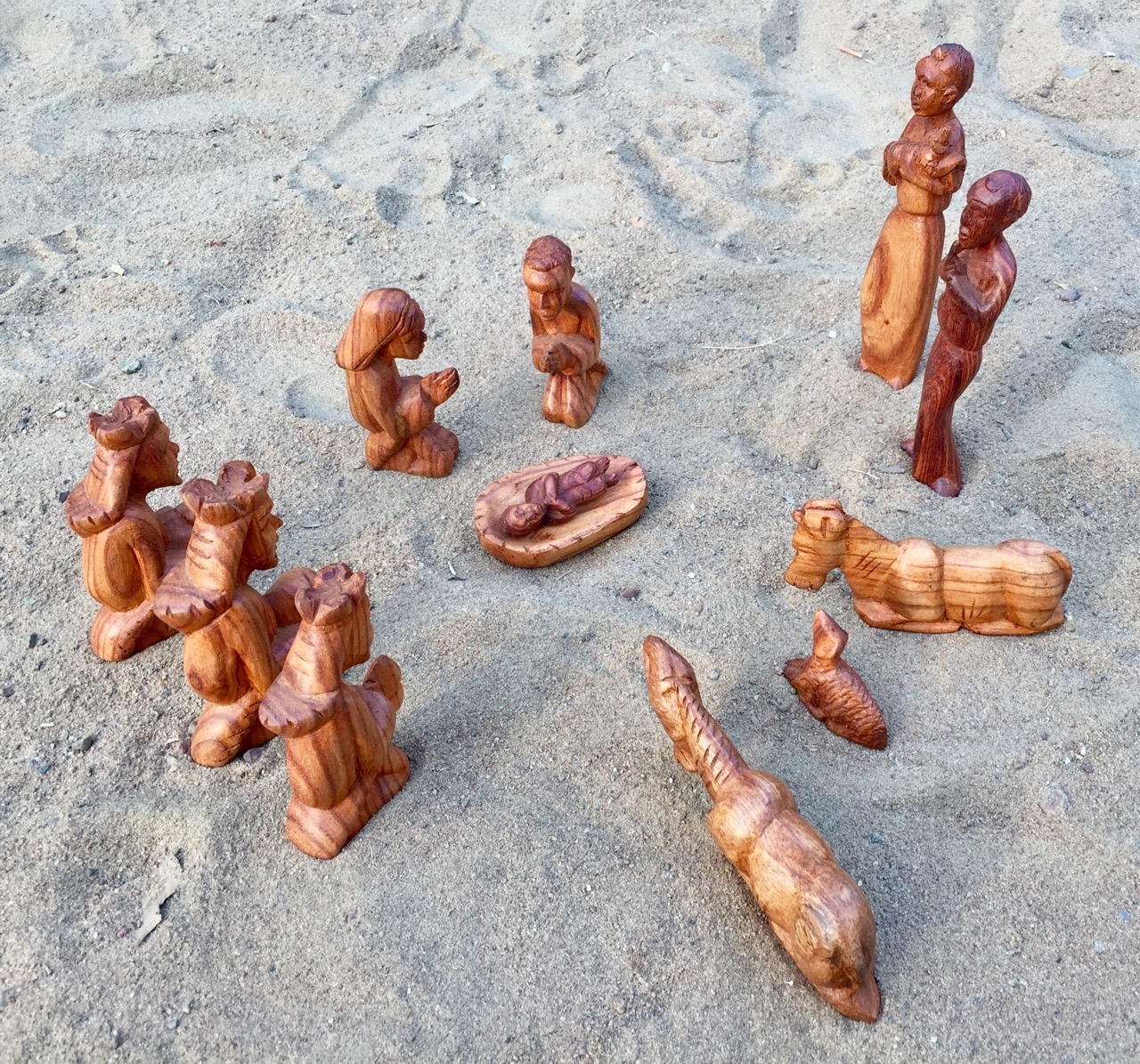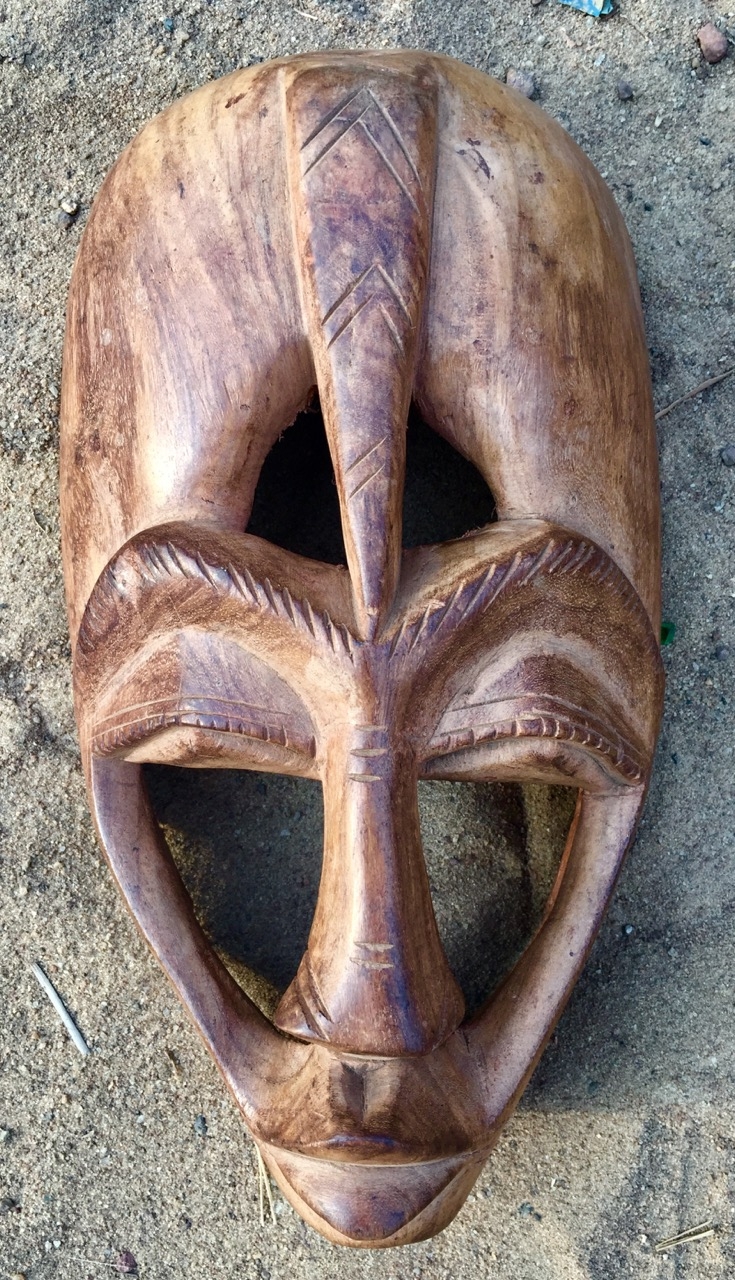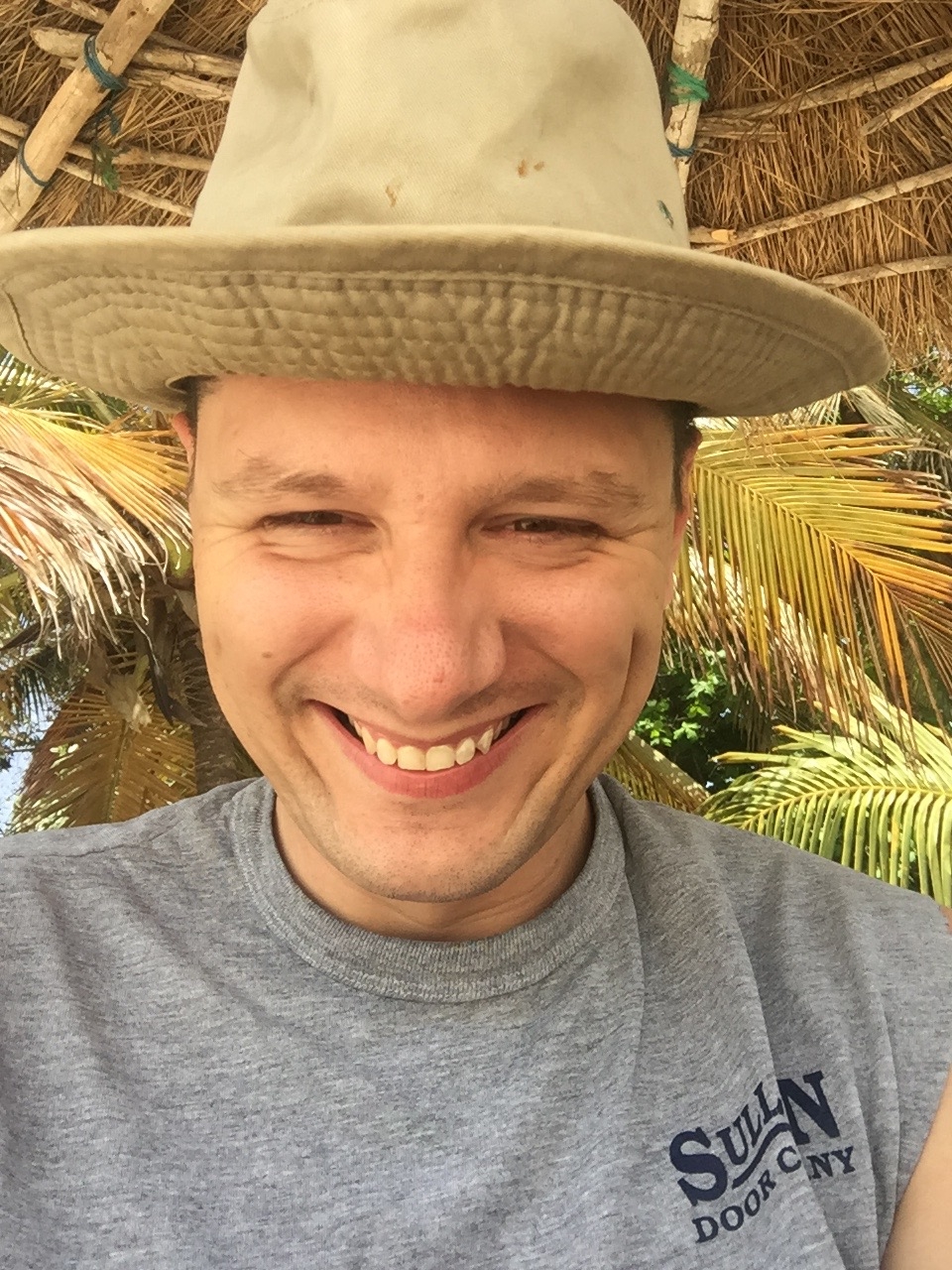 This picture was taken the day before we left! I had a blast talking with Tyler, one of Lifegate's missionaries (and one of my best friends) as we spent time on the beach.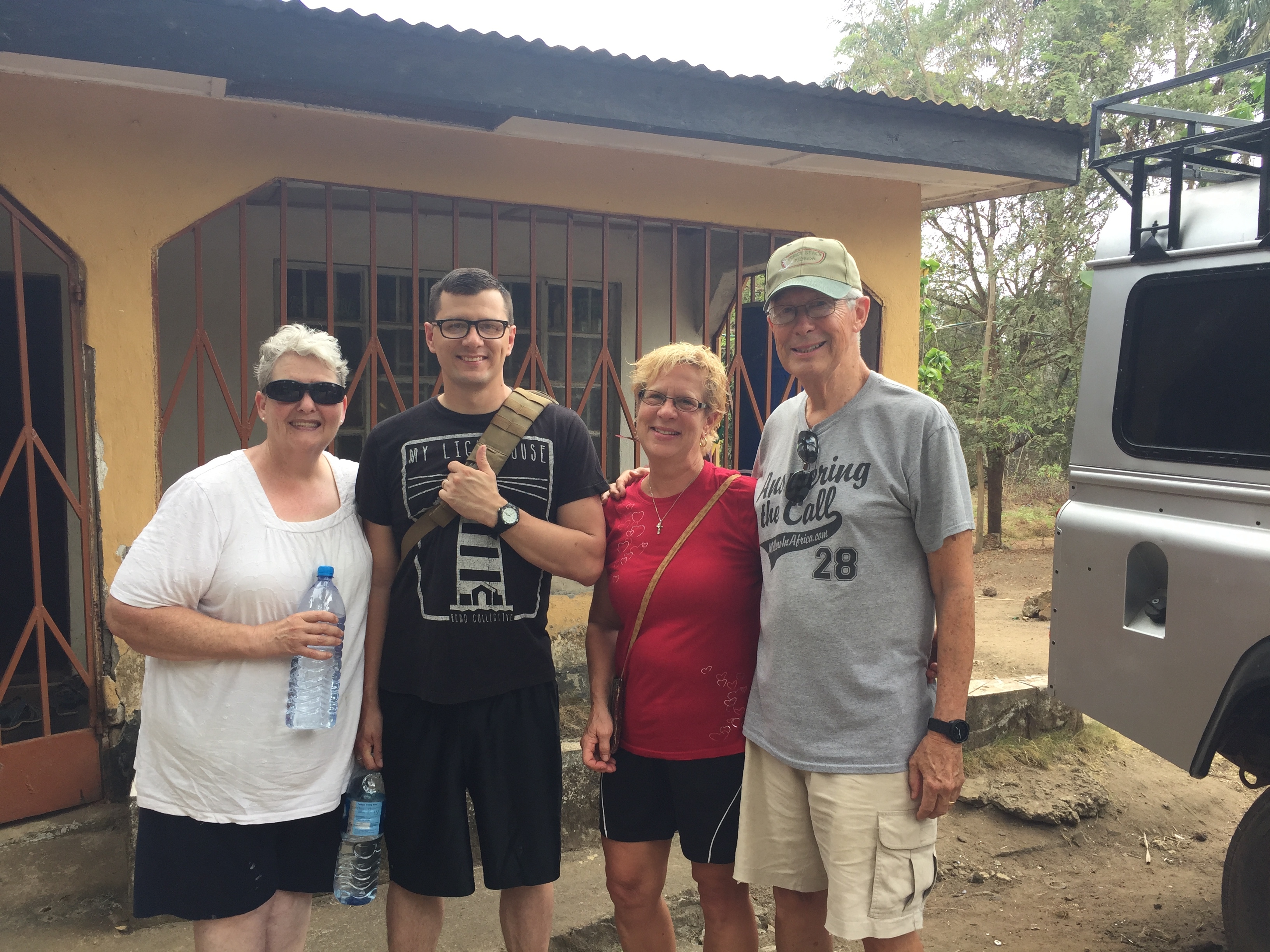 Mickey, Julia, Fred, and I had just packed up and were making our way to the airport. It was so hard to say goodbye, but we knew that we had to come home and tell as many people as possible what God is doing in Sierra Leone.
Thank You
To those who prayed and supported me during my trip: thank you. Simply saying it or writing it doesn't seem like enough, but I must express my gratitude.
Thank you for helping me go on this trip.
I was able to see people I love.
I was able to serve people who needed help.
I was able to see things that I wouldn't have been able to see if it wasn't for your generosity.
Thank you for your kindness.
A missions trip is currently being planned for 2018. If you are interested in traveling to Sierra Leone with Lifegate in Africa, please
.