Books and Coffee to Love - FOR YOU!
Two things I love most in life – Jesus and my family.
Ok, the next two things I love most in life –
Very possibly books and coffee.
Y'all know how I love to read. I've made that abundantly clear. And coffee? I somehow made it through college and past first-time mom and the newborn stages without it.
I DO NOT KNOW HOW I DID THAT.
When Nasko was more challenging and dangerous last year, I realized I needed something to keep me alert and awake.
Enter dirt water.
It took me a looooong while to get coffee right, but now, it's love.
Books and coffee. Love.
And because I love them so much and I love you, my readers, I want to share my loves with my loves.
You trackin'? That was a lot of "loves."
(I'm giving you books and coffee. For free. Click here.)
See? It's important to keep up.
My buddy Courtney and I looked around our houses and realized we had libraries of amazing books. We've read them, and we want to share the love with others. We want others to love reading (and coffee) too, so we are doing a giveaway!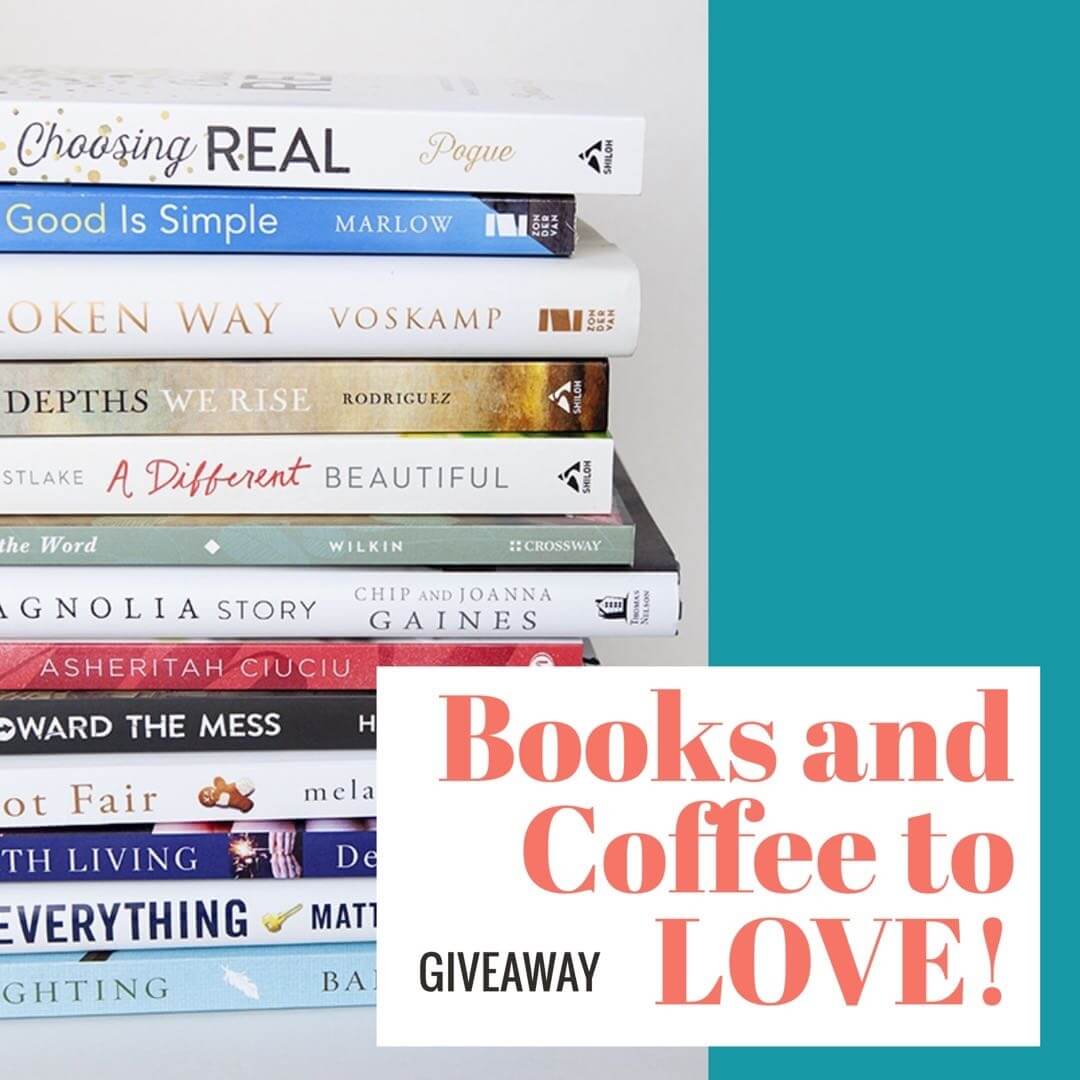 Here's what you could win –
Books:
Choosing Real: An Invitation to Celebrate When Life Doesn't Go as Planned by Bekah Jane Pogue
Doing Good is Simple: Making a Difference Right Where You Are by Chris Marlow
The Broken Way: A Daring Path into the Abundant Life by Ann Voskamp
From Depths We Rise: A Journey of Beauty from Ashes by Sarah Rodriguez
A Different Beautiful: Discovering and Celebrating Beauty in Places You Never Expected by Courtney Westlake (woot, woot! I know her!)
Women of the Word: How to Study the Bible with Both Our Hearts and Our Minds by Jen Wilkin
The Magnolia Story by Chip and Joanna Gaines
Full: Food, Jesus, and the Battle for Satisfaction by Asheritah Ciuciu
Move Toward The Mess: The Ultimate Fix for a Boring Christian Life by John Hambrick
It's Not Fair: Learning to Love the Life You Didn't Choose by Melanie Dale
Worth Living: How God's Wild Love for You Makes You Worthy by Mary DeMuth
The Key to Everything: Unlocking the Secrets to Why Some People Succeed and Others Don't by Matt Keller
Fear Fighting: Awakening Courage to Overcome Your Fears by Kelly Balarie
(not pictured, but included:)
Four Letter Words: Finding Hope in a Tiny Wild Life by Krista Wilbur

Coffee:
Custom Cup Coffee grounds
Katie's Koffee grounds
Live A Different Beautiful coffee mug
Books and Coffee.
And you could win it all. (Click here.)
This week, I'll be sharing parts of these books on my Facebook and my Instagram, so you'll want to join in on that fun.
Courtney and I just want to get some amazing reads into the hands of our people. So please enter to win!
All you have to do is click here and enter your email address. You can get extra entries just by sharing on your social media too!
Click here to get all the details! You have until Friday at 5:00 (CST) P.M. to enter and share! Good luck, my loves!