A Peek Inside My Bullet Journal - One Of The Ways I Do It ALL
One of the ways I have been able to reorient myself to doing what God has called me to do is through Bullet Journaling. Now, hear me out.
If you want to talk actual bullets, you'll have to call my husband – he's hunkered down in a goose blind as I write this; he's the expert on those kinds of bullets.
My interest in bullets – a Bullet Journal – can actually be blamed on a fellow writing friend. In my writers' group, a friend casually dropped this video and said, "Has anyone here ever tried bullet journaling?"
https://youtu.be/fm15cmYU0IM
I had never heard of the concept, so, of course, I took the four minutes and watched the video.
The video moved so fast. You write your tasks down each day. You complete them and mark them off. If you don't complete them, you migrate them.
It just seemed like a fancy to-do list to me.
Then I started searching for Bullet Journal images on Instagram. Surely I was missing something.
I was; it actually can be a REALLLY fancy to-do list.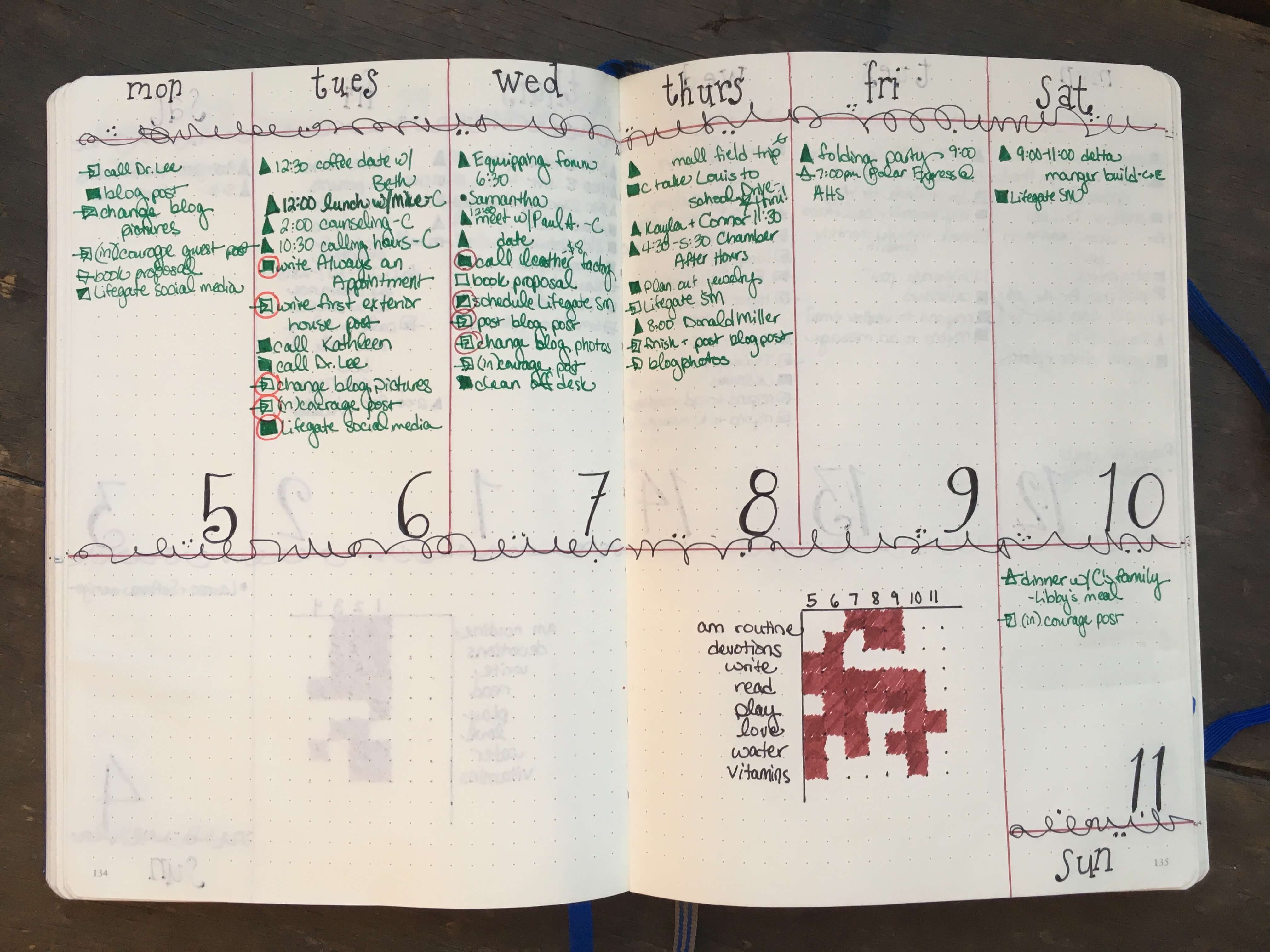 This is one of my spreads for December. I obviously got into the whole Bullet Journal scene after watching the too-fast video and looking at very fancy to-do lists for too long.
Apparently, it is intoxicating.
Bullet journalling appeals to my organized side while allowing for some creativity. Creativity within bounds and routine is TOTALLY me.
Another blogger has lovely videos on how to set up a Bullet Journal and how to make it fancy. I'm not about to recreate the wheel, but I wanted to share what I love about my personal bujo (that's right, there's a whole journaling language) and how it has helped me accomplish what God has designed me to do.
And maybe, just maybe, you'll want to join me after you watch the too-fast video and research all the very fancy to-do lists.
My Bullet Journal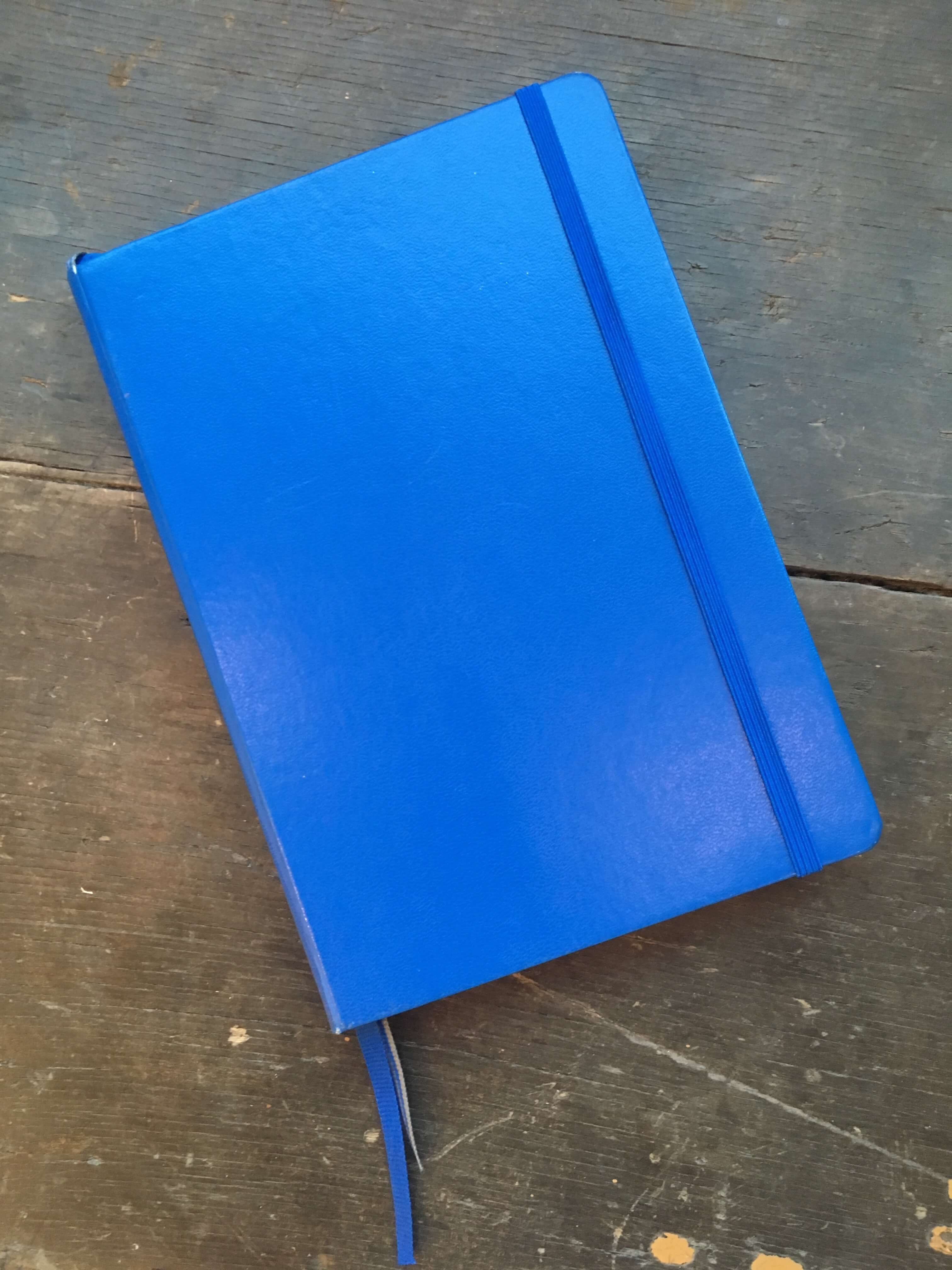 Bullet journals are really just blank notebooks that can be set up and used as a planner and journal combined.
Any notebook can be used, but I love my Leuchttrum1917. On the inside pages, it is dotted. This gives me the freedom to draw lines or just use the dots as a guide. This notebook is small enough to grab and throw into my purse too.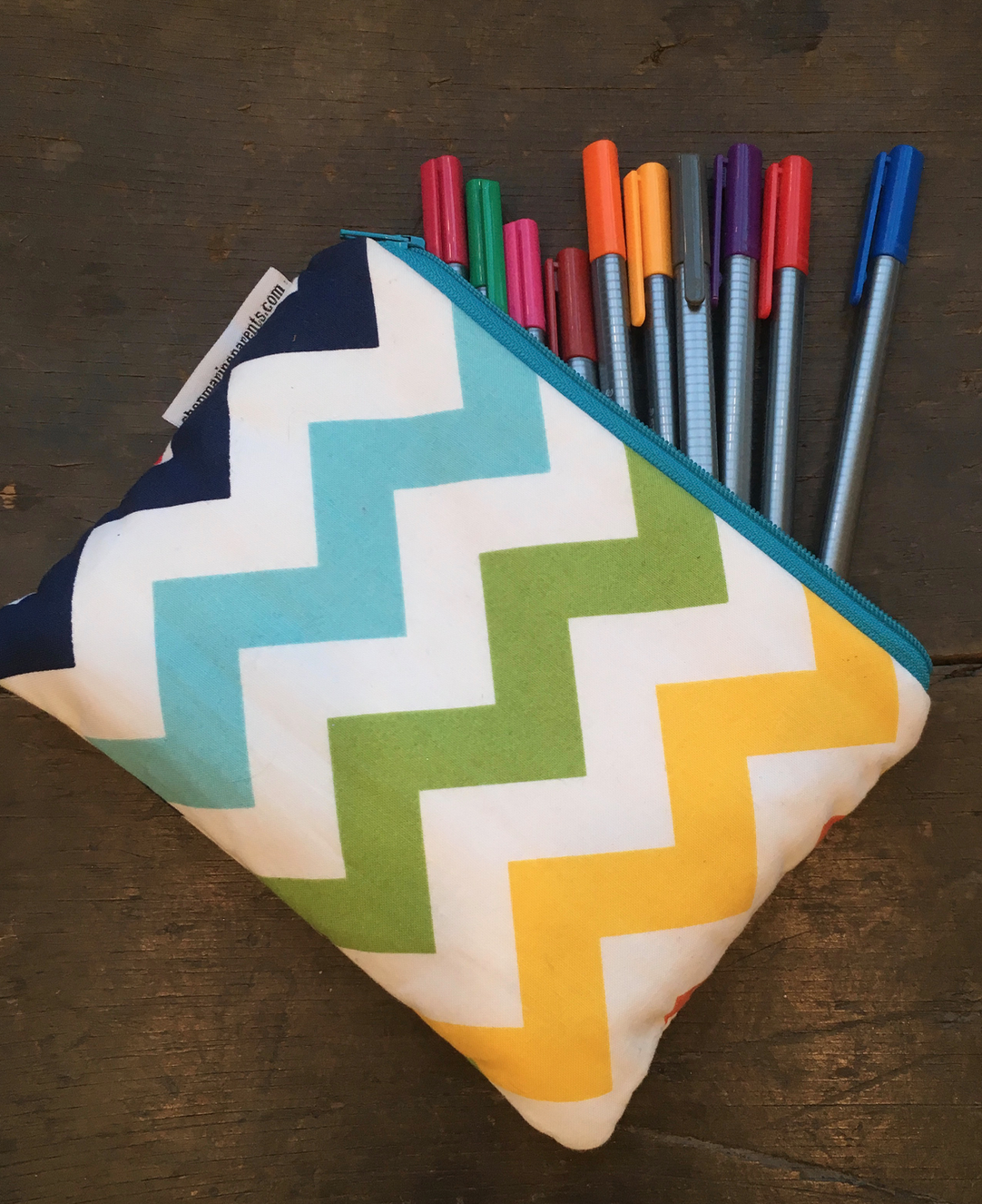 I use Staedtler Triplus Fineliners as my markers/pens. Again, any pen will do, but I love the color options of these.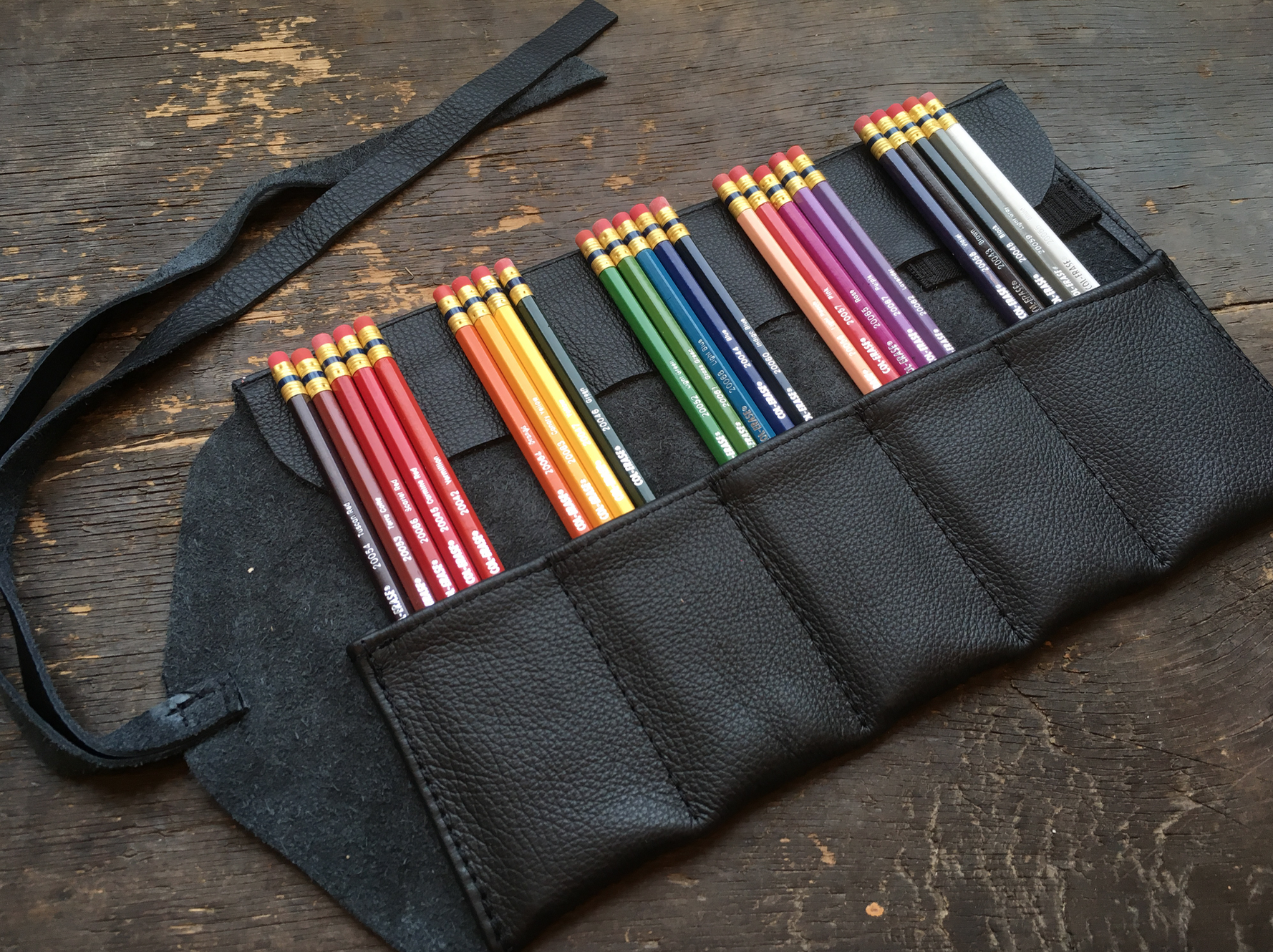 Chance (who is new to bullet journaling) prefers something that erases. He has these colored pencils.
Either my pens or Chance's pencils can fit into this sleek leather holder. It is handmade by my pals at Spotless Lion. They sent me the carrier and my husband has promptly confiscated it. (Check the end of this post for an exciting deal from Spotless Lion!)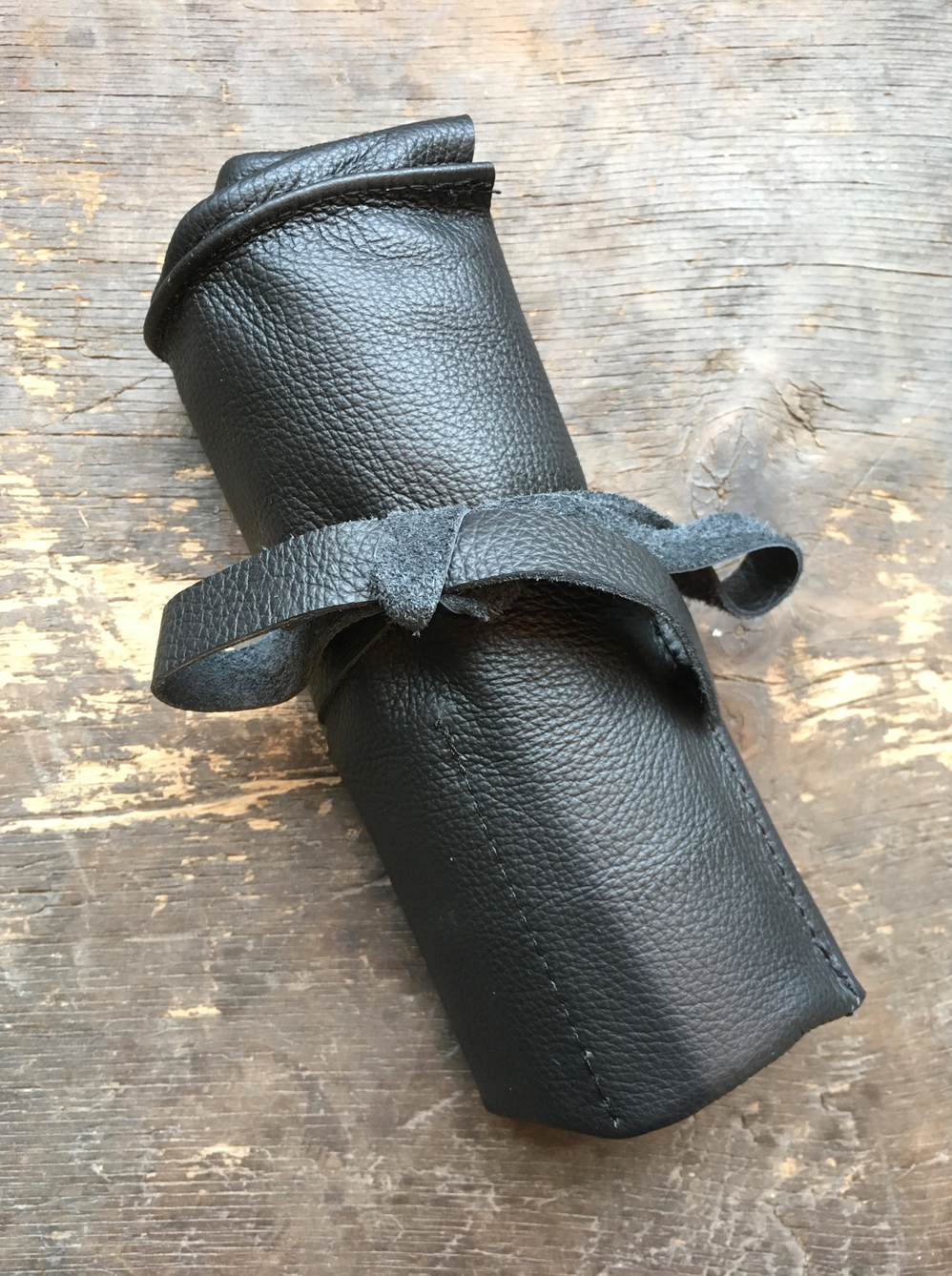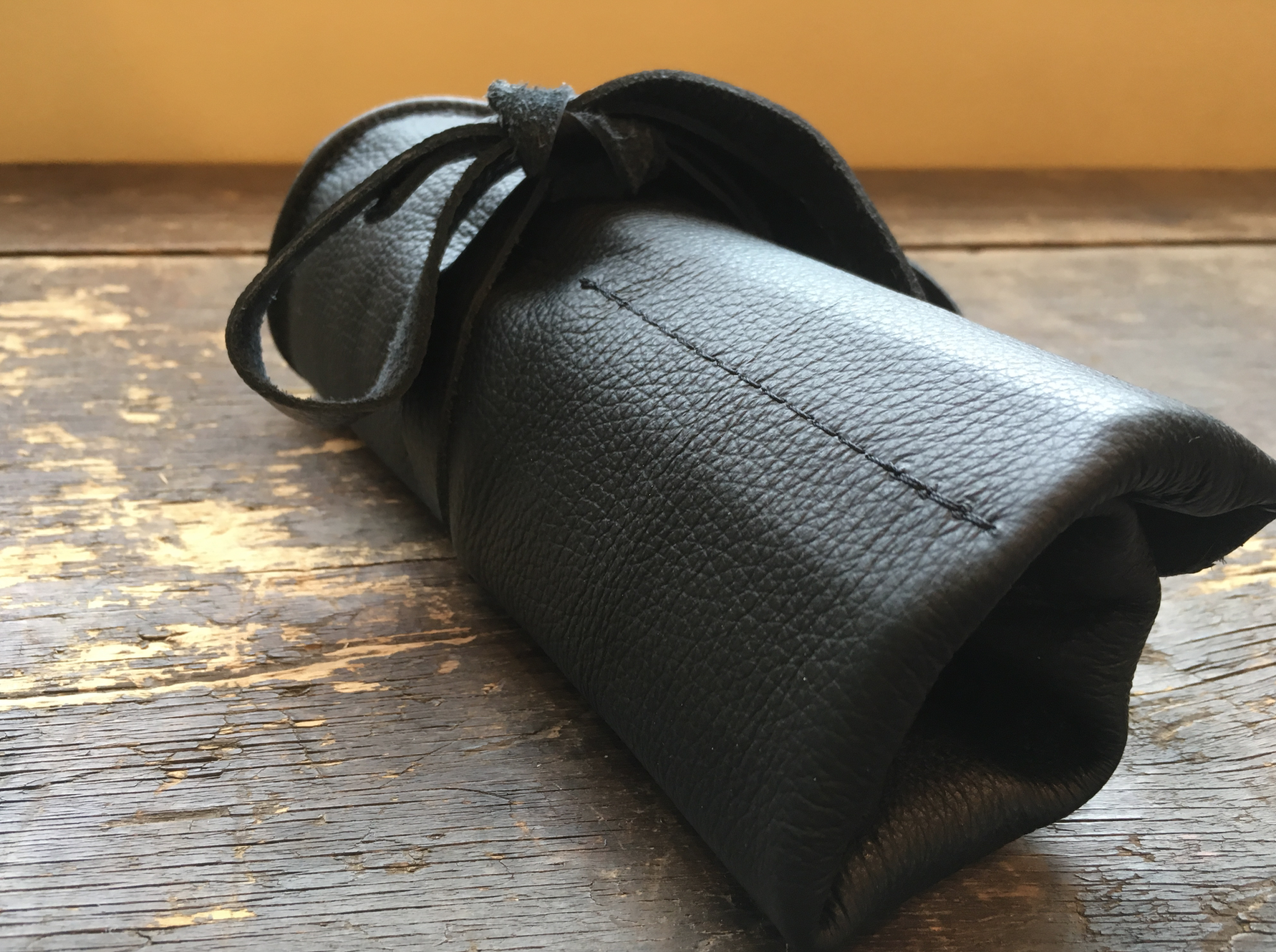 Once you have a notebook and pens/markers/pencils, you're ready to bullet journal!
Since there are other websites dedicated to how to Bullet Journal, I thought I would share exactly how I use mine. I'll include sneak peeks of the inside as well.
I personally use my journal the most for my weekly schedule and to-do lists. I try to look at my journal every day to prioritize all my tasks for the week.
Here is one of my older "spreads" from February and March of 2016.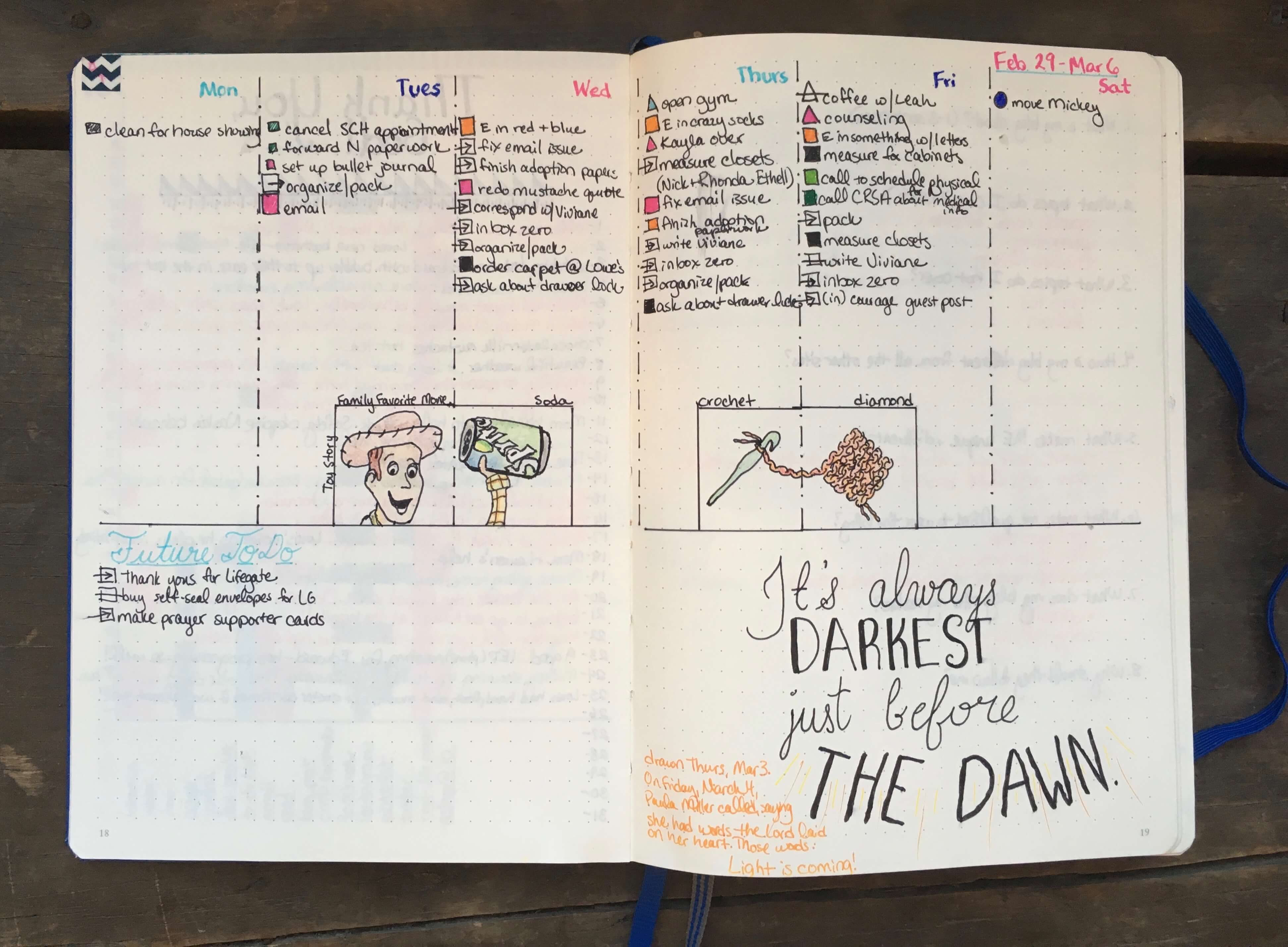 I have changed my methods slightly, but not drastically. This is a current spread: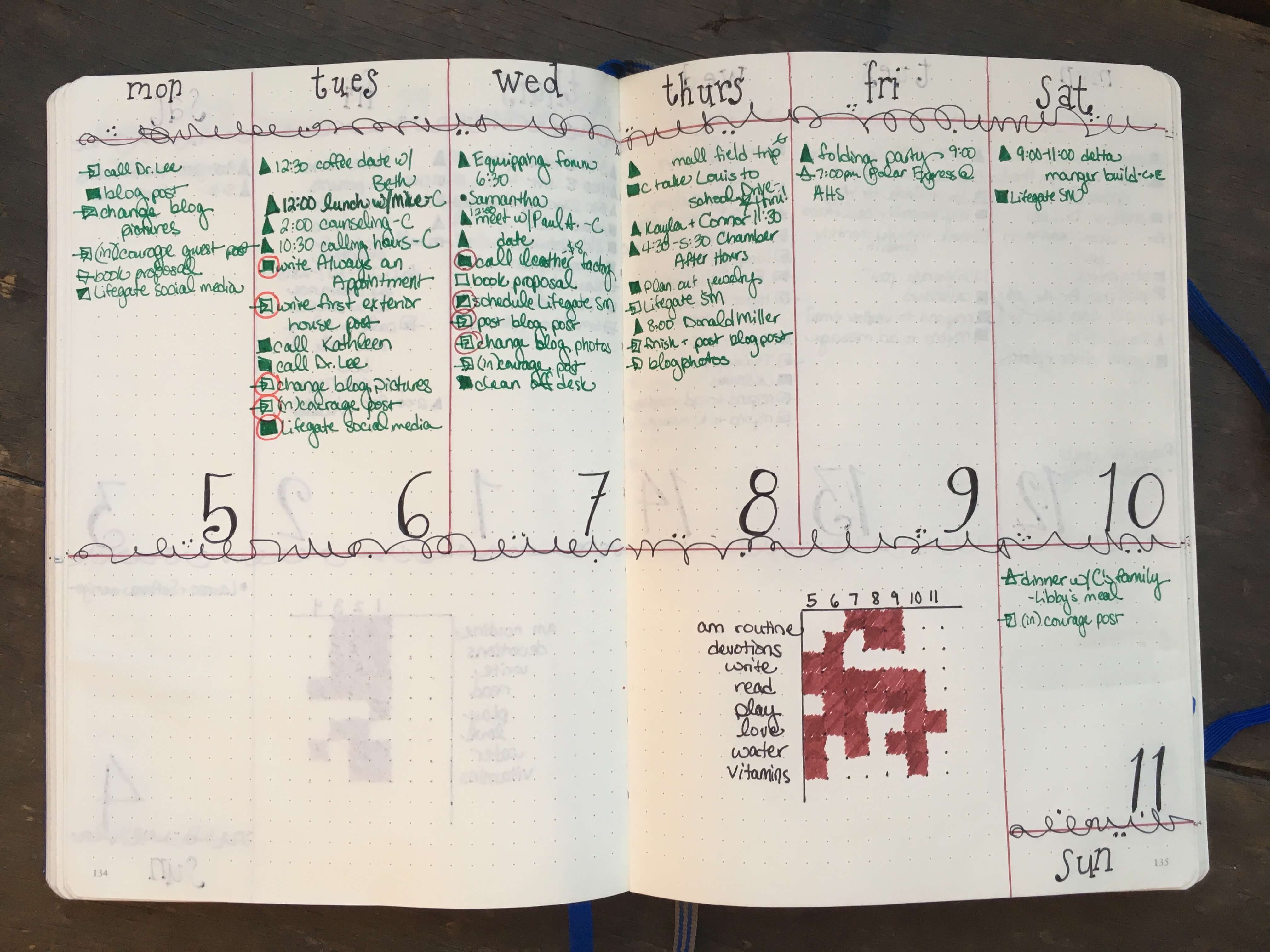 I like to use my journal to track my habits (that's what the little red squares are for at the bottom right). Sometimes I like to track my habits on an entire page too: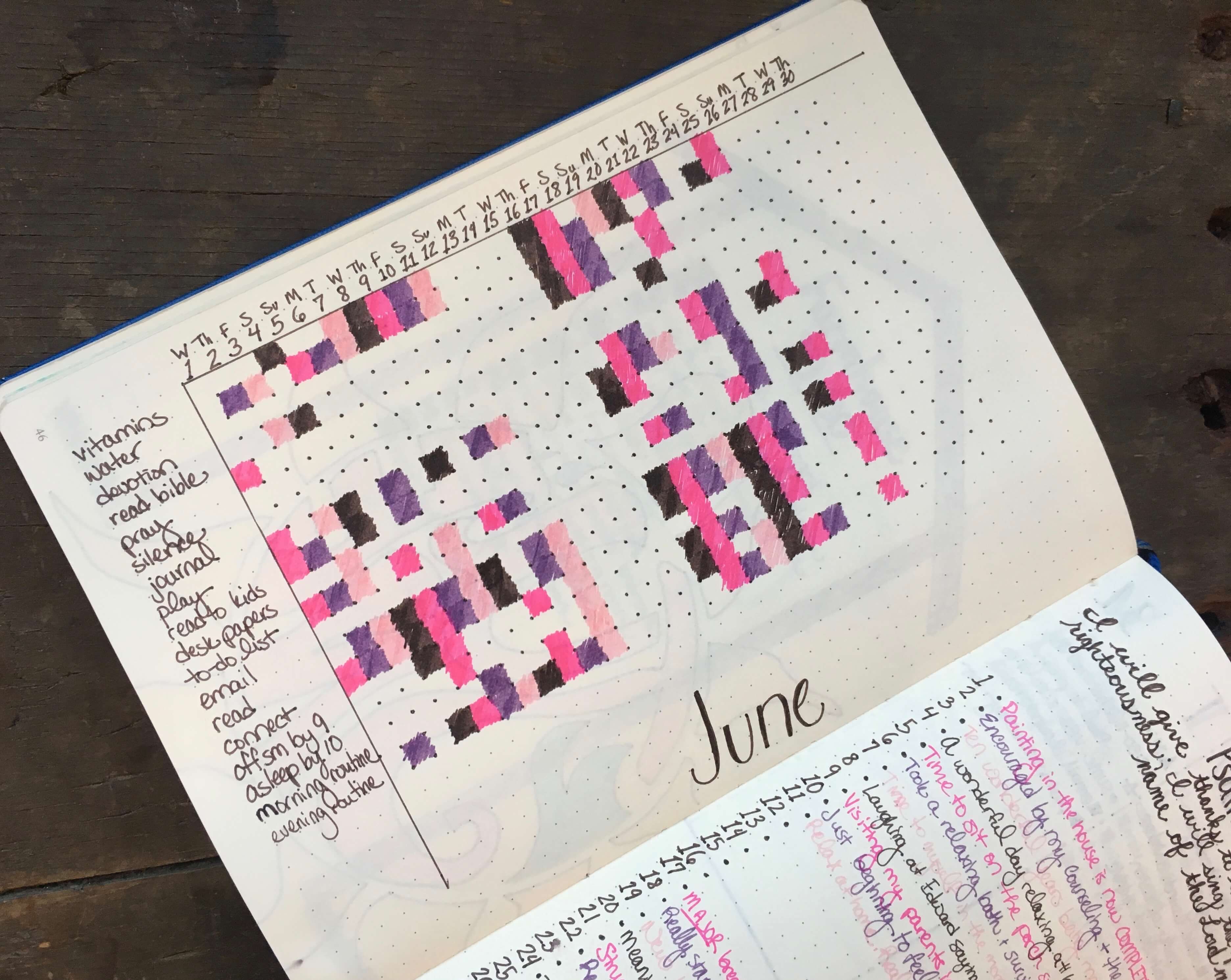 A month ago, I came up with a tentative schedule for my (ideal) day. I liked to see where I was spending my time - on myself, my kids, working/ministry, etc.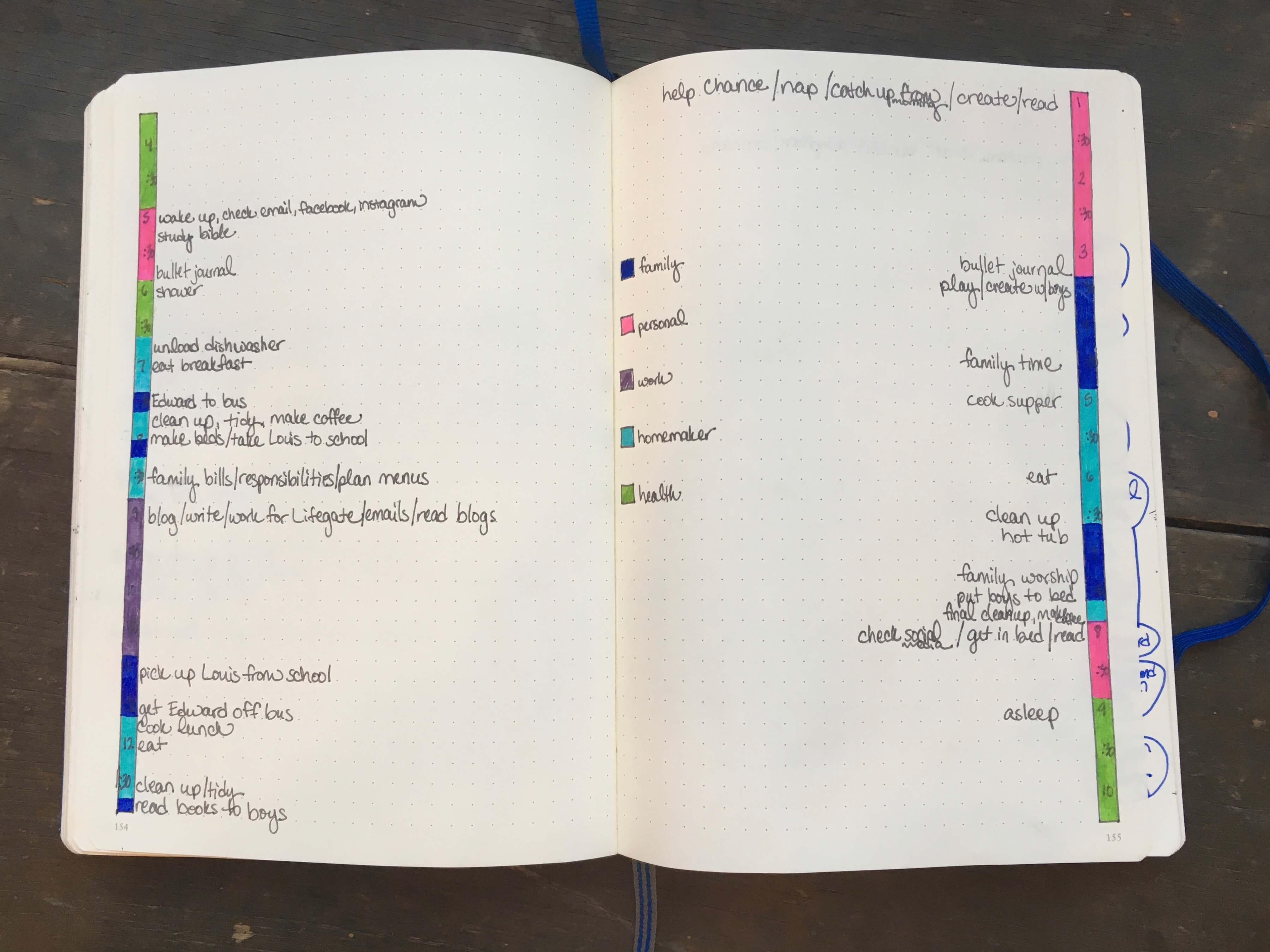 I also have used the space to write my goals and priorities.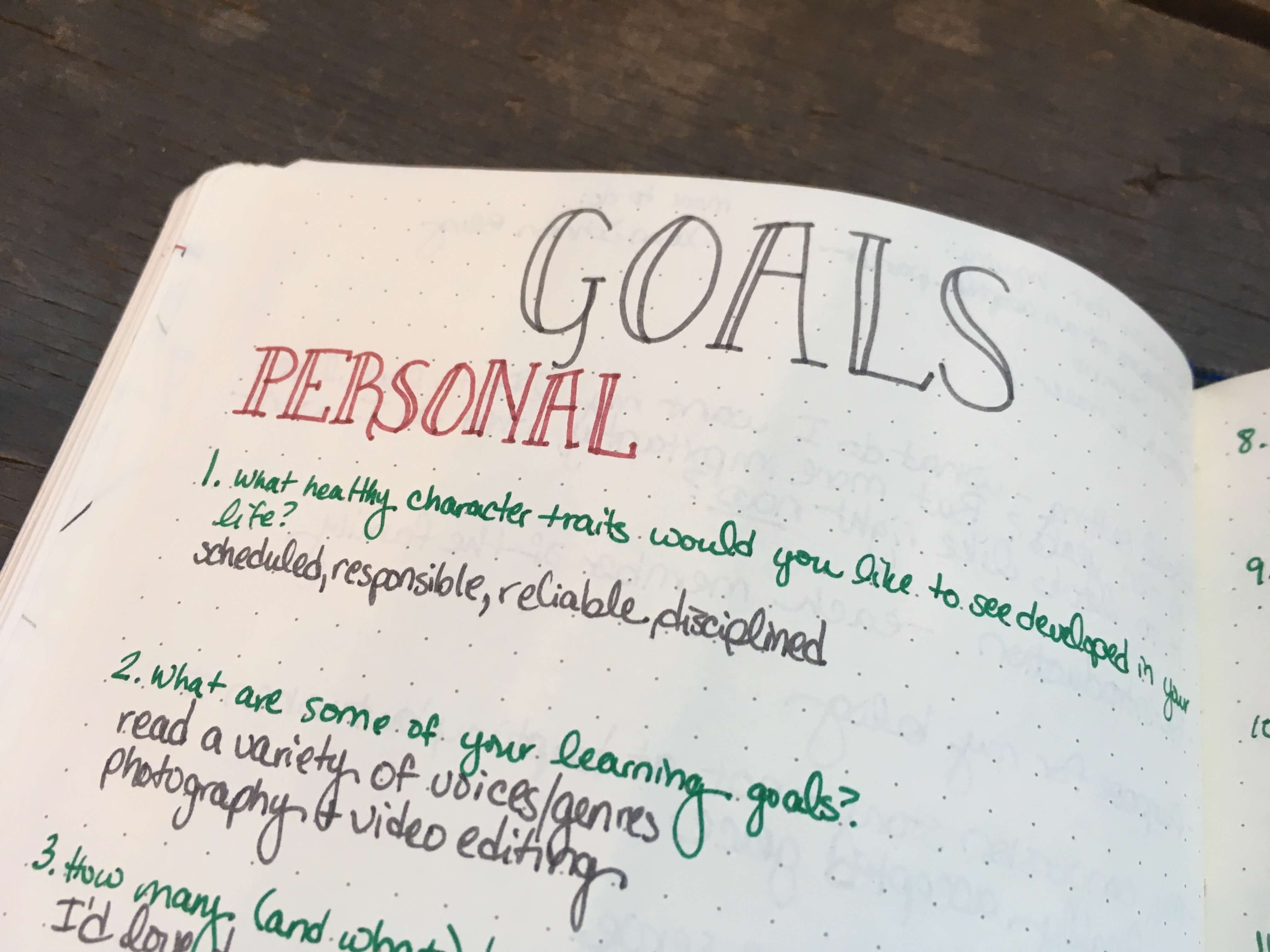 Another full page of my journal is dedicated to my definition of who I am and who I am not. I wrote this page this past year as I was struggling with perfectionism and wanting to do it all.
I regularly reflect on this page and read it out loud when I feel myself slipping back into a depressive state of mind.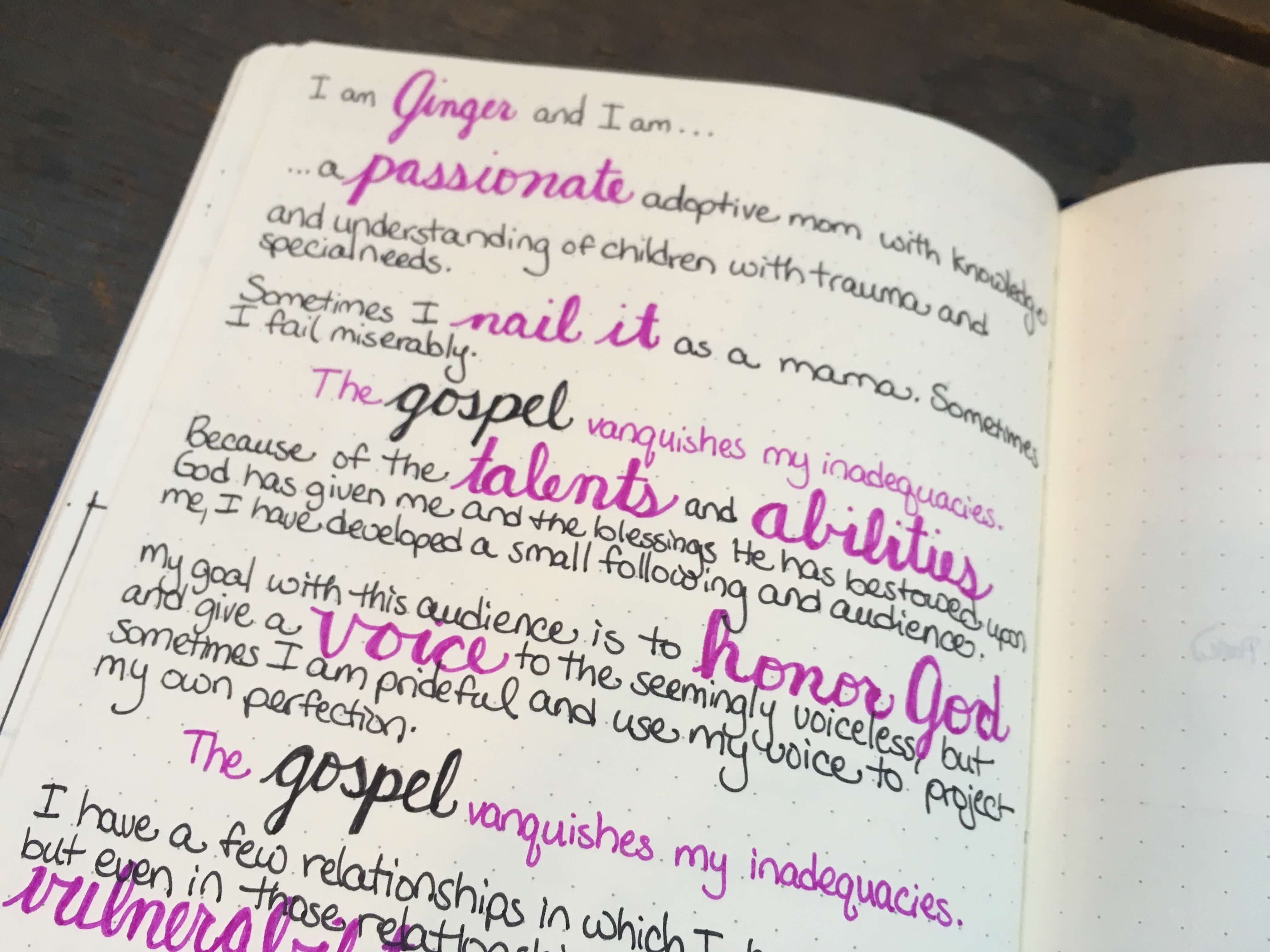 Many pages of my journal are dedicated to planning and preparing. I used one page recently to plan an overnight getaway for Chance and me.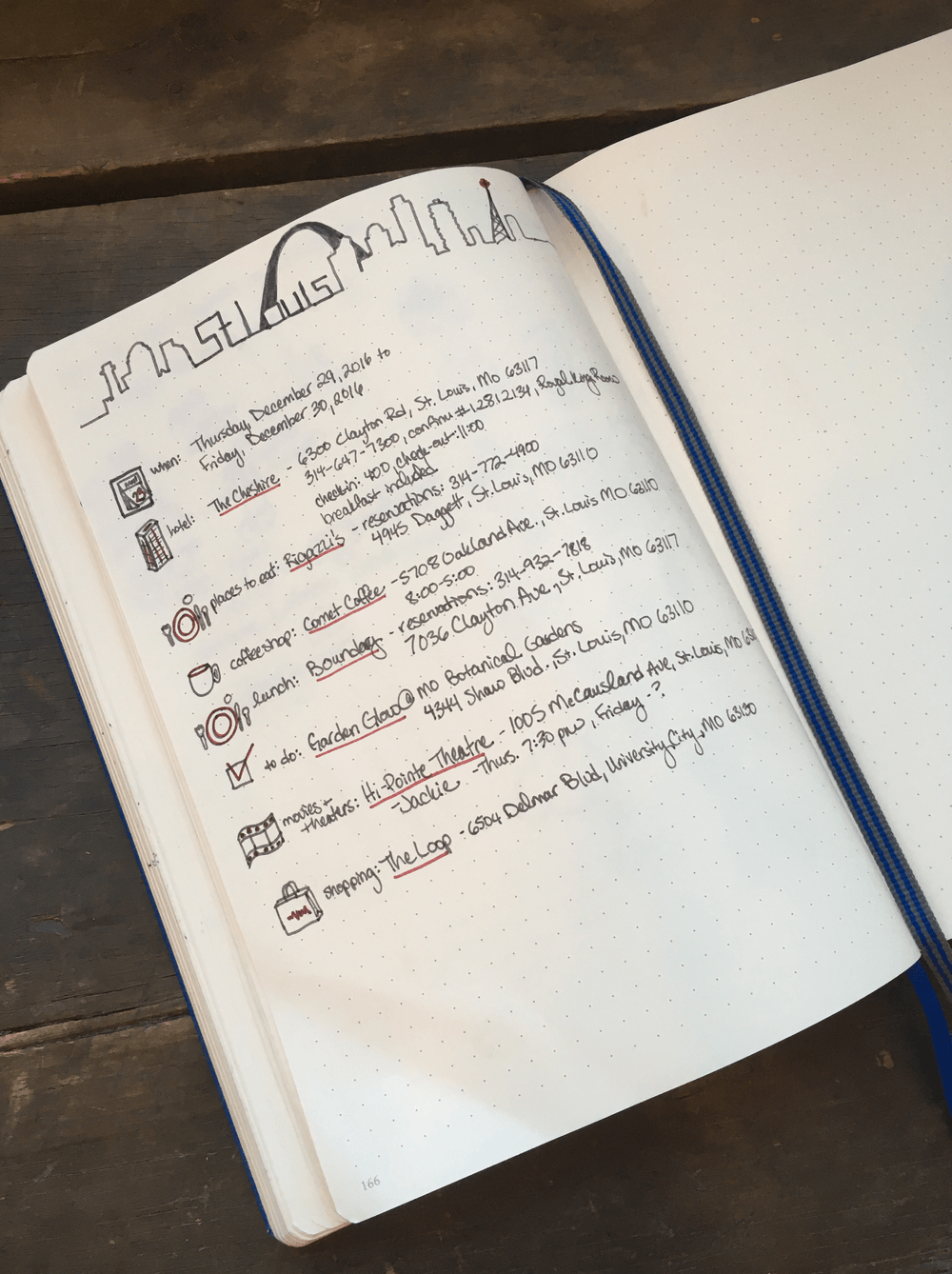 Finally, I keep an ongoing list of menu ideas in my Bullet Journal. The page isn't pretty, but it is the biggest lifesaver. I take these ideas and write them on my weekly menu plan pad every Sunday morning.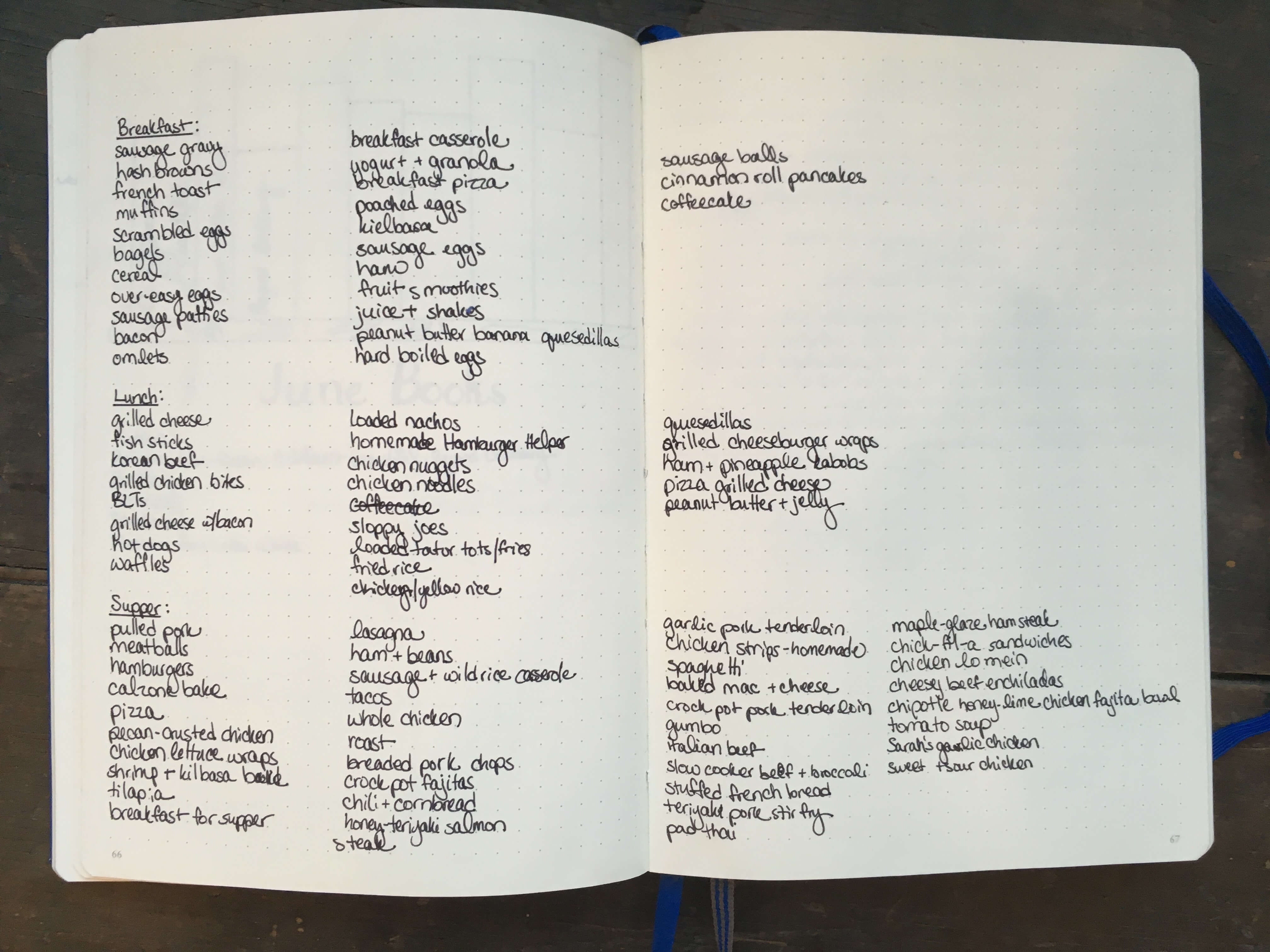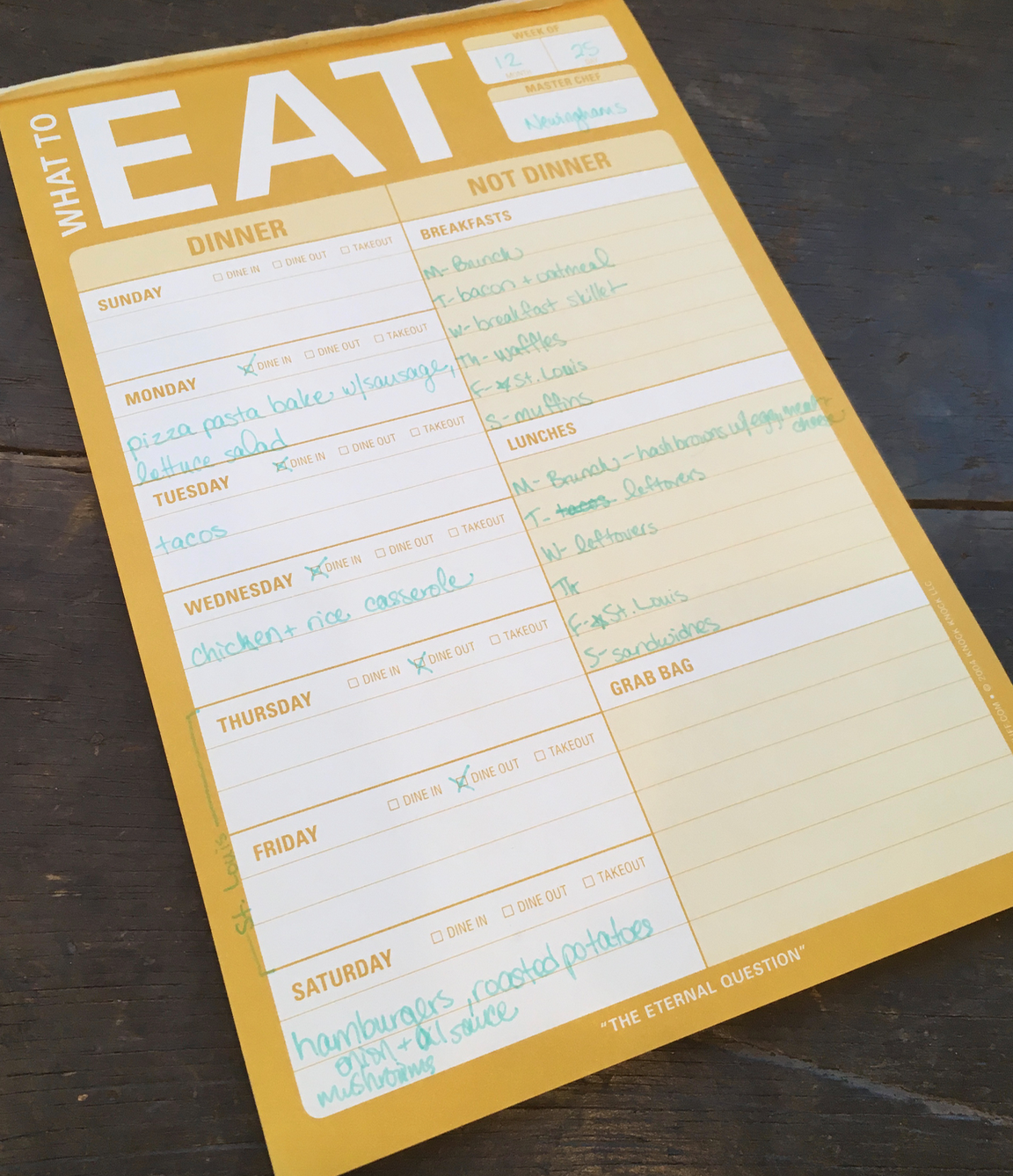 My BuJo is one of the ways I stay on track and am able to do it all. Maybe you're looking for something similar. I'd recommend watching the video and looking back through the other blogs I linked.
The Bullet Journal system truly has changed my life, as I am able to prioritize and organize. This helps me accomplish more. It also helps me schedule time for rest and relaxation without guilt.
If you're interested in purchasing any of the products I mentioned and joining me in bullet journaling, I'd love if you used my links. At no extra cost to you, a teeny portion of the cost will be paid back to me as an affiliate of Amazon.
Spotless Lion has agreed to give my readers FREE SHIPPING on their leather pen case if you use this code: freeshipginger
If you have any questions about bullet journaling, don't hesitate to ask! Leave a Facebook comment or drop me an email anytime!