Your Moments Defined - I was Built to Care for Her
This blog was not born out of a defining moment in my life or my husband's life; It was born when we made an intentional decision to turn our tragedy into Our Moments Defined. I know many of you have done the same. Tragedy and heartache have come your way, but you've sought the Father and have redefined those moments.
I want to share your stories through regular guest posts. Today's guest post is by Stacy Philpot. She is not only a mom, a writer, and a friend, but she does it all while suffering from a chronic illness. Her positive attitude despite her circumstances is such an encouragement to me.
Like most newlyweds, my husband and I had been naïve about the peril our marriage would see, the stormy seas our ship would sail. We'd flown through every pre-marital book we could get our hands on, taken a class at church on blended families and assured ourselves we'd never be one of the "horror" stories. Having both been married before we felt sure we'd learned from our failures and were better prepared for success this time around.
But none of the books we'd read or classes we'd taken had prepared us for this. And truth be told, never in my wildest imagination had I foreseen us setting out on a sea so stormy, so soon.
Whenever I tell the story I remember it as our four-month-wedding anniversary but my husband says it had been five months. We'd enter the hospital through the emergency department but my neurologist had called ahead and told them to expect us. A friend of mine who'd suffered a spinal cord injury had brought over one of his first wheelchairs earlier that day. I was no longer able to walk myself to the bathroom or wash my own hair. Sometimes I couldn't even pick up my own fork to feed myself. Just months before, I'd been running three miles a day.
This particular evening, horrific muscle spasms racked my body. Shuddering through my right side, I struggled to stay within the wheelchair each time they hit. The neurologist had examined me within his office and announced his suspicions of MS right away. As the days passed and we awaited insurance approval for the brain MRI and spinal tap I'd need in order to confirm his suspicions. My symptoms had continued to worsen. So here we were, bypassing insurance approval and settling in for the night. Happy Anniversary, babe!
As we awaited the results of my testing the following day, my mentor came to visit. She took my husband, Ryan, down to the cafeteria to talk. Over coffee, she looked him in the eye and asked, "What will you do if it's MS?"  Ryan didn't skip a beat.  He said, "This is nothing. I was built for this. I was built to care for Stacey."
And while the tests would say it wasn't MS and it would be four more years before answers, the diagnoses would come –  that day, our moment, our marriage was defined. Because while every facet of our lives together have been kicked and thwarted and cussed at by chronic illness, Ryan has continued to look at me and say, "I was built to care for you." And every day I am learning more and more about how to accept that care. We all have dreams, desires, ideas and expectations about who we will or want to be in our spouse's lives. I wanted to bless my husband. I wanted to be someone he could be proud of. He says this stretching and forced reliance on Christ is a blessing. He admires the way I've continued to fight to overcome and chase my dreams. And maybe, that's our marriage defined. Perhaps, marriage is sometimes about letting go of your ideas and ideals about what love will look like. Maybe in our case, it's about unclasping your hand and letting go of the dream of what would be so you can appreciate the beauty of what is.
Calling my husband over to wash my hair for me because I couldn't just months into our marriage wasn't the "honeymoon" period I'd envisioned. But can I tell you that it was and is stunningly beautiful? On the days I am thwarted by pain, unable to be the loving spouse I desire to be, still Ryan comes when called to wash my hair. It's not what I thought our story would look like. When the stormy seas toss us about I still see my husband standing fixed in the knowledge he was built to care for me. I see me learning to lean into the beauty of that care.
And that's our marriage, our moment defined.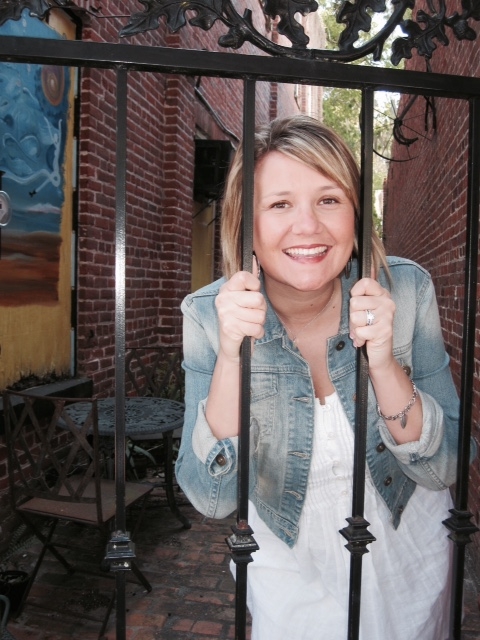 Stacey is an author, goofball and avid reader. You can find her blog at chronicallywhole.com where she endeavors to encourage other warriors like herself along in their journey of battling for health and discovering wholeness. She is mom to Hayden and Avery, stepmom to Julie and wife to Ryan (a smarty pants who works at NASA and logs their whole life on spreadsheets and pie charts – true story!) She has a strange affinity for eating whole meals in bed (don't tell anyone) and is convinced smelling old books will make her smarter.