Trust In You - A Page From My Journal
I have walked a very difficult journey this past year. It began last November when I briefly contemplated suicide. I am finally ready to share some of what I have experienced, and some of where I have been. I pray that sharing my story might help others in a similar situation. I share to bring hope.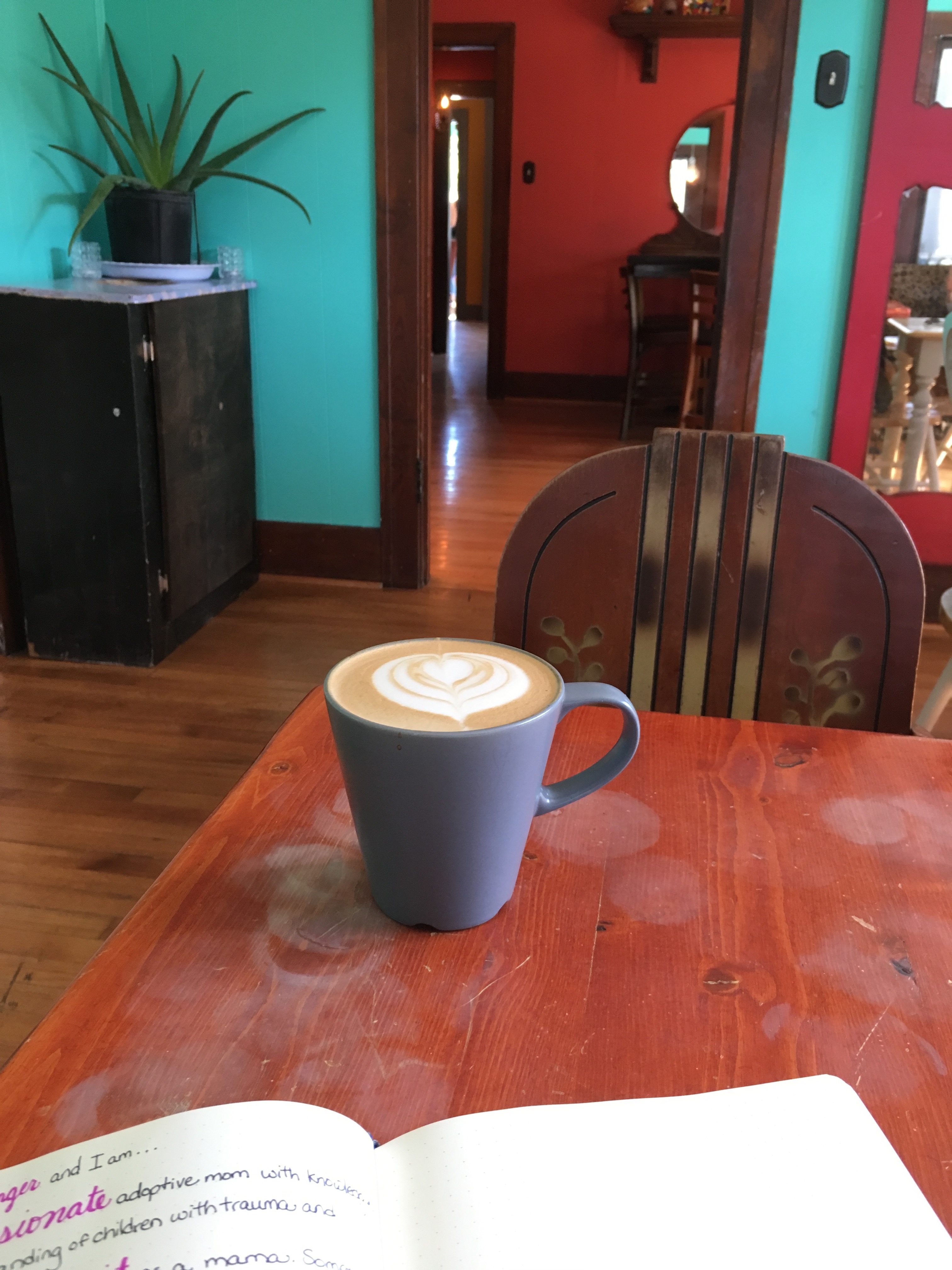 It was almost one year ago, November of 2015, when I sat in my driveway and experienced a breakdown. I questioned my worth as a mother, as a person, and as a Christ-follower.
I parked my car and gazed into the dining room window. My husband had prepared a meal for my sons and was corralling them to the table. I paused and questioned whether this life would be better if I were not in it.
By God's grace, I had enough mental clarity to recognize these thoughts as whispers from Satan. I quickly confessed my struggles to Chance and we sought a professional counselor.
Letting go of every single dream.

I lay each one down at Your feet.
Through the blessing of a counselor who leans into the Spirit every time she speaks, I identified many errors in my thinking — I am a do-er. I attempt to control situations in order to prove my value. I am a perfectionist. I shield myself from being vulnerable for fear of being rejected by others. I try to earn God's grace through my actions and obedience.
I've tried to win this war I confess.

My hands are weary I need Your rest.
In January, as I spent two weeks away from my children and the stresses of my daily life, I was reminded that God does not desire my perfection or my actions; all he asks is that I abide in him.
For a do-er, resting and abiding in an invisible God seemed like an impossible task. In February, I begged God to show himself through songs, scriptures, books, and sermons. In his faithfulness, he did just that. His spirit pulled me towards specific books in the exact times I needed their messages. The sermons preached in our church addressed issues that were a dominant struggle for me in the week prior.
As I abided in him, he maintained his perfect presence in my life.
Mighty Warrior, King of the fight

No matter what I face, You're by my side.
Then in March, after four months of trying to find a group home for Nasko, we were told he had been accepted into a placement. The timing was perfect as Chance was leaving for a two-week trip to Africa. We knew Nasko would struggle with the schedule upheaval and missing his Taty, so moving into the group home seemed like an answered prayer.
The day before we believed he would move in, we received a phone call. His placement had been denied. He was too dangerous for this facility. His behaviors were seen as a threat to not only himself, but potentially the other children in the home.
The facility was right. I feared for the safety of the other children. Nasko truly was a danger to any other children in his home; this had been made clear in our home, with our younger sons.
The facility felt the need to protect their children, but who was protecting mine?
I was absolutely crushed. I cried while sitting on Nasko's bed. He was in school, and I panicked knowing he would be home in just a few short hours. A mother should not be afraid to get her own child off the bus at the end of the day.
I was isolated. No one else understood our pain, and I was unable to be vulnerable enough to explain it anyway.
I felt completely abandoned.
When You don't move the mountains I'm needing You to move,

When You don't part the waters I wish I could walk through,

When You don't give the answers as I cry out to You...
I thought the group home was going to be our answer.
I continued meeting with my counselor. I knew I had issues to work on, but I also believed Nasko was the root of all my mental health issues. If he were removed from our situation and placed safely in a group home – despite the heartache it would cause – I believed I would eventually return to "normal."
Truth is, You know what tomorrow brings.

There's not a day ahead You have not seen.
In June of this year, my eyes were opened. I marched into the therapy office and repeated the exact words my counselor said to me during my very first session, "This is not about Nasko at all."
While there absolutely was stress from keeping my family safe, my mood and my behavior directly related to whether or not my life looked perfect. My life did not reflect a sovereign God – a God who loved me and my family, even when things were hard.
I was unhappy and could not allow God (or anyone) to love me because I could not keep control of my imperfect family.
I had not truly surrendered my life to the Lord.
I was willing to do God's work and adopt his orphans, but only if it wasn't too difficult. I agreed to follow his plans, as long as they made me look good and perfect. I would accept his grace, but only if I felt I had truly earned it.
I had not given my life over to Jesus and his will.
So, in all things be my life and breath.

I want what You want Lord and nothing less.
I had absolutely not trusted God with my life. I had attempted to earn God's love by doing his work, but I refused to trust him and accept his grace when my life was hard, and messy, and imperfect.
The day after I realized my depression required a change of MY heart, and not a change in our life circumstances, a group home called and accepted Nasko's placement.
When You don't move the mountains I'm needing You to move,

When You don't part the waters I wish I could walk through,

When You don't give the answers as I cry out to You,

I will trust, I will trust, I will trust in You!
I finally surrendered my life to God. I trust in him.
You are my strength and comfort.

You are my steady hand.

You are my firm foundation; the rock on which I stand.
We've walked a very hard road these past ten years. We've been let down by fellow Christ-followers. We've been hurt by the church. We've watched my belly swell and then flatten four different times. We were present at the birth of a sweet baby only to return to an empty nursery. We've waded through the waters of the adoption process twice, only to be greeted with much more severe diagnoses and behavioral issues than we planned for. We've buried extended family members and moved best friends around the globe.
Your ways are always higher.

Your plans are always good.

There's not a place where I'll go, You've not already stood.
But for the first time in my life, I have laid down my plans, my desires, and my perfectionism. I can finally see the glory in the suffering as I required a broken spirit before I could truly surrender.
It all changed this July when I realized my heartache and depression had nothing to do with Nasko. It had everything to do with not trusting God with my life.
Today, I can truly stand with my feet firmly planted as the storm of sin and unrest surround me, and I can say,
When You don't move the mountains I'm needing You to move,

When You don't part the waters I wish I could walk through,

When You don't give the answers as I cry out to You,

I will trust, I will trust, I will trust in You!

I will trust in You!

I will trust in You!

I will trust in You
https://youtu.be/tTygVvp6GS4
Maybe you are experiencing feelings of heartache and depression. If Satan is whispering lies over you, I implore you to seek help. It has been life-changing for me. If you are local, I have a counselor recommendation. If you need someone to talk to, please message me. My days are not perfect, but I am finally trusting God with all of my days – the good and the bad. I want you to do the same.
The poetic words and lyrics are by Lauren Daigle. This song ministered to me in my darkest days. Maybe you needed to hear it today.