Happy Third Birthday, Louie!
Sweet Louis turned three years old yesterday, and everything about the day just oozed with his laidback spirit and calm personality. We really liked the tradition we started with Edward's birthday and want to continue allowing our kids to open one of their gifts at breakfast. If we spread out their gifts, it seems they play better with them and treasure what they have been given.
By the look on Louis' face, he seemed to approve of this decision.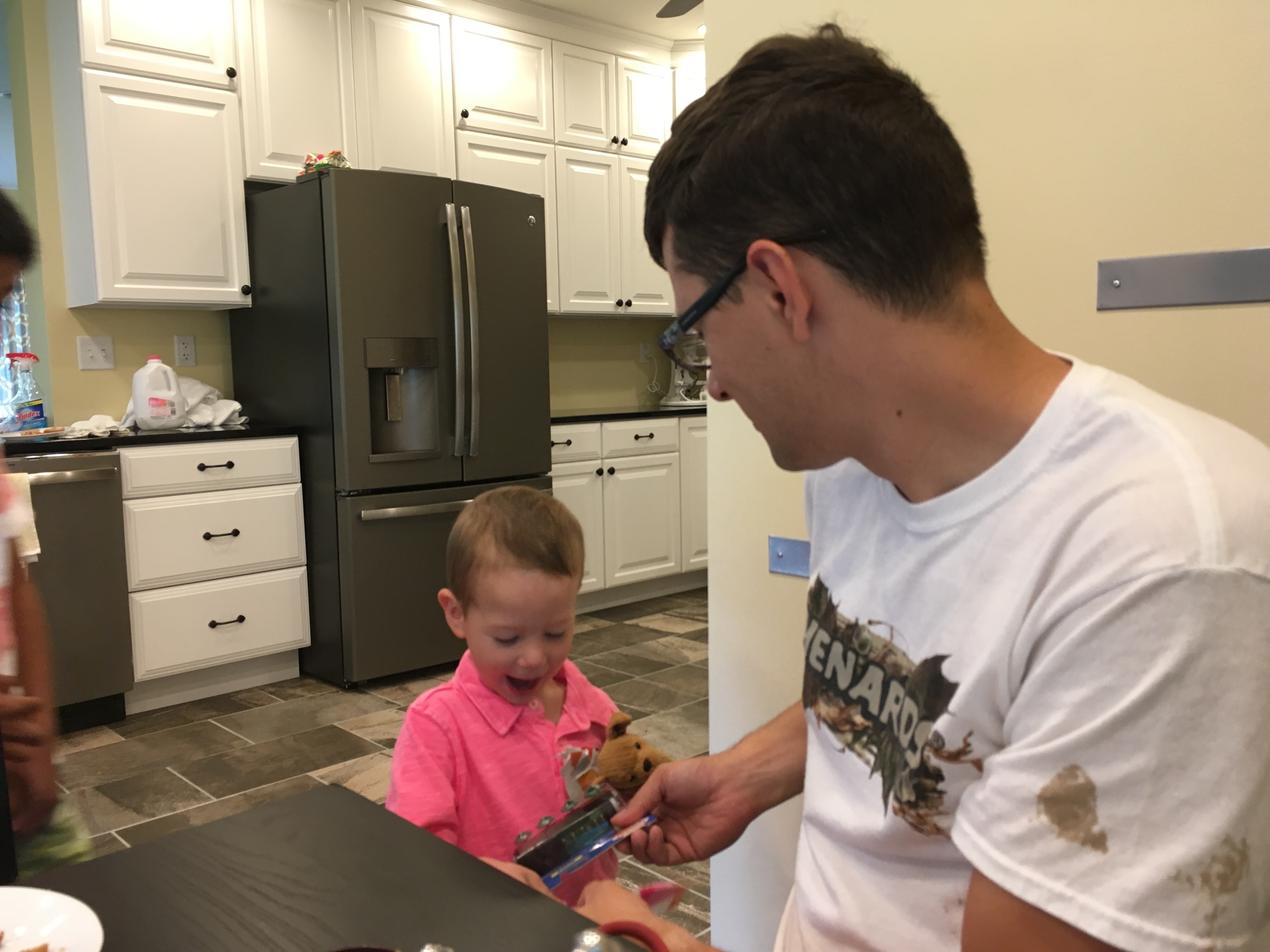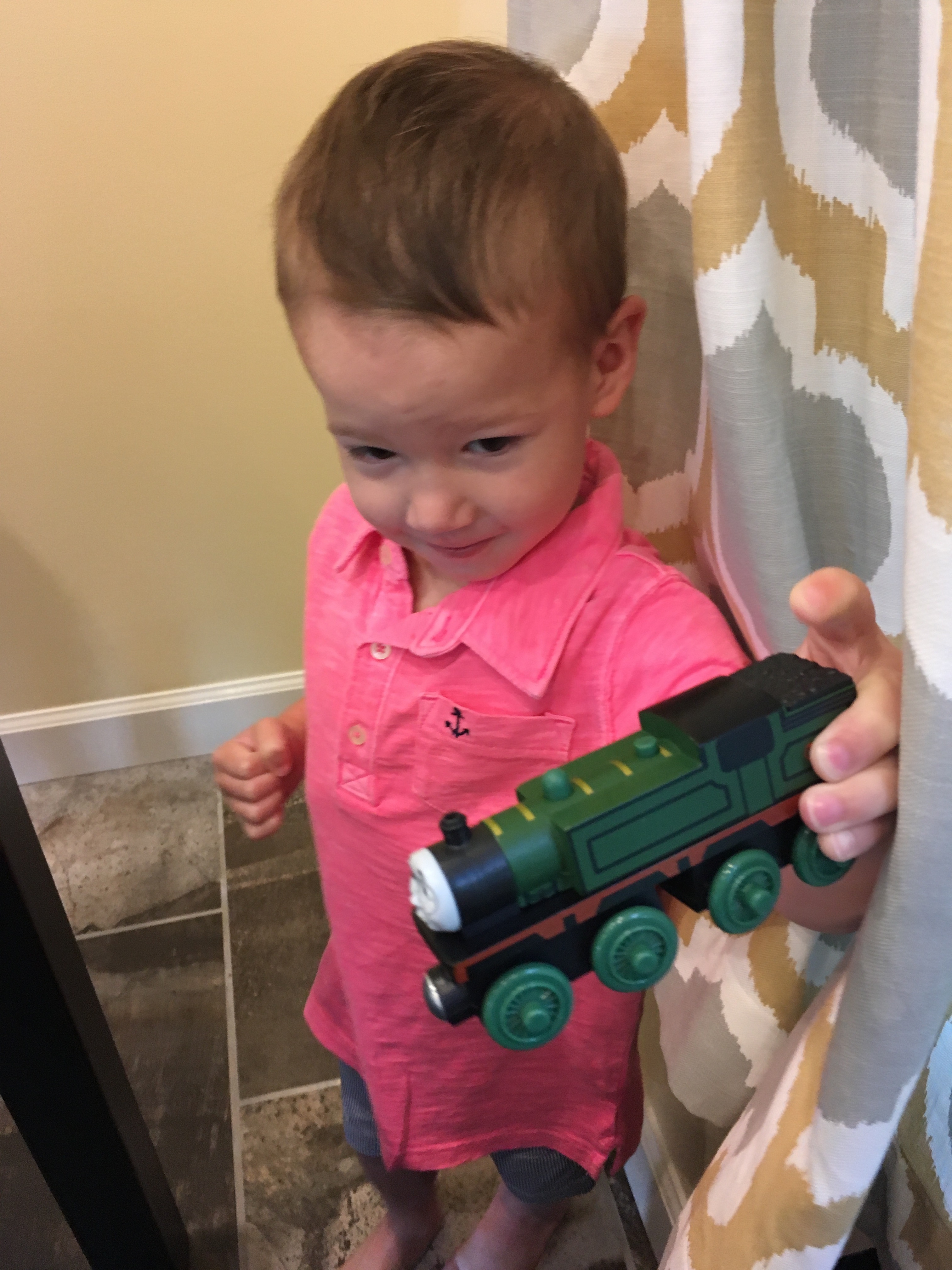 Louis, of course, received a new train. Chance and I took bets as to whether or not Louis would know the train's name just by looking at its face. He did. I win. This is Wiff.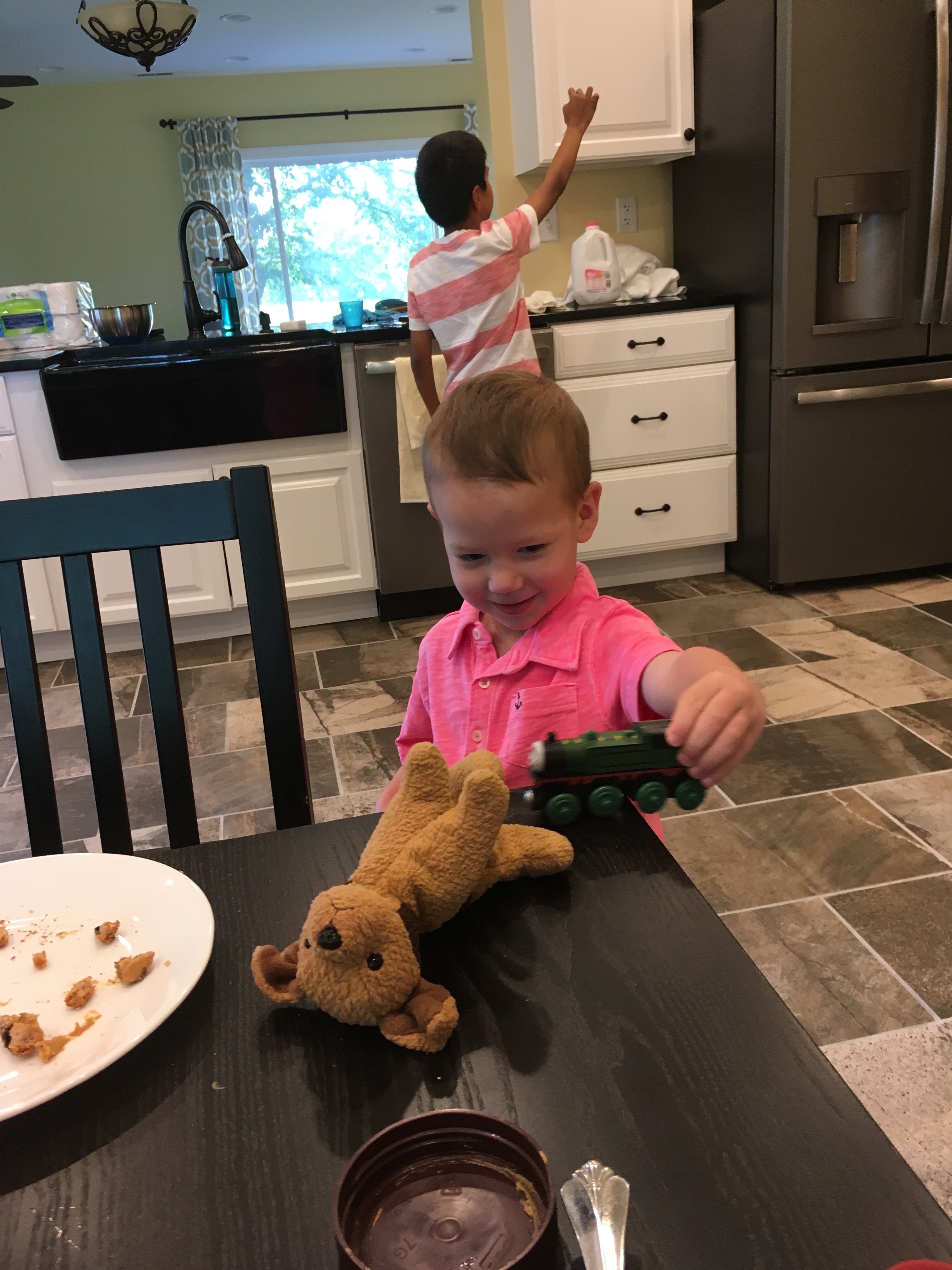 After breakfast, Louis and Edward headed to Vacation Bible School at Sherman United Methodist Church. They've been attending all week, and they are having a blast! During VBS that morning, the entire group of kids and volunteers sang "Happy Birthday" to Louis. He told me all about it afterwards! "Mama, sang Happy Birthday to ME!" Also, VBS is the reason Louis is wearing an over-sized shirt in the rest of his birthday photos. He REFUSED to take it off!
Continuing on with our low-key day, we had lunch (grilled bacon and cheese sandwiches – this kid loves bacon!) and then rest/nap time. At 5:30, our friends began arriving for Louis' birthday dinner.
It was a very fancy meal of pizza in our formal dining room!
The dining room was the only room where the paint and plaster repair (read: a huge mess) had not even begun before we moved in. It has been a long month of attempting to avoid this room and trying to contain the plaster dust, but our painter finished this week! Yesterday morning, before our kids woke up, Chance and I completed the room by staining and waxing the floors.
When we stepped back to admire the finished product, we just KNEW we had to eat dinner in the dining room that night!
Louis' favorite food is pizza, so he loved our supper last night. I made six gluten and dairy free pizzas in addition to two "normal" pizzas. We honestly didn't have much left over! It was a hit with everyone.
This picture is what happens when you ask the birthday boy to say, "cheese" during his favorite meal!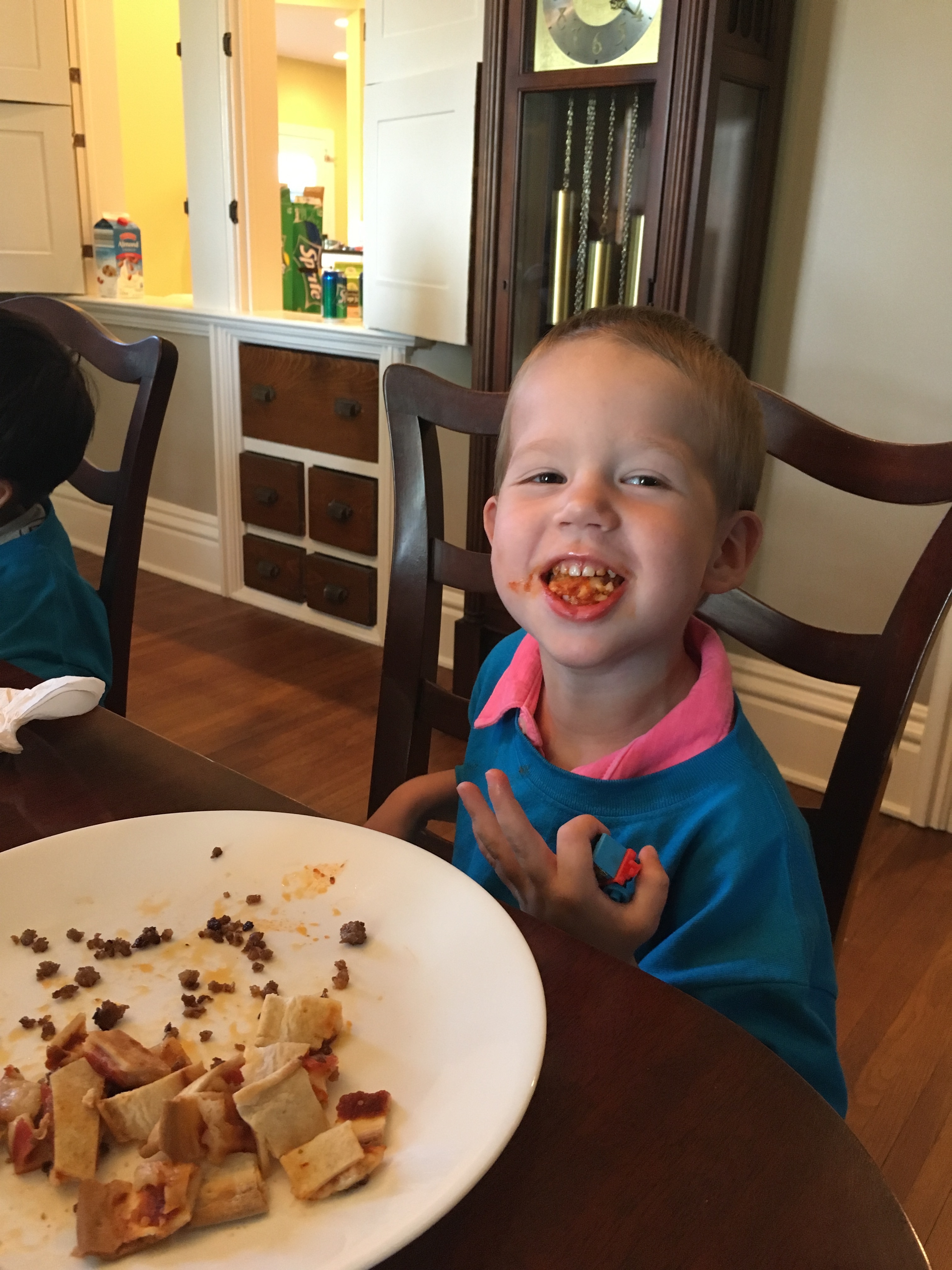 Yesterday, while looking for something in the sea of unpacked boxes that is our basement, I located our birthday wreath. We haven't put any holes in the wall yet, so instead of hanging it, I used it to display our gluten and dairy free cupcakes!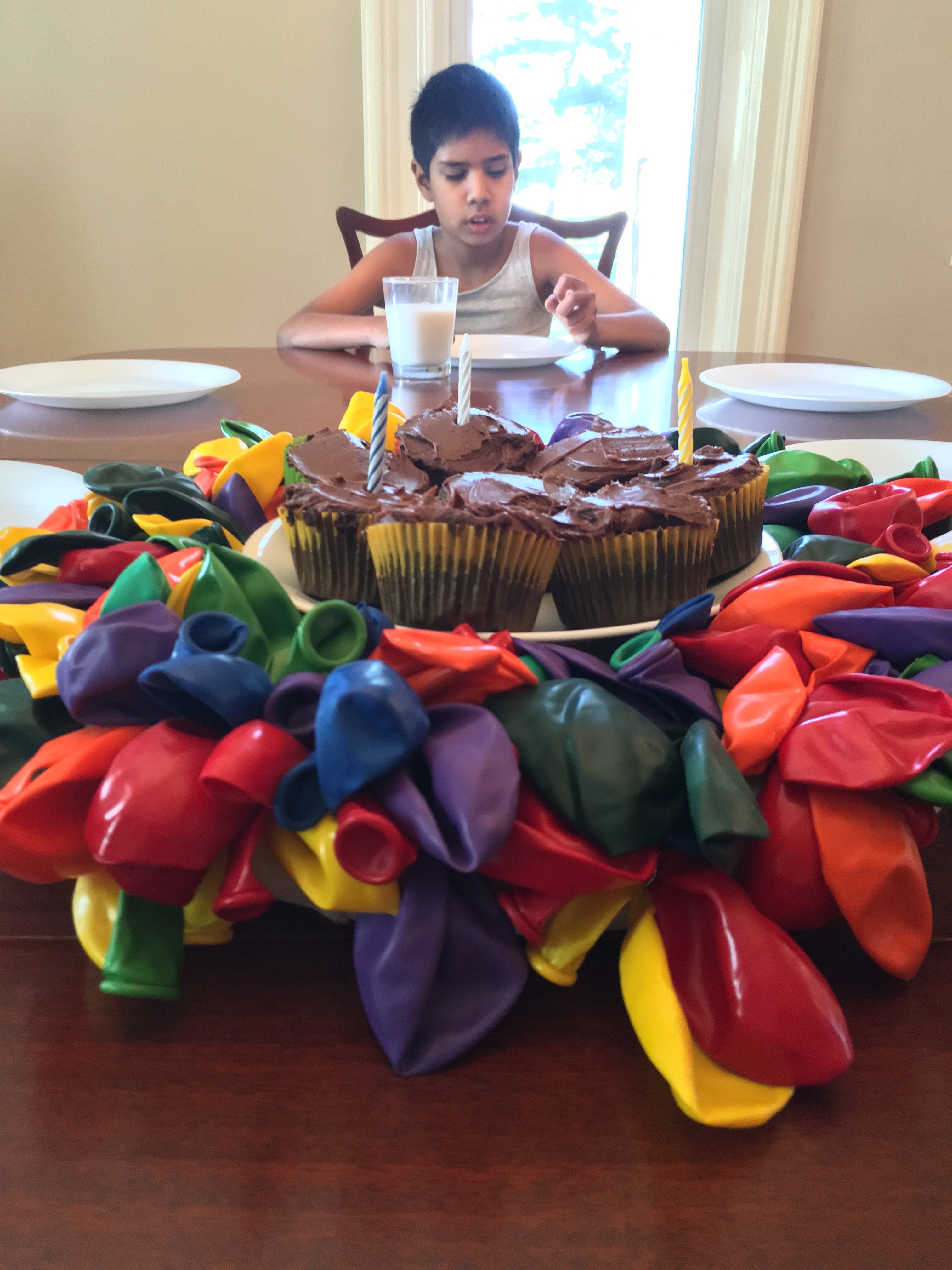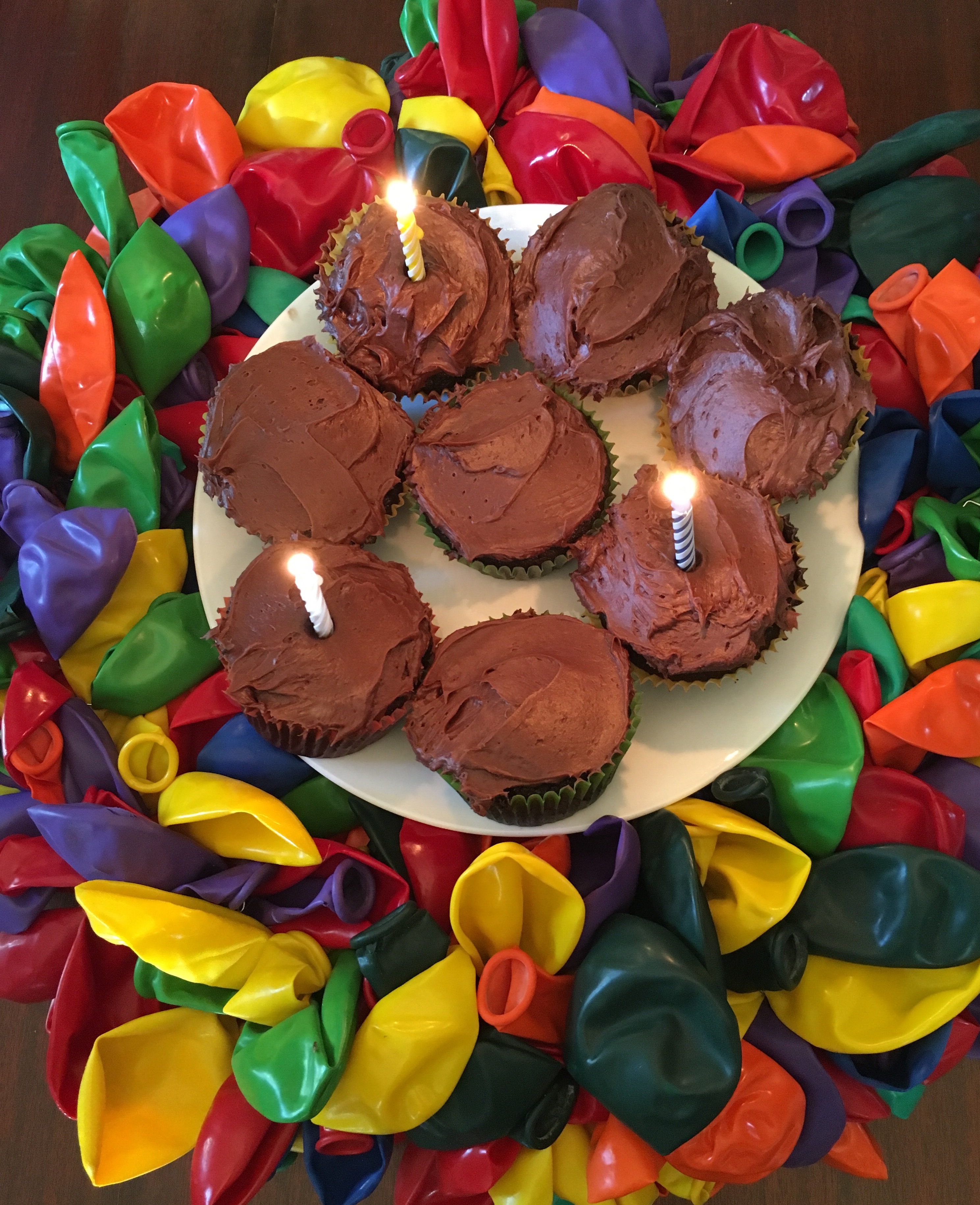 Considering my best friend Kayla, her oldest daughter, and our adopted Grandma Mickey all have to eat gluten free, birthday parties at my house are a big hit because everyone enjoys the cupcakes!
We sang "Happy Birthday" to our big three year old, then he attempted to blow out his candles.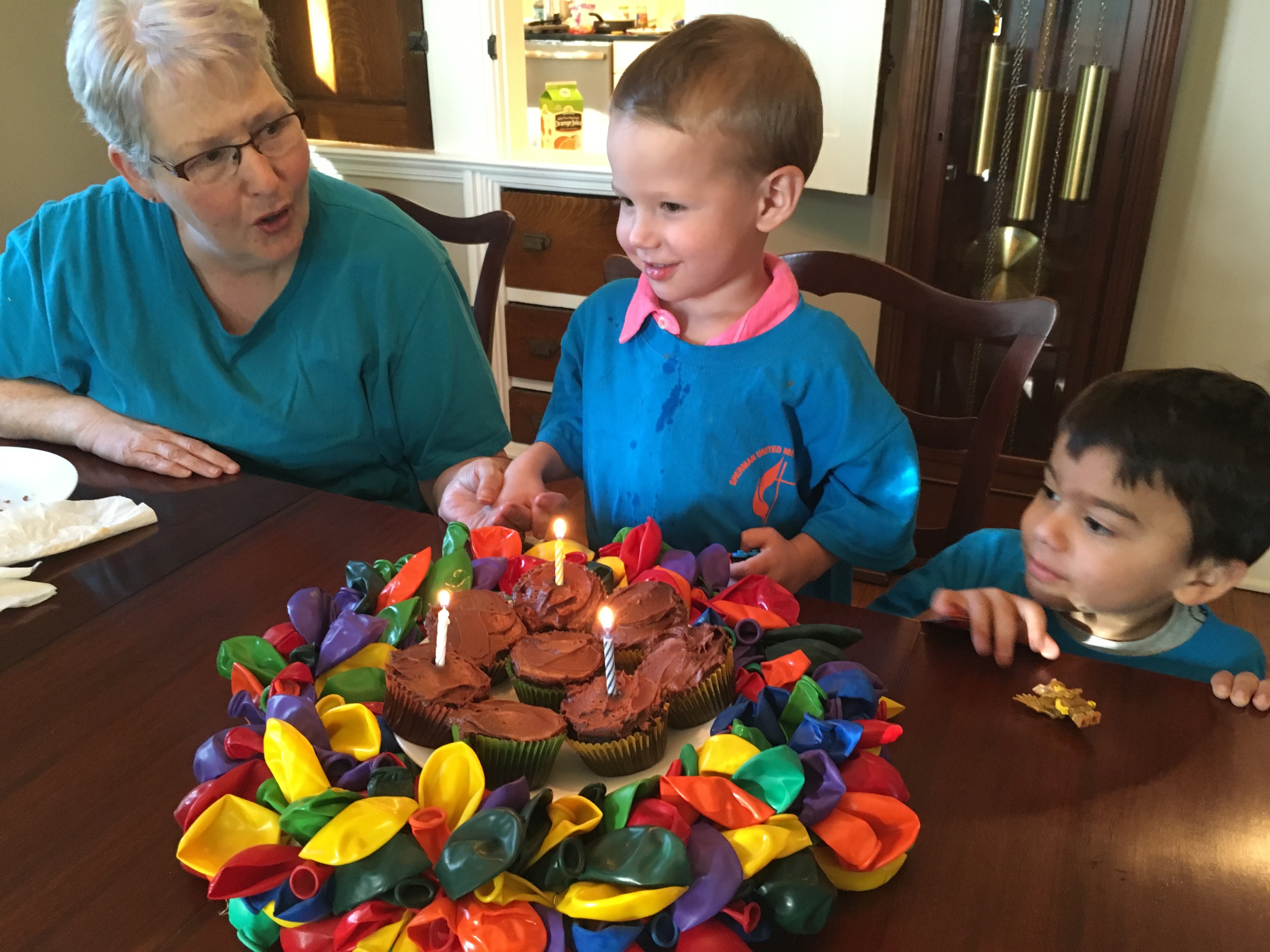 And attempted. And attempted some more.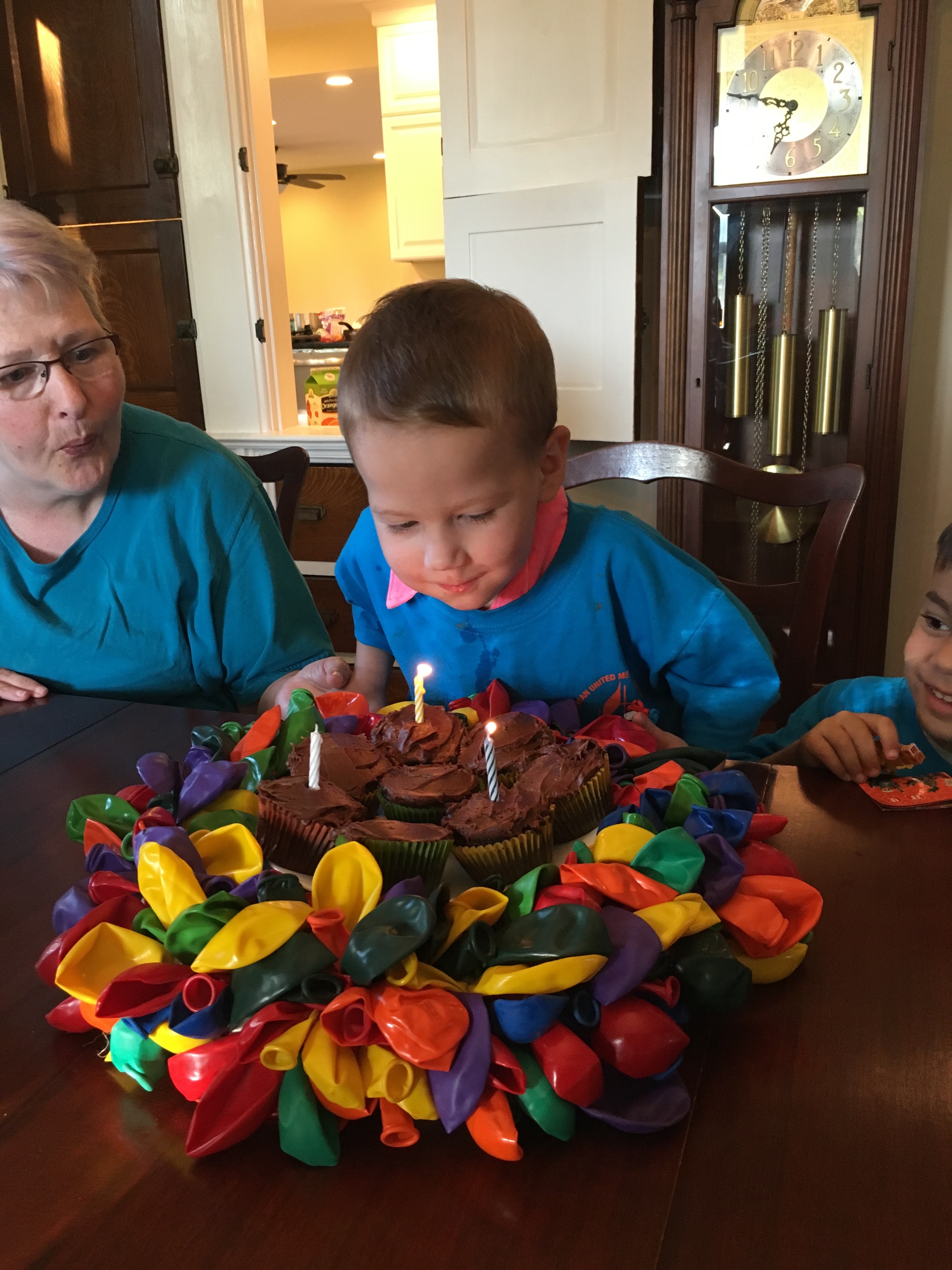 Finally, Nasko, who was at the other end of the long table, blew them out in desperation for the cupcakes to be served!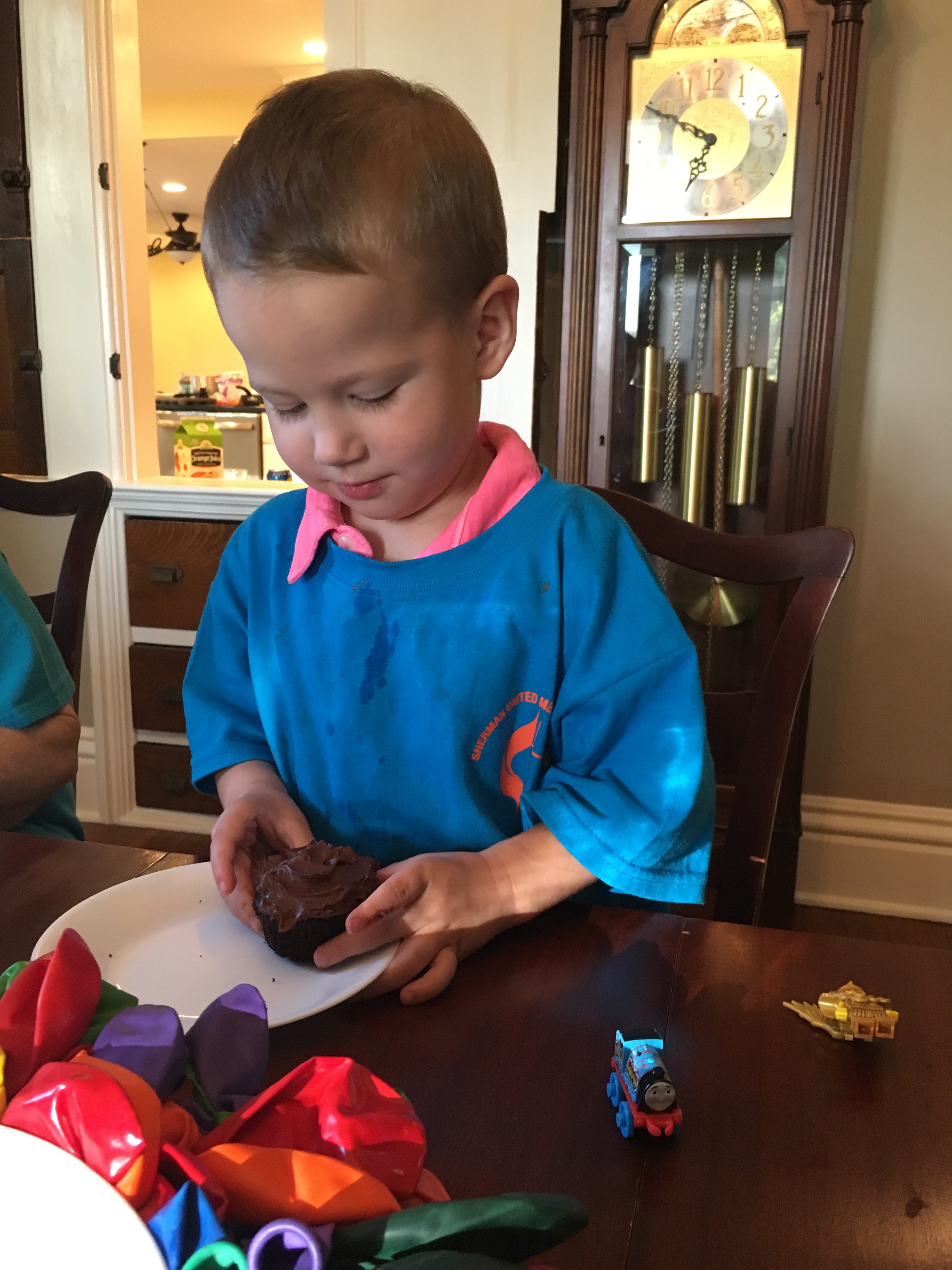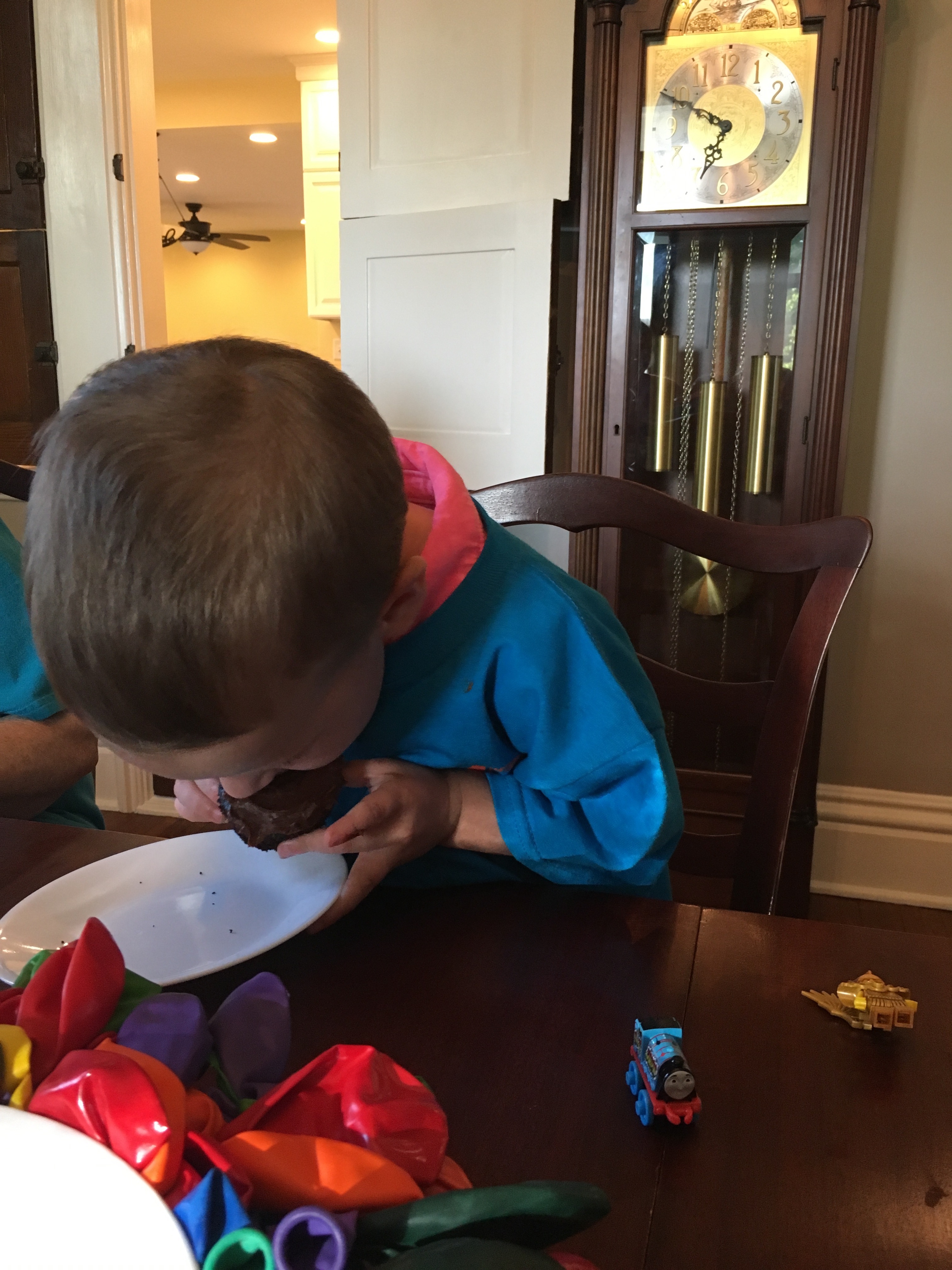 Quite a while after supper clean up, we finally remembered to give Louis his presents! He is not our materialistic child; we didn't have him badgering us for new toys all day, so we honestly forgot!
He loved his new puppy dog from Grandma Mickey and gave it lots of kisses.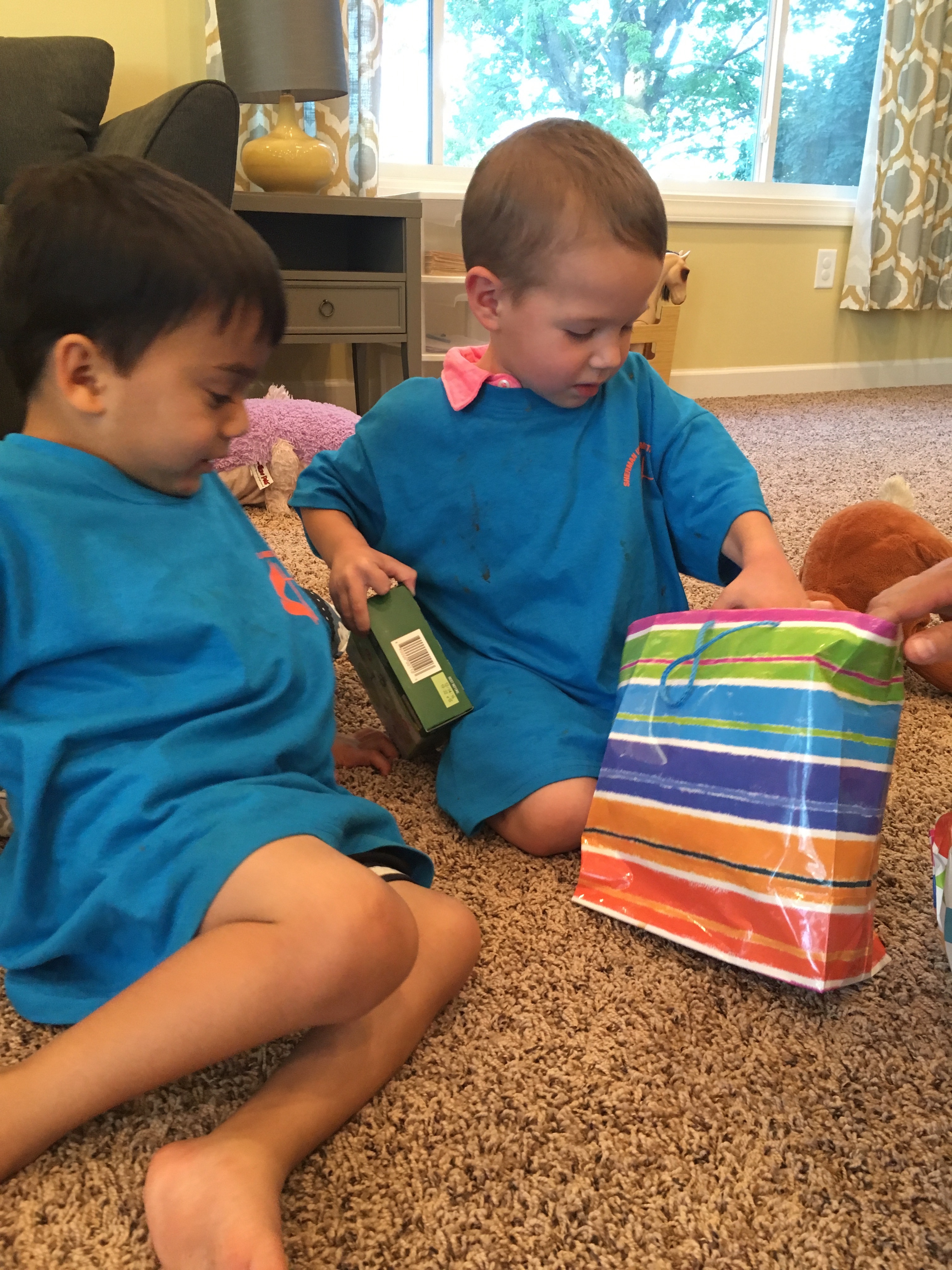 My friend Kayla's family brought him applesauce pouches. They are his favorite food EVER.
And we got him another train (Dash, who he identified, of course) and a new playdoh set. He was a happy boy!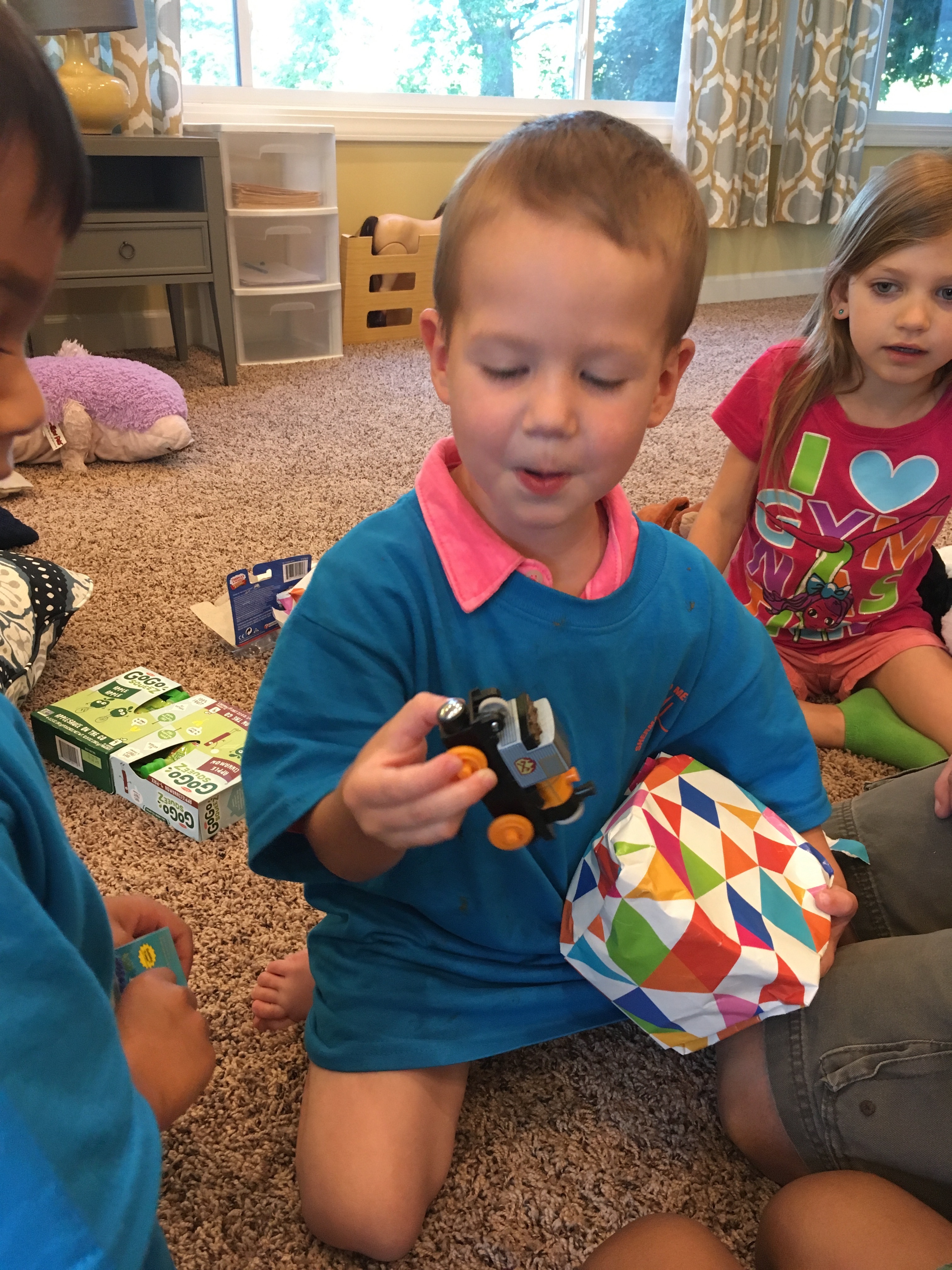 After presents, the whole crew went outside to play. Kayla and I lost track of time (because, summer) and the kids stayed up way past their bedtime. It was a very happy birthday for our little man.
When Chance and I prayed before bed last night, we recounted how much joy Louis has brought to our lives. Parenting traumatized, adopted kids is HARD. Louis has been so easy. He brings great joy to a home that experiences more than its fair share of sadness. We're so thankful for God's miraculous work that we were finally able to have a biological child, and that he was born with such a precious demeanor.
Happy birthday, King Louie!