Nasko Calling! Phone Calls from the Hospital.
Nasko is back in the hospital. I mentioned last week that we've had to hospitalize him a few times in the past months because of his unsafe behavior. Last Wednesday, he had his most explosive episode yet. It escalated to the point of calling 9-1-1 because I thought he was going to hurt himself. So after an ambulance ride and an overnight in the ER, he has returned to Streamwood Behavioral Health Center, where there's a whole floor dedicated just to children with autism.
While there, the doctor is attempting to regulate some of Nasko's levels (his blood work is all out-of-whack) and change a couple of his medications.
Streamwood is almost four hours from our house, so we don't get to go visit Nasko often. He is allowed to make one phone call every evening, though.
Having a child in the mental hospital is a heavy thing. There's a thick sadness in our home while Nasko is away. We try to use the time to rest (or to move, as is the case this week!), but there's always some grief associated with his time away.
In the midst of our grief and sadness, one thing has brought us joy — those daily phone calls from Nasko.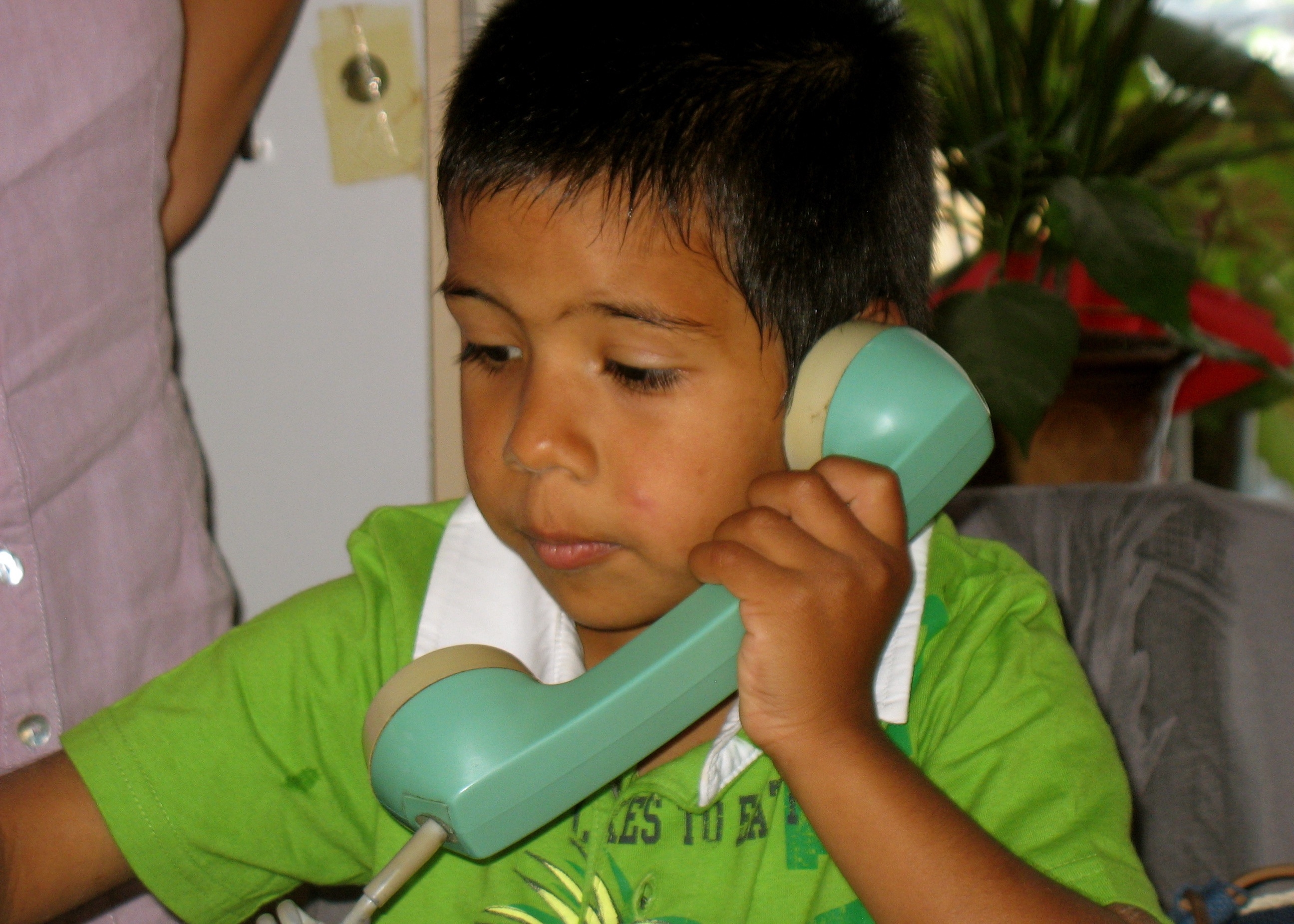 The other night, Chance and I were recalling all of our conversations with our speech-delayed, developmentally-delayed, English-as-a-Second-Language son and we were cracking up. Nasko is very smart and very clever, so despite his delays and inadequacies, he always figures out how to get his point across.
Since Nasko doesn't think in the abstract, I'm limited to what questions I can ask him. Every night, I ask about what he has eaten that day.
The first time Nasko was in Streamwood, I asked if he had French fries with his supper. French fries are one of his absolute favorite foods. He responded with,
"No, honey. No French fries for you. I know... I'm sorry."
This may seem odd, but because of the voice he used, I realized he was giving me a direct quote from the cafeteria worker. He wasn't actually calling ME honey, someone else had called HIM honey! From this exchange, I learned that Nasko can't eat the French fries at Streamwood because they contain gluten.
Another conversation revealed he had been offered dessert. I asked him if he ate any of the cake he was offered (he loves cake!), but he promptly sounded disgusted. He said,
"Ate corn. No cake. All done cake. More corn."
Corn or cake? Is that really a contest? But Nasko does love corn.
A few days later, the nurse clarified that he had been offered a dessert, but Nasko turned up his nose and negotiated that he should have a second bowl of corn rather than a piece of cake!
Just the other night, Nasko called me and immediately told me he wanted to eat. I asked if he had already had supper, to which he said no. I told him to let his nurse know that he was hungry. He was quiet, but a few seconds later, he grew very excited and said,
"Spaghetti?! Make you [you made me] spaghetti?! Heat it up! Heat it up! Alright. Bye Mama. Heat it up spaghetti." Click
And that's when I knew where I ranked in comparison to spaghetti.
In addition to food, I sometimes ask Nasko to tell me what he is wearing (not in a creepy way, but in a look-down-and-then-you-can-answer-another-question kind of way). When I packed his bag for his hospital stay, I remembered to pack his favorite pajamas. He would love to wear them every day here at home. And according to his answers, he IS wearing them most days while in the hospital!
During his hospital stay in March, Nasko called me one night and obviously was comforted by talking to me. I try to stay on the phone as long as he wants since I know he misses us while he is away. I had already run through my typical clothes and food questions, though, and I was running out of things to say.
I heard another patient in the background, so I jumped on the new conversation topic.
I asked Nasko if there was another child there and if the child was his friend. Nasko agreed the child was his friend, so then I began to ask more concrete questions - is your friend a boy? Does he have short hair? Etc.
Nasko perked up with this string of questions, and exclaimed the following about his new friend:
"Africa. Sit by you!"
That might not mean much to you, but because of our family's trips to Africa and our work with Lifegate, my kids assume ALL black people are from Sierra Leone. And obviously, if someone is from Sierra Leone, Mama and Taty know them personally.
From four words, I learned that Nasko's new friend was a black child and they were sitting next to each other.
My absolute favorite part of our phone calls every night is when Nasko signs off. He usually slows down a bit and says,
"Good night, Mama. I love you, Mama." Thud.................... Click.
He doesn't hang up the phone. He just drops it and runs. His nurse hangs it up before chasing him.
I am grateful  to hear him express love to me daily, though, even if these circumstances are not ideal.