Encouraging the Love of Reading - BUMBY BOX Product Review and Coupon Code
You all know how I feel about children's books, right?
Like how I used to have over 700 of them cataloged, organized, and stored in alphabetical order by  the authors' last names?
No?
Hmm, well. Maybe I shouldn't tell you.
I had all those books when I was teaching and doing developmental therapy. Once my own children came along, I realized there was absolutely no need for that many books. My kids (including my avid reader - Louis) read the same ten books over and over and over.
And honestly, that quickly became ok with me.
When children read and re-read a cherished book, they learn and memorize it. Knowing a book well allows them to learn new vocabulary, sentence structure, rhymes, and context clues.
Every time I read Chicka Chicka Boom Boom (which I can now do in my sleep), I try to remember that those lyrics are actually setting my children up for reading success.
Because of my love of reading, and my children's love of reading,
BUMBY BOX
asked if I would be willing to partner with them to celebrate
Children's Book Week
.
From BUMBY BOX's website:
BUMBY BOX is a monthly and quarterly subscription service that delivers a box full of fantastic activities and toys designed to stimulate your child's mind. The contents of each BUMBY BOX are carefully curated by our experts to be developmentally appropriate for your child. BUMBY BOX always sources its toys and activities from trusted manufacturers and guarantees the contents of each box to be toxin free and produced with equitable labor practices.
In every one of their boxes, they include at least one book that can quickly become your child's new favorite to read over and over. Move over Chicka Chicka Boom Boom!
May 2-8 is the 97th annual Children's Book Week; It is the longest-running literacy initiative ever! The purpose of Children's Book Week is to encourage children to fall in love with reading. Reading unlocks a world of opportunities for our children, and as parents – our children's first teachers – it's vital that we pass on this love of discovery.
A couple weeks ago, our family's very first BUMBY BOX arrived in the mail.
It contained five different items. These toys and books were a HUGE hit with my kiddos.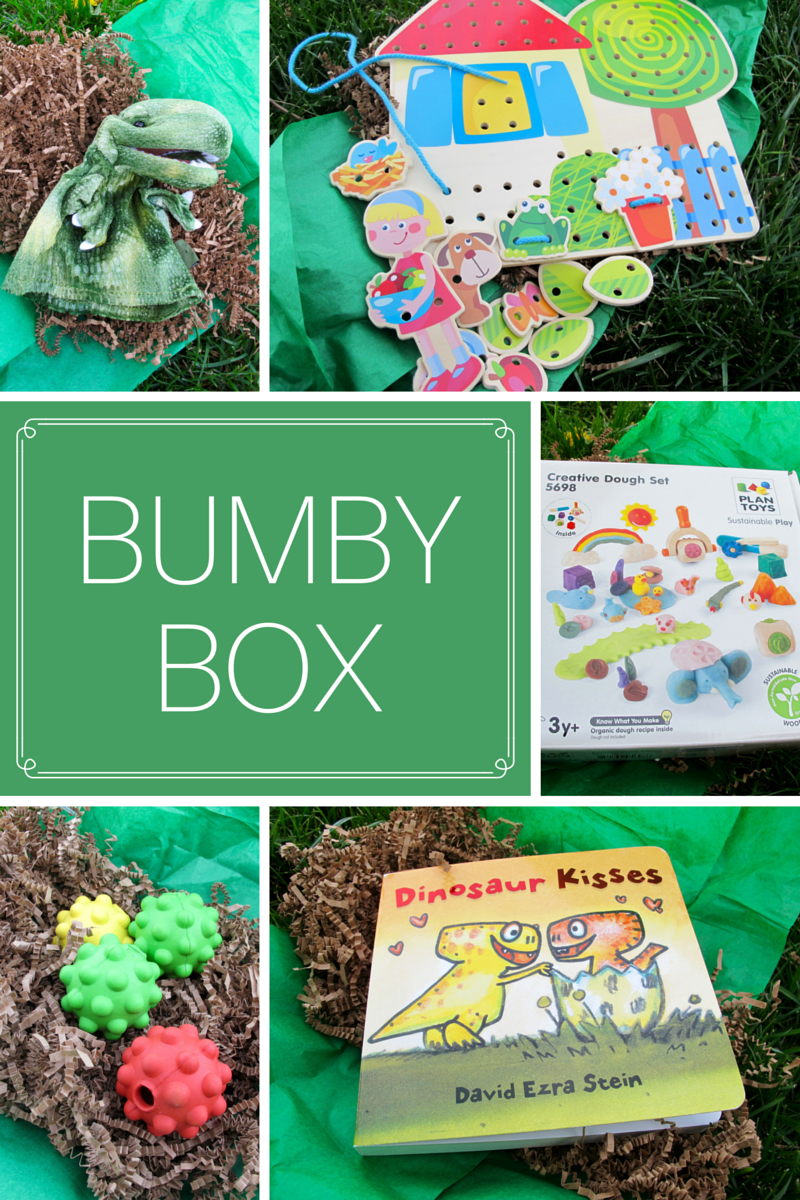 Their absolute favorite new toys were the fidget balls. My oldest two have sensory processing issues, so they played with these nubby distractions as we read the book and re-told the story.
The book has quickly become a favorite to read over and over. Louis really liked using the puppet to imitate the sweet dinosaur story.
Because of the new playdoh toys, even Louis wanted to interact with the sticky dough; this is a big deal for him! Unlike his brothers, he's at a stage where he'd prefer to leave sensory play behind.
Edward loved it all. He was wide-eyed with discovery as we explored each item in our box. He is not as fervent of a reader as Louis, but as he gains more and more of the English language, he becomes more and more interested in stories and their characters.
As we partner together to celebrate Children's Book Week, BUMBY BOX is running a special promotion:
The first 50 people to subscribe to a monthly or quarterly box using the code BUMBYBOOKS will receive an extra two books in their shipment. That's $28 worth of extra books for Children's Book Week!
Also, for every order received, BUMBY BOX will donate a book to one of two organizations which work exclusively with families in crisis. Mustard Seed School (a school that operates within a homeless shelter) and Casa de Las Madre (an emergency safe haven for women and children fleeing domestic violence) are eager to share these donated books with the children they serve. 
Books are so important for the development of our children and their love of reading. BUMBY BOX does an excellent job encouraging children to interact with books and other activities that promote literacy and play.
Don't forget to use the coupon code BUMBYBOOKS in order to receive your two free books when you join me (and my little guys) as a recipient of the next BUMBY BOX.
This post was sponsored by BUMBY BOX in hopes to bring awareness to Children's Book Week, and for the purpose of placing more books in the hands of children.