What I've Been Reading - Five Book Recommendations
I've been spending more and more of my time reading lately, so I thought I could occasionally share the especially good stuff with you.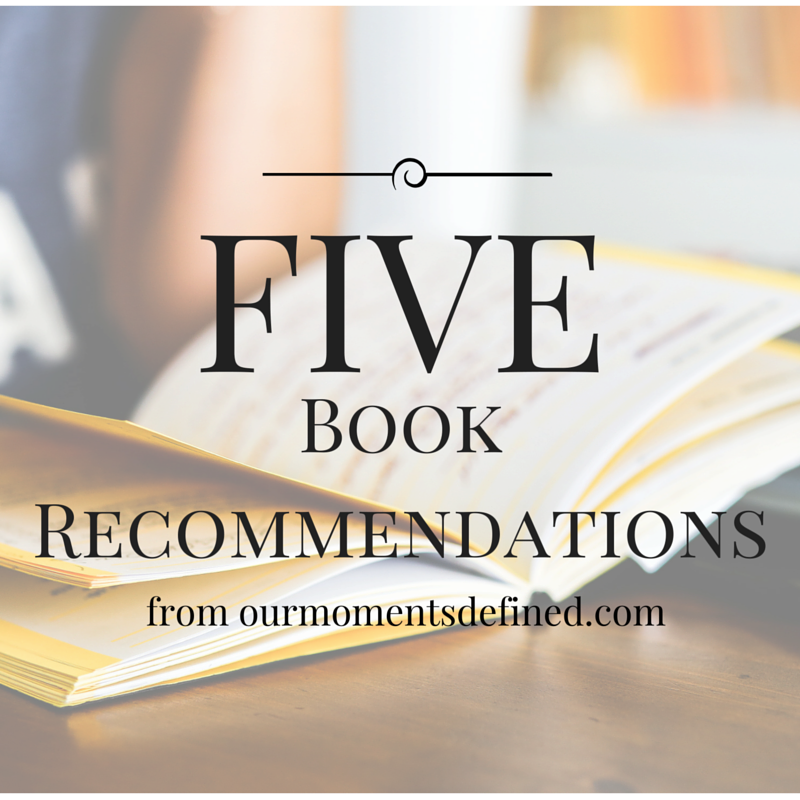 I just recently signed up as an Amazon Affiliate, which means that the links within this post are technically affiliate links. So, if you are interested in a book I suggest, you can click on the link or the picture, buy the book, and I get an eeeensy weeeeensy cut of Amazon's profits.
With those eeeensy weeeeensy profits, I will probably buy more books. So there's that.
What I've Been Reading:
In January, I read five books. I listened to two audiobooks and I began two bible studies. Here are five of my highlighted recommendations.
Books:
This Young Adult book was my favorite read of the month. One night, I wasn't feeling too tired at 8:30 (even though that's when Chance and I usually climb in bed most nights), so I decided to start a new book.
This one.
Bad idea, apparently.
I got sucked in and read the entire book by 1:30 AM. So, obviously I liked it.
The book is a fictional story about Oliver, who was kidnapped and disappeared for ten years. The narrater is his former next door neighbor, Emmy.
"[Oliver] tapped his fist against the car door a few times, then looked at me. 'I'm glad you never moved.' 
It was the nicest thing anyone has ever said to me."
The book deals with the themes of love, acceptance, grief, and finding oneself. That probably made it sound cheesy, but it really wasn't. It was a quick, take-me-away type of read!
2. Gods & Kings
I'm typically leery about biblical fiction, but Lynn Austin does a great job in this book about King Ahaz and his son, Hezekiah. After reading the book, I felt encouraged to re-read that portion of the Old Testament. This full novel was based on just one chapter of scripture (2 Chronicals 28), but the cultural practices and stories from bible times help make such a simple chapter of history come alive.
"'Grandpa?' he asked at last, "couldn't Yahweh kill all our enemies and save us?... Couldn't Yahweh do that?'
'Certainly He could, [Hezekiah]! Yes of course Yahweh could defeat all of Judah's enemies.'
'Then why didn't He, Grandpa?'
Zechariah's face looked sad as he shook his head. 
'Because our nation no longer believes in Him... and so no one bothered to ask Him to.'"
There are more books in this series, and I'm excited to read those as well.
It wasn't until I started reading this book that I recognized who the author was! She's from The Big Mama Blog, and I've been reading her writings for years. (Also, she is by no means big. The story behind her nickname is in her book though!)
She writes in a very personal way, and shares her musings about her daughter's first few years of life. I really resonated with her stage of life as she wrote this, so I highlighted half of the book!
"Real motherhood is different. It's better and it's messier and it's more complicated. It will break your heart and make you laugh harder than you ever imagined. You find yourself alternating between feeling like your friends talked you into some sort of pyramid scheme so you could share in their misery and thinking this is the most fulfilling thing you've ever done in your life."
Audiobooks:
4. Dad is FAT
I have watched and loved Jim Gaffigan's stand up comedy routines on YouTube. Listening to him narrate his own audio book was like listening to a seven-hour comedy show. It was laugh-out-loud funny. It was perfect for car and airplane rides by myself (which I actually did last month!).
"Every night before I get my one hour of sleep, I have the same thought: 'Well, that's a wrap on another day of acting like I know what I'm doing.' I wish I were exaggerating, but I'm not. Most of the time, I feel entirely unqualified to be a parent. I call these times being awake."
"Bedtime makes you realize how completely incapable you are of being in charge of another human being. My children act like they've never been to sleep before. 'Bed? What's that? No, I'm not doing that.' They never want to go to bed. This is another thing that I will never have in common with my children. Every morning when I wake up, my first thought is, 'When can I come back here?' It's the carrot that keeps me motivated. Sometimes going to bed feels like the highlight of my day. Ironically, to my children, bedtime is a punishment that violates their basic rights as human beings. Once the lights are out, you can expect at least an hour of inmates clanging their tin cups on the cell bars."
Devotionals:
I have only completed a couple weeks from this devotional so far, but the ladies from my church are doing it together, and I just love it already!
The book is written by two of the ladies from the She Reads Truth App. They handle scripture very responsibly and seem to be taking us back to the very basics of why reading the bible is important. I love that they are laying a foundation on which to build the rest of the study.
"We open our Bibles not just because we feel lost, but because without Him we truly are lost."
The book is very aesthetically pleasing also, which is rare in bible studies!
Hopefully, if you were looking for something new to read, you've found something interesting in my list! More to come next month, I'm sure!