Manic Monday - 2/1/2016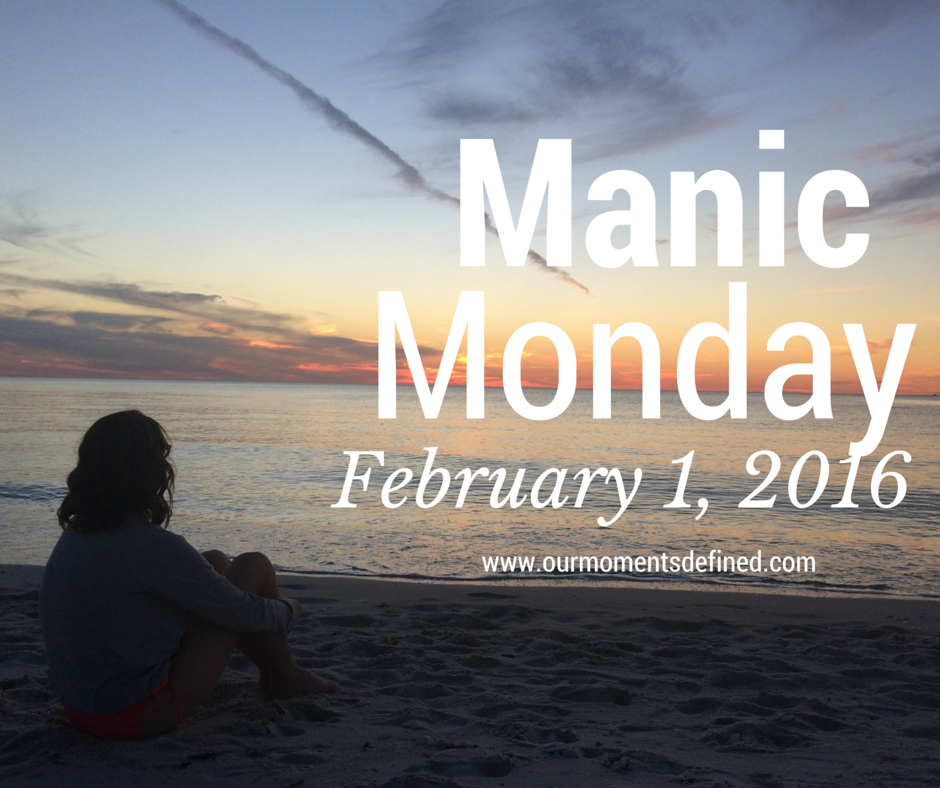 One time I wrote a list of all my New Year's goals, including writing blog posts 2-3 times per week, then I didn't write anything else for the rest of the month. Attagirl.
Fortunately some of my other goals are going a bit better. One of my biggest goals was to fall back in love with God. That one, I've actually been working on...
I had a last-minute opportunity to go to Florida BY MYSELF for twelve days. My very supportive husband could see it was something from which I would benefit greatly. He handed me a daily budget and practically shoved me on the airplane. I flew down and stayed in my parent's condo in Naples. My parents showed up eventually and one of my bffs, Kayla, joined me for the last five days. It was a great time of rest and rejuvenation. I came home a much better mom because of my time away.
As I was packing, I saw a binder containing a bible study that my sister-in-law wrote. The study is all about the Fruits of the Spirit. I'm so thankful I pulled a couple clothing items out of my backpack so I could include it; the study has re-ignited me to remain in the Lord and live out the Gospel. Everyday some truth from the study seemed to speak to a specific situation that arose. This was the perfect reminder that God's Word is active and still relevant!
After coming back home from Florida, we've been busy, but not too busy (just the way I like it!) We've shared meals with friends and even played outside (hello 50 degree weather in January... You may stay as long as you would like.)
On Thursday, a friend was having a major cancer-removing surgery in St. Louis. Chance and I called upon our trusty adopted Grandma Mickey to watch our youngest two, and drove down south while Nasko was in school. We prayed with our friends, then took full advantage of having a sitter by going out to lunch.

After lunch when we returned to our van, it wouldn't start. Chance and I's car knowledge stops at "Well, we can still turn the lights on, so it must not be the battery," so we called a tow truck.

A local mechanic took some time to do a full work up on the car before coming to the conclusion that our entire fusebox went out.

So that's fun. It was going to take 24+ hours to get the necessary parts, so we called a nearby rental car location. We rented a vehicle and made it home - five hours late. Nasko does not do well with babysitters (thus the reason we do lunchtime dates), so I was anxious about his behavior while we were gone. He had been overwhelmed by the schedule change though, and spent the evening in bed! Whatever! At least he stayed out of trouble!

Our van is fixed now and another friend has a meeting in St. Louis on Tuesday. Chance will ride down and drive our minivan back up!
While I was in Florida, I officially gained a nephew! My parents and I got to Skype with him one day. He's absolutely perfect for my brother and sister-in-law. They're still in South Africa for almost another month (it's a long, in-country process). I cannot wait for Tisetso to get home so we can meet him in person!

You can follow along with their South African adventures here.

Tisetso sent this picture to Chance the other day. I'd say that little man is going to fit in just fine around here...
Considering one of my other New Year's goals was to read one book per week, I can probably admit that I've been reading more than I've been writing, since I doubled that goal in January! I'll be sharing what I've been reading soon.
I'm gonna keep plugging away at my goals! Here's hoping for a good week and a not too Manic Monday!