Redeeming the Messes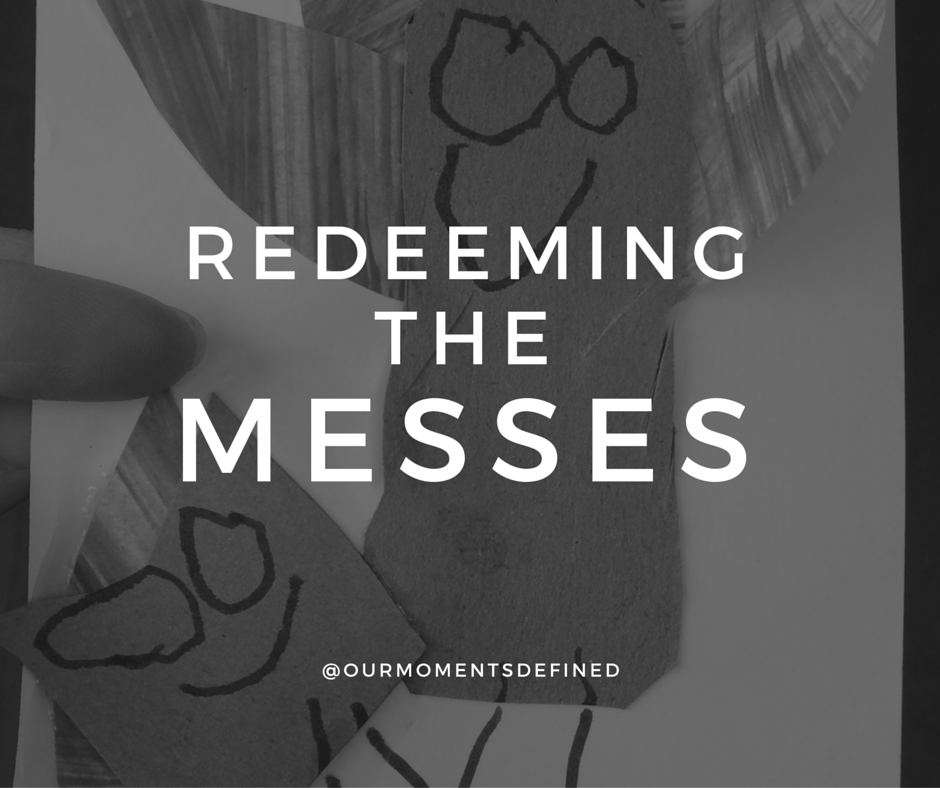 I had been cutting, gluing, and painting with Edward, but suddenly Louis needed a diaper change.
This is normal in our house, as I spend approximately 40% of my day dealing with diapers and child-sized potties, but I was still apprehensive to leave Edward unattended with the art supplies. I pulled his chair further away from the table and sternly advised him to keep his hands in his lap.
He's four. And head-strong. You can imagine how that went...
When I returned to the table with fresh-smelling Louis, I glanced at Edward and noticed a too-proud smile. We had been making Thanksgiving cards for his grandparents, aunts, and uncle. He was to the step of gluing the turkeys' feathers and bodies onto the cards. I had been helping control the glue and the turkey placement.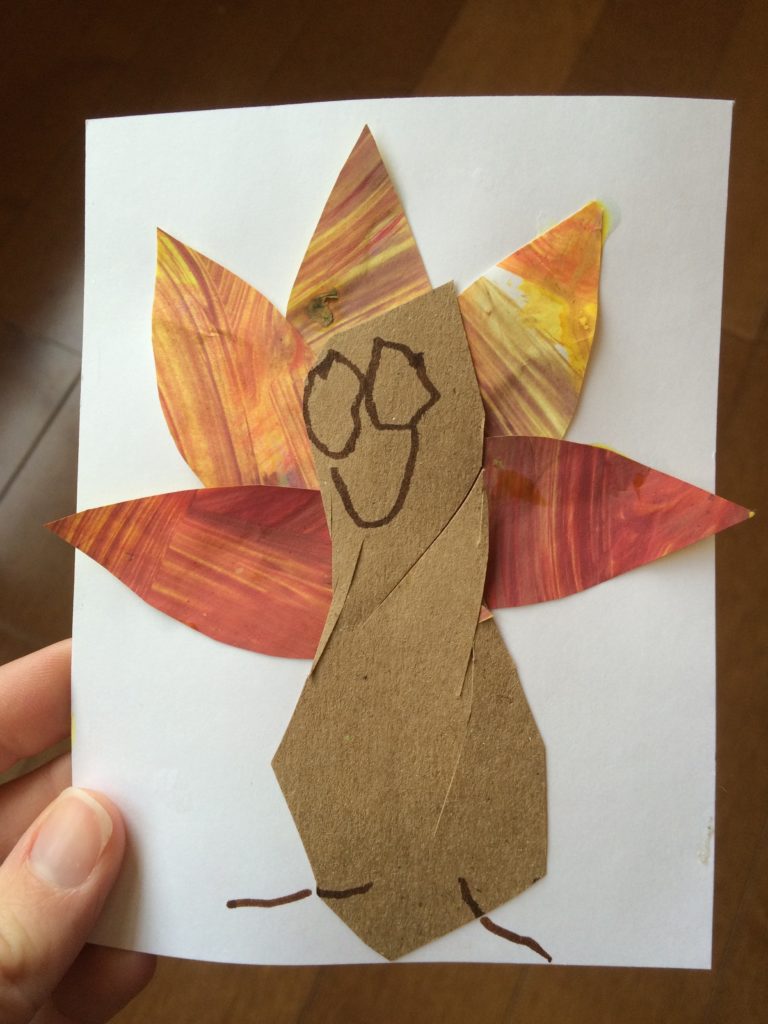 The cards were adorable. Brightly colored feathers, imperfect brown bodies - the whole project had Edward's fingerprints all over it.
But while I was distracted, he decided to make a mess. 
Along the bottom of one of the almost-completed cards, Edward squeezed enough glue to make any preschool teacher gasp. He then slapped on some random pieces of the craft (a feather and a brown scrap) and prayed I wouldn't notice.
But I did.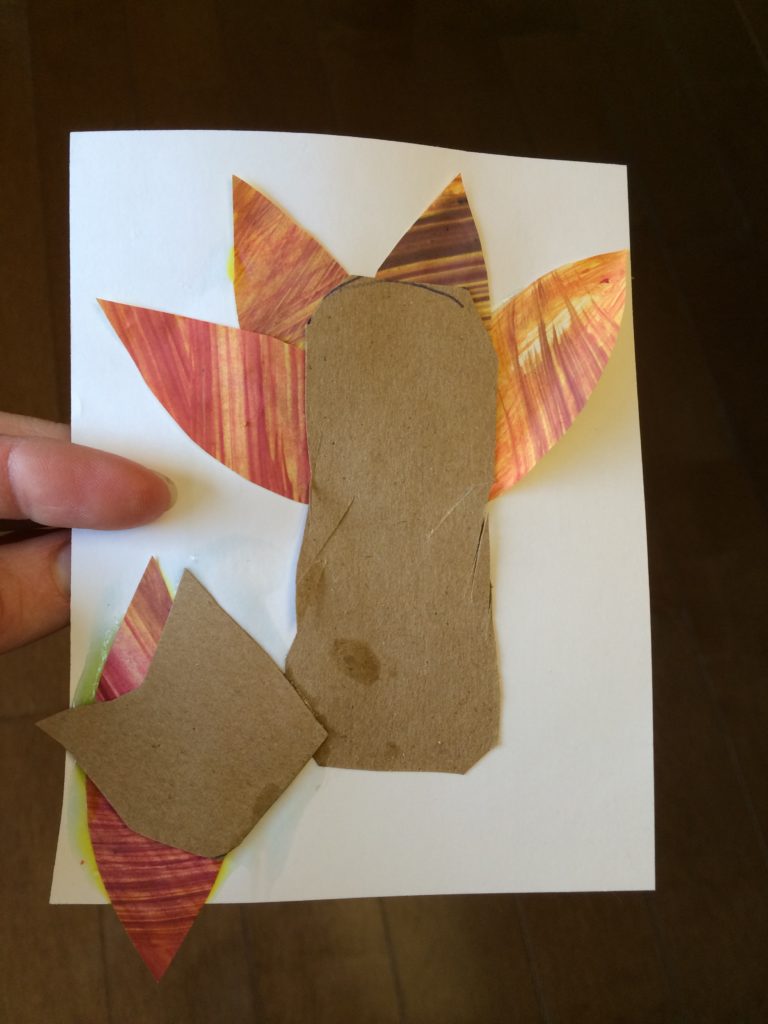 His perfectly adorable card was ruined! The glue would take days to dry. The paper was all wrong. We didn't need a feather and a brown scrap right THERE.
If only he had kept his hands in his lap for the minute I was away.
Because, shockingly, this is not the first time my angel Edward has taken it upon himself to ignore my instructions, I was frustrated. I huffed and snapped my way through the rest of the gluing and send Edward quickly on his way.
I had prepared just enough cards for his three grandparent units, his three aunts and his one uncle. There were no extras. I was going to have to use the card that contained the mess. It would be my least favorite card of the whole set.
I left the cards to dry, trying to forget my frustration.
The next day, Edward needed to draw faces on his turkeys and sign the backs, all before heading to school. I had cooled down a bit by this point, and when I returned to our project at the dining table, I was struck with inspiration.
I had to use the card. What was done was done, so maybe I should try to incorporate the mess into the design. 
As I sat through the painstaking process of helping a preschooler write his name six times, I looked at Edward's mess. It honestly mimicked the process we had been doing together - he had glued a feather or two, then the little brown body on top.
As I looked at the glue and the paper scraps, I began to see it as a mess that could be redeemed. We could make it into a baby turkey.
When it was time to draw on that specific card, I had Edward draw a face on his mess too.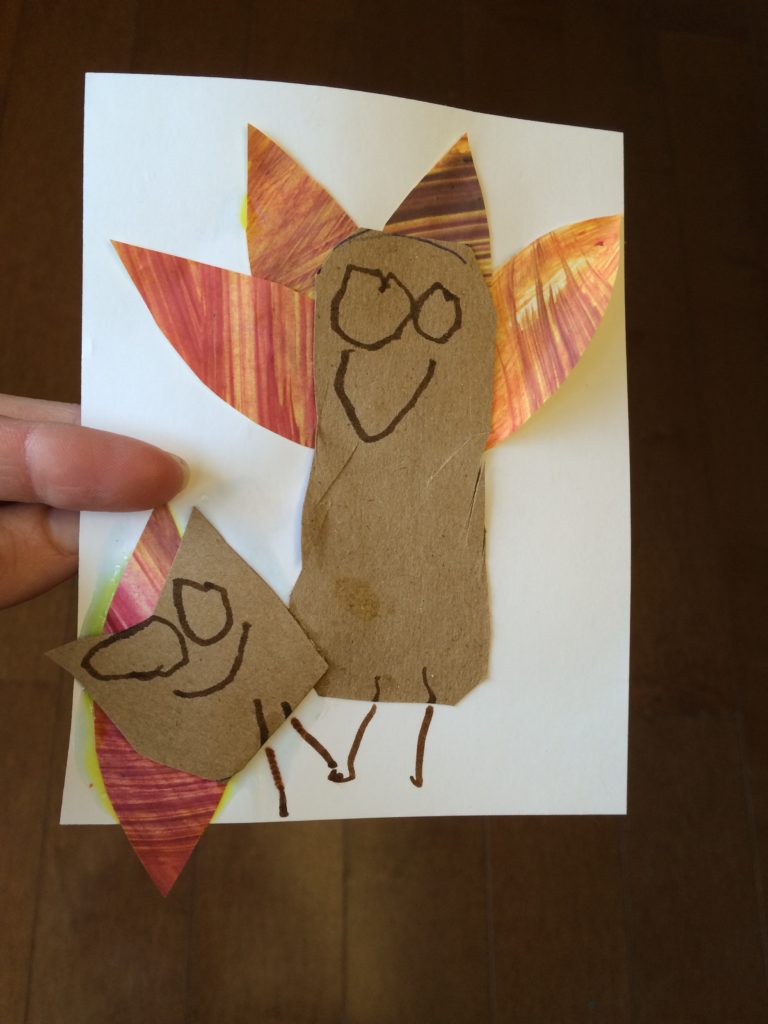 It was no longer a mess. It was a creation. It was art. It was beautiful. 
The card that made me cringe, was now my favorite of the set. It was unintentionally adorable. And I loved it.
I sent Edward to school and began stuffing the cards into their envelopes. As I worked, I daydreamed and reflected.
I had just redeemed a mess. I had made it into something beautiful.
In life, it's important to have an appropriate view of our "messes." Suffering and pain are guaranteed in the bible, but the promise of hope encourages us.
When we suffer, we need to look at our messes with the hope of redemption. 
"How can we redeem this mess?" should be the question on our lips.
Chance and I miscarried babies, but we redeemed the mess by growing our love of children to include adopted, special needs children.
Chance unexpectedly left a demanding job as we reevaluated living with more intention. He's now a better father and husband.
Some of our best friends buried their toddler daughter this summer, but continue to praise God for His provision over their finances as they pay off medical bills and funeral expenses. Their story of thanksgiving in the suffering has encouraged hundreds of their friends and family members.
In your life, it may look like a glob of glue and a card that cannot be salvaged. There might not appear to be anything positive in the situation, but God promises to work for his people's good.
We just need to allow God to make our hardships beautiful.
God will redeem our messes.