Manic Christmasy Monday - 12/21/15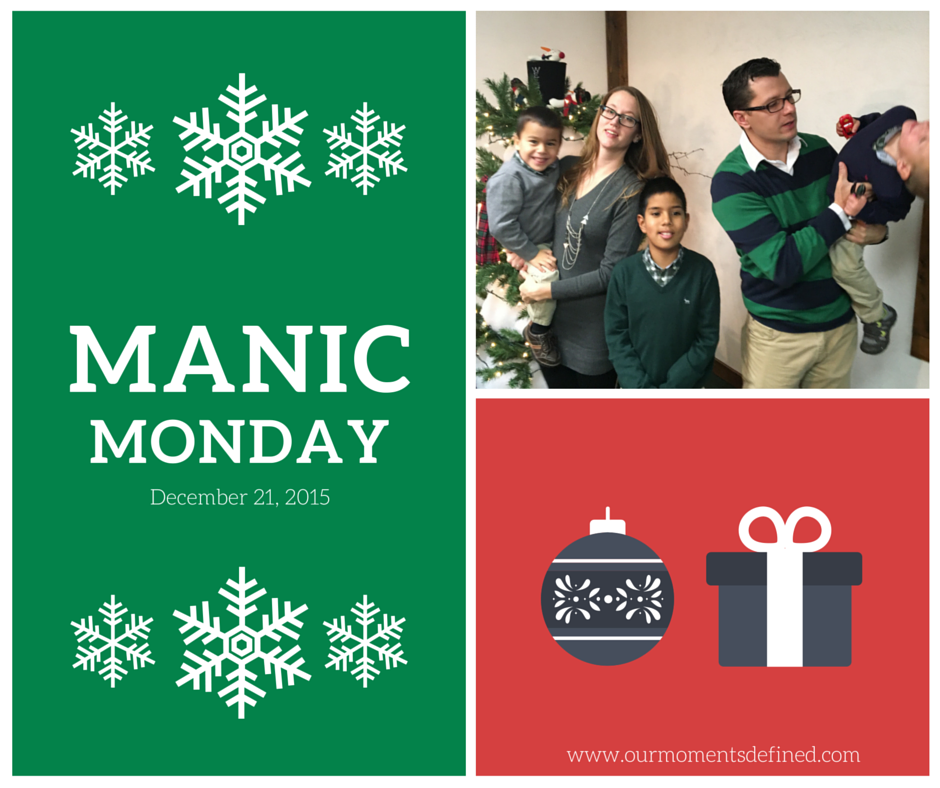 It truly is a bit manic around here as we (quickly) approach Christmas this week! I thought I'd do a post to update everyone on our lives.
The kids are all home on Christmas break. All day. Everyday. For fourteen more days. Nasko has a countdown. Mama might too...
I love having my kids around, but they have entered the stage of wanting to wrestle and, you know, be boys... so that's exhausting! If they'd just sit and color or something, this would be a bit easier.
One month ago, our best friends, Tyler and Sarah, boarded a plane and moved around the planet. They are now living in Sierra Leone, Africa. They are working with Lifegate in Africa and ministering to the people there. We miss them tremendously, but they are a huge asset to the Lifegate family. We are so thankful for all they are doing there. To read more about their story and their new normal, click here.
I am so not ready for Christmas. I have not wrapped a single gift. I have not even finished ordering all the gifts. Thank you, Jesus for Amazon Prime. I'll be finishing up that shopping today...
We tried to take a cute family Christmas photo. It started like this:

And ended like this:

Yes, two of my children are sticking out their tongues. If I still scrapbooked, I think I would leave a page blank at this stage of their lives and write "We stopped trying to take decent family photos, because, well... boys."

We did finally get this one, because I am determined, and I only buy them matching outfits once a year, so by golly, I was going to get a picture.

I have the most handsome kids. Seriously, they never sit still though...

My brother and sister-in-law leave NEXT WEEK to start their journey to South Africa. They are adopting a little boy, "T." He turns seven just after the new year, and he appears to have a TON of personality. I cannot wait! Because of the adoption process, they won't be home until late February. You can follow their story on their blog here.
We sometimes go months without being able to see Brian and Heidi (the soon-to-be parents), but this month, I will have seen them three different times. We're seeing them twice for holiday events, in addition to a trip Edward and I took to the Chicago-area airport to pick up a friend. If my kids haven't scared Brian and Heidi away from the idea of parenting by the time they fly out, I think they'll do alright!
I technically didn't know Brian when he was two (he is four years older), but from pictures and my mom's stories, I know that he and Louis are EXACTLY alike. Sometimes Louis will say or do something, and I am sure of the truth... I am raising my brother. Oh boy.

Edward loved getting to go with me (by himself!) to B and Heidi's house. I spent my time getting things done (helping record a video to send to their son and making ten freezer meals in one morning),

but Edward spent his time soaking up alllllll the attention.

Brian introduced him to Spiderman. Our lives will never be the same. Edward and I had a great time visiting B and Heidi together.

Nasko absolutely loves school, which is much of the reason for his countdown during break. He's gotten to go bowling a couple times on field trips recently.

He also made this adorable ornament which he claimed he was excited to give to me, but then promptly took it to his room and hung it on his own tree.

I suppose I'll just enjoy it in there!

That's about all I know, as we enter into this crazy holiday week (did I mention the kids are all home from school?!). Pray for me as I'll be desiring peace and calm. I actually took a couple pictures of calm last week, since it's such a rare occasion. Gotta get these pictures printed and framed... (These pictures also prove that Edward never, ever wears pants, apparently.)
Here's hoping for a great, and not TOO manic week!