Christmas Gifts for our Children
I thought it would be fun to share what we bought for our three kiddos this year. Our family is a bit unique (to put it delicately!), and so are some of our Christmas gifts. Our two adopted sons have special needs which include cognitive and physical delays. Our biological son, however, has the gifted cognitive skills of an early kindergartener. Here's a quick refresher of our three boys: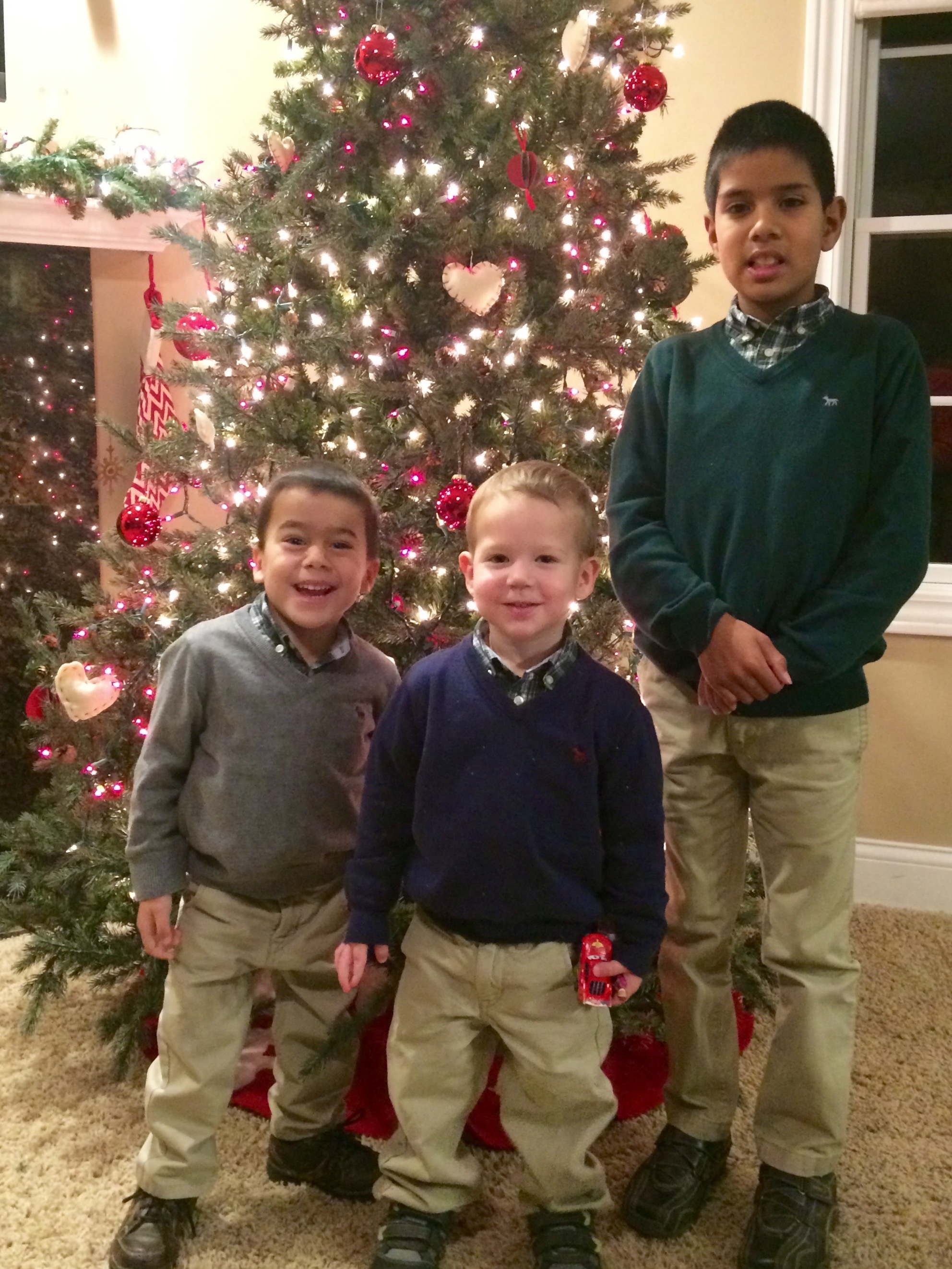 Nasko: (far right) chronological age - 9, cognitive age - 4
Edward: (far left) chronological age - 4, cognitive age - 3
Louis: (middle) chronological age - 2, cognitive age - 4 or 5
When Nasko first came home three years ago, we began the tradition of buying each of our kids something they want, something they need, something to wear, and something to read. This year was no different.
Here are the gifts we gave our boys for Christmas 2015: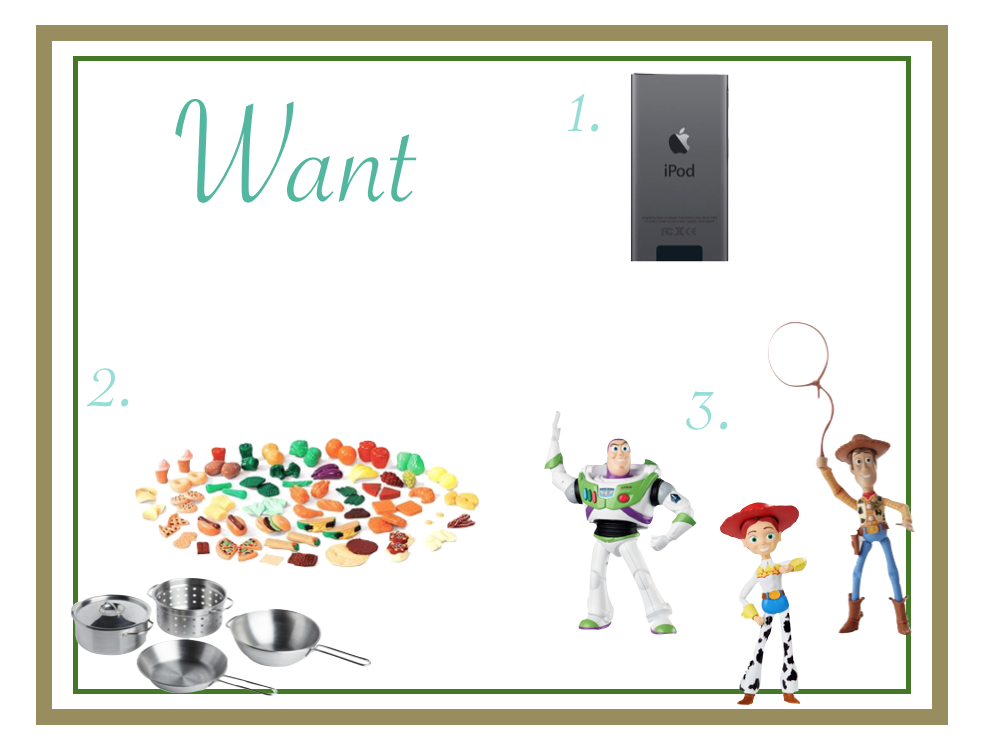 Want:
Nasko - iPod Nano - Apple's MP3 Player Nasko used to have an iPad, but this past year, his behaviors have escalated and he broke a few screens intentionally. He's been without an electronic device for three months now, and we are slowly allowing him some privileges again. My parents are combining efforts with us on this gift, as it's more expensive that we usually budget for Christmas. My parents are also gifting him a set of headphones and a case for the Nano.
Edward - Pretend Food, Pots and Pans Edward still isn't engaging in basic play very well, so this was a tough gift to choose for him. He does interact with our toy kitchen sometimes, and the current food we have there has seen better days!
Louis - Toy Story Characters Recently a friend came over with two of these Toy Story action figures. Louis fell in love. We also purchased the second Toy Story movie recently, so he is currently in an obsessed-with-Buzz stage.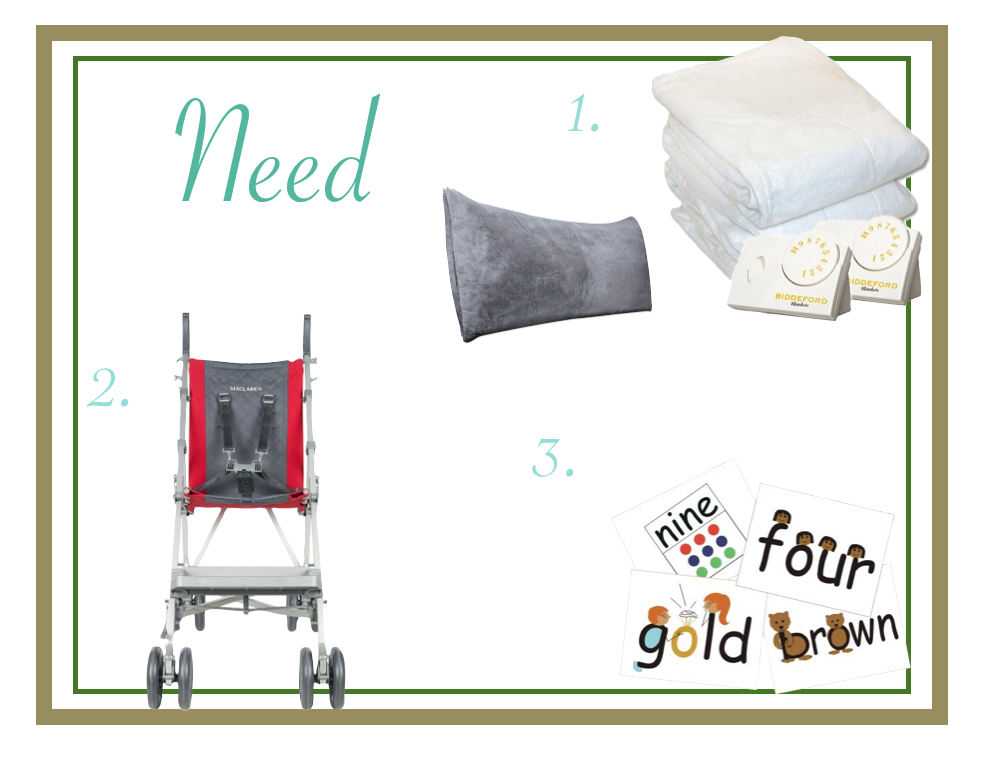 Need:
Nasko - Heated Mattress Pad, Furry Body Pillow This is where things get interesting! Fear and anxiety caused by school wears Nasko out, so he spends much of his time in bed after gets home (sometimes going to sleep as early as 5:30!). Since he spends so much of his time in bed right now, we thought we should get him some things that will make his bed more snuggly! He frequently disappears with Taty's space heater and Mama's body pillow, so we think he'll love these additions to his room.
Edward - MacLaren Major Elite Stroller This gift is as much for me as it is for Edward! He has outgrown our little umbrella stroller, but his physical disabilities make it difficult for him to walk long distances. I recently carried him through a Chicago-area mall, and was sore for 48 hours after. I began asking some physical therapist friends (and random strangers with big-kid strollers) for recommendations. This stroller is EXPENSIVE, but it has a weight limit of 110 pounds. Edward might not even weigh that much when he's in high school, so we're hoping this is a longterm purchase. Also, thanks to the generosity of an extended family member, the cost of this stroller was offset greatly. 
Louis - Snapwords Noun Flashcards Flashcards may not seem like a need, but Louis is the youngest. He inherits most things from his big brothers. He has very few needs! He does, however, have more cognitive abilities than his brothers, and we find it necessary to help those continue to develop. He's memorizing sight words, so these cards will be added to another set we already have.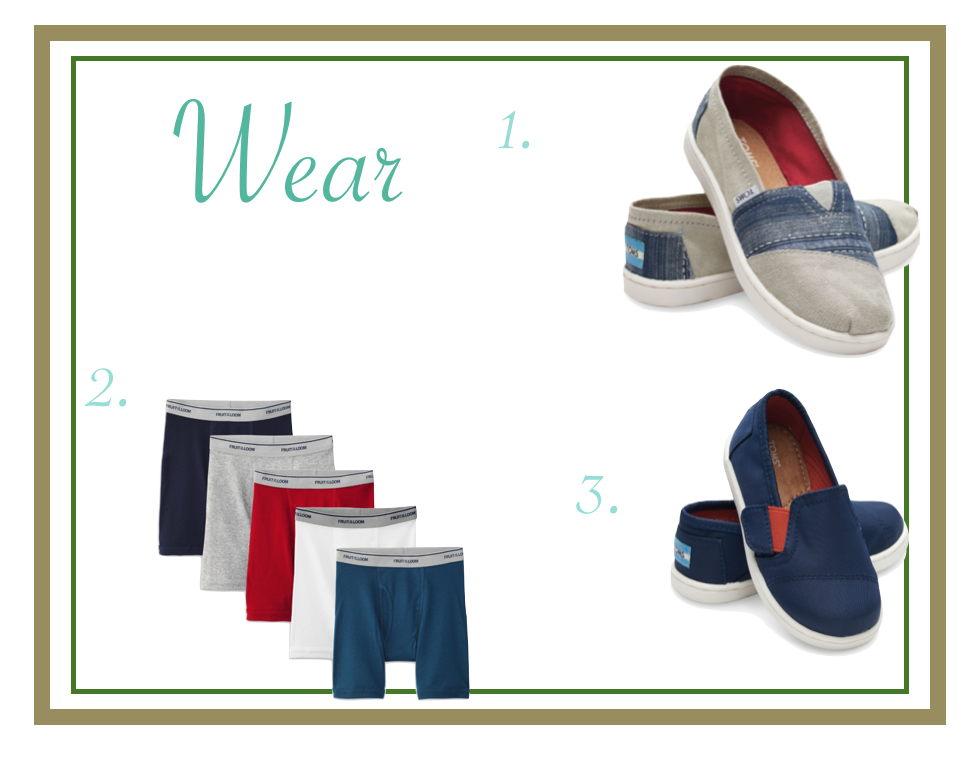 Wear:
Nasko - TOMS Shoes We love the "Get One, Give One" nature behind TOMS shoes. We also love shoes that Nasko can put on by himself (think: no shoelaces or complicated velcro straps). Nasko has worn through two pairs of TOMS in the past, so we know he'll appreciate these.
Edward - Fruit of the Loom Boxer Briefs This may be too much information for the internet, but Edward has been asking for underwear that looks like the kind a certain man in his life wears (ahem). So, to continue encouraging Edward in his potty training marathon journey, we bought him some boxer briefs!
Louis - Tiny TOMS Shoes Louis looks up to his big brother Nasko, and we think they'll love having similar shoes. (Side note: We decided not to buy TOMS for Edward because they are too narrow for his AFO/clubfoot brace.)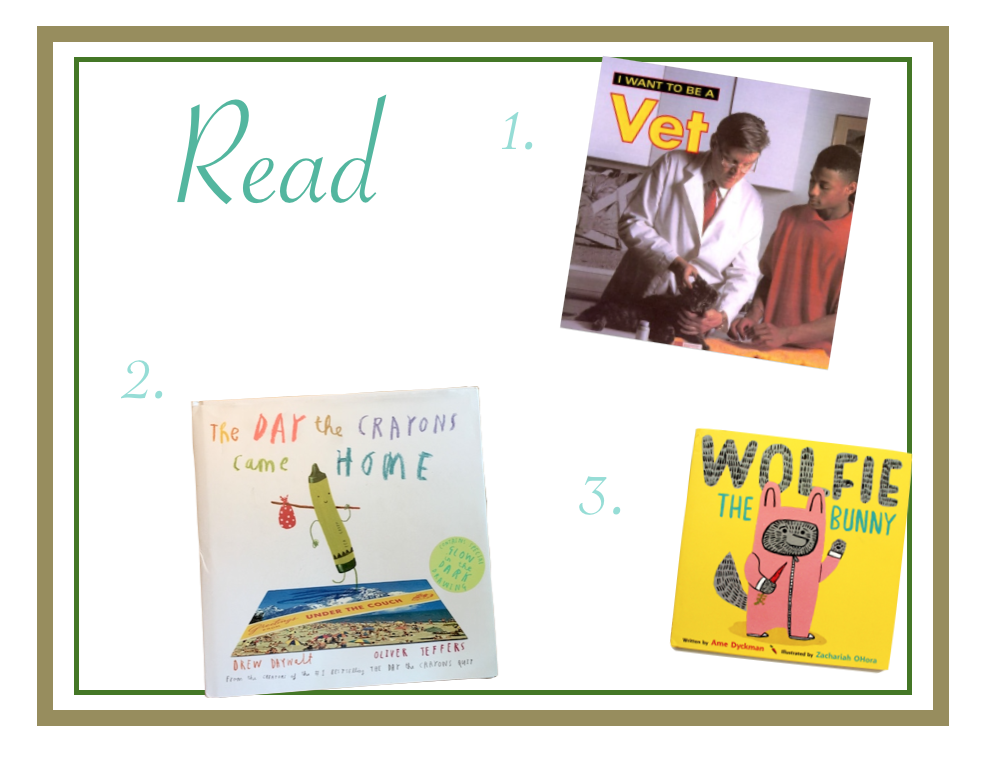 Read:
Nasko - I Want to be a Vet - by Dan Liebman Nasko has been wanting to read more lately, and he is especially interested in books from this "I Want to be a..." professional series. My mom is actually buying him multiple of these books. After this book arrived, she noticed there were syringes on five of the pages. Because of Nasko's obsession with harm, my mom is using a sharpie to black out the needles!
Edward - The Day the Crayons Came Home - by Drew Daywalt Edward and Louis' books are some of the best-selling children's books for 2015. I am excited to read these new titles.
Louis - Wolfie the Bunny - by Ame Dyckman Louis LOVES the big, bad wolf of The Three Little Pigs. I'm hoping his love transfers to this cute wolf as well!
This isn't normally a category we shop for, but twice now, we have been able to give our kids one big gift that they can all three share. Last year, it was a hand-me-down train table that was gifted to us by some friends (and is still used daily).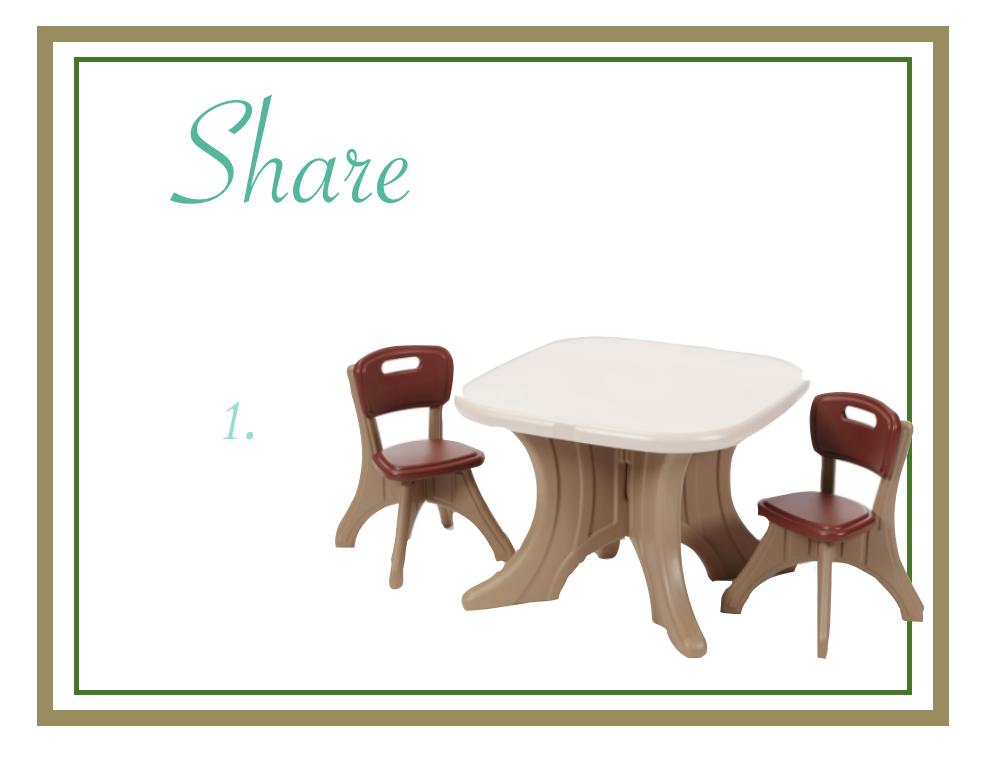 Share:
Step2 - New Traditions Table and Chairs This year, we were majorly blessed when Courtney Westlake (of Blessed by Brenna) contacted us with a surprise! She called and said that the toy manufacturer, Step2, wanted her to choose one family to be gifted one of their toys or pieces of furniture. Courtney chose our family, and we were given a table and chairs (a $90 value!) for free. This table and chairs set will be perfect in the new playroom of the farmhouse we are renovating. Thanks so much to Courtney and Step2! I can't wait to craft, create, and make messes on this cute table!
Chance and I exchange gifts every year, but we usually ask each other for a big-ticket item that isn't in our monthly budget. Because of this, there aren't too many surprises between us on Christmas morning.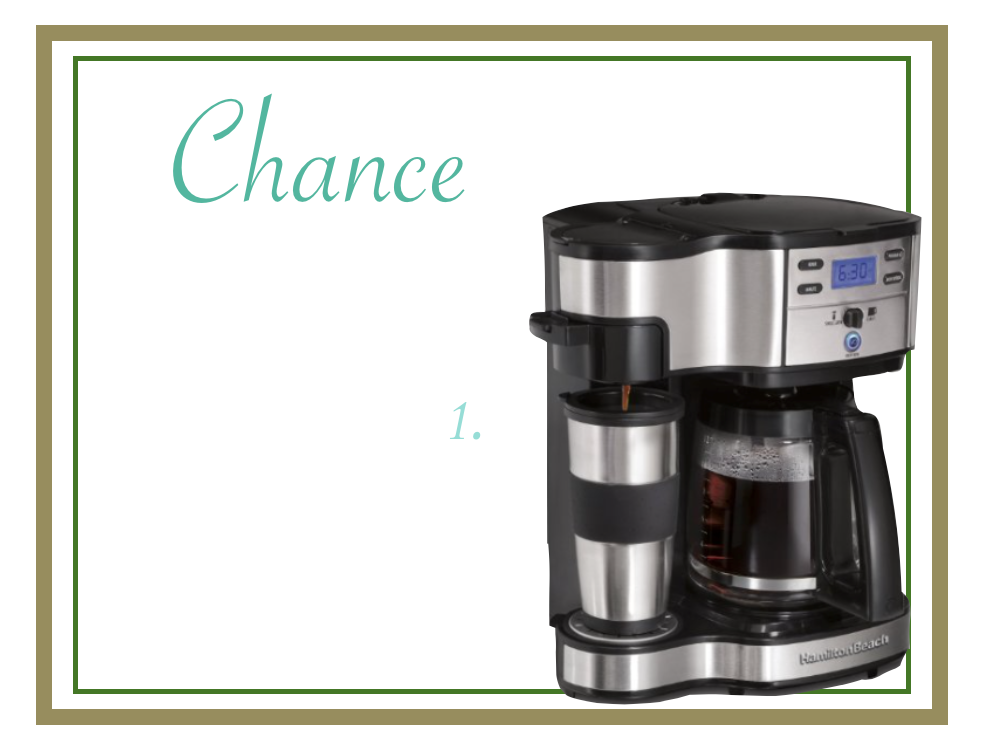 Chance:
Chance - Hamilton Beach Coffeemaker We have actually been borrowing a friend's coffeemaker for quite a few months. Chance hasn't been a consistent coffee drinker until recently (see previous photo of three boys to understand this life change), but he wanted his own machine this year.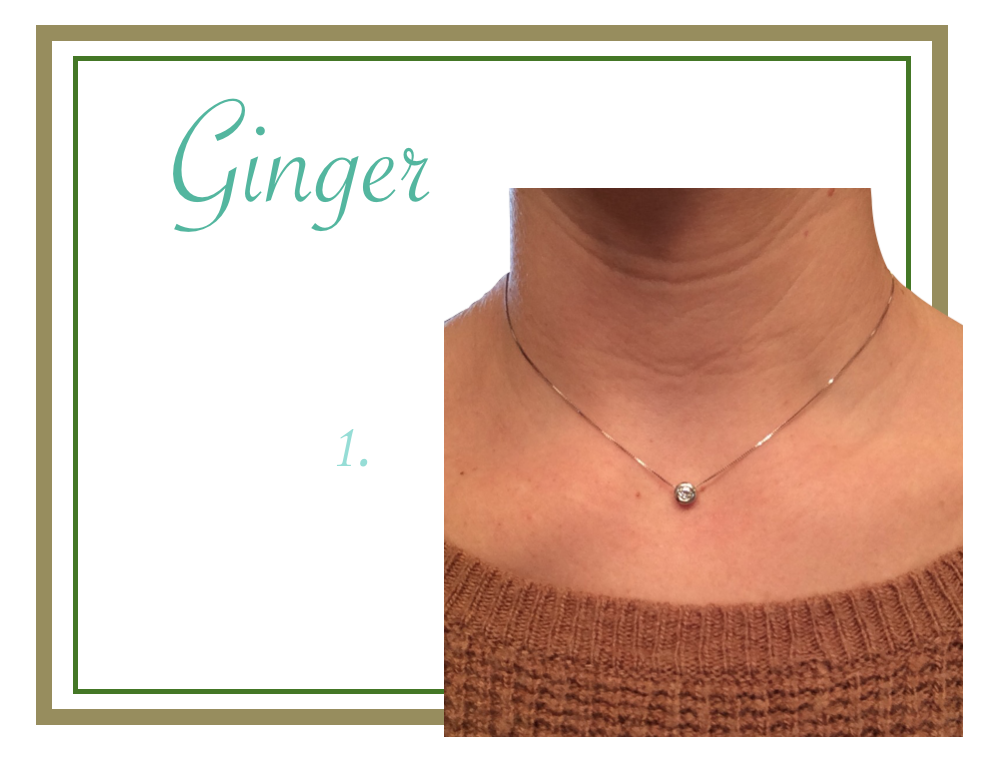 Ginger:
Ginger - Diamond Necklace When my grandmother passed away in 2014, she not only left us her farmhouse, but she also left a diamond from her ring. My grandfather had a ring designed for her shortly before he passed away; this ring contained two larger diamonds (for my mom and aunt) and four smaller diamonds (for my brother, my cousins, and me). We've each taken our respective diamonds and had very different pieces of jewelry designed with them. I wanted something that was simple and elegant, but could be worn all the time. This year for Christmas, I received my grandmother's stone in a necklace. 
Finally, we grabbed a few items for the boys' stockings. We don't "do" Santa here, other than in books and pretend play, but we still tell the story of Santa and St. Nicholas, so the kids do understand what their stockings (or "socks," as Edward calls them) are for!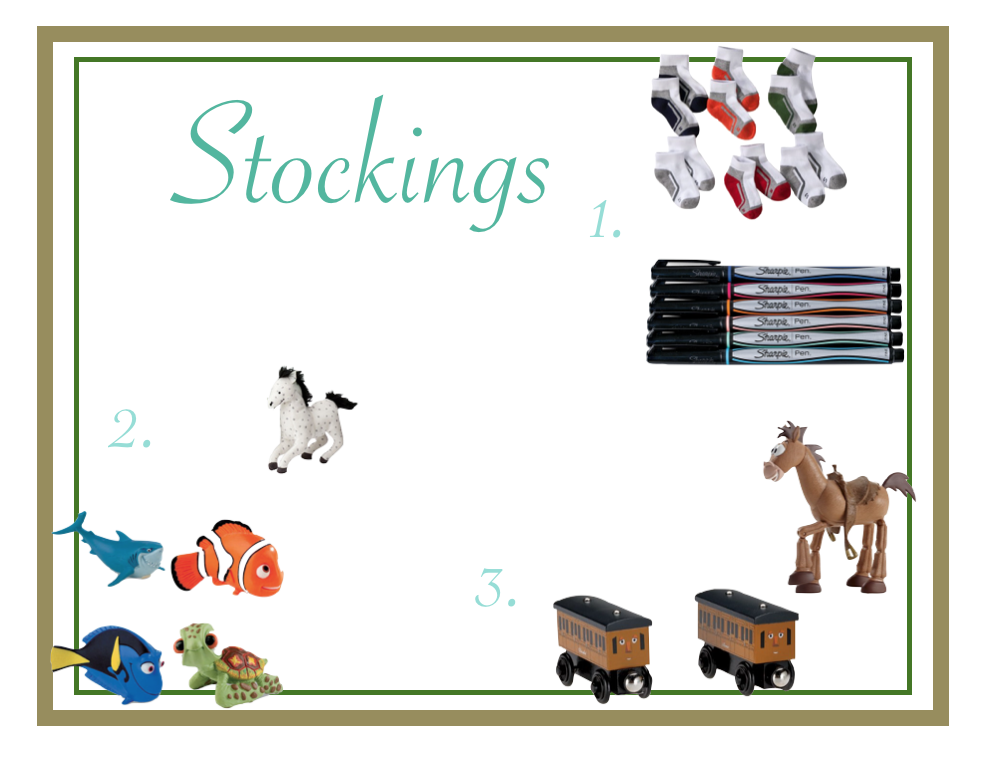 Stockings:
Nasko - Cherokee Socks, Sharpie Pens Nasko's feet won't stop growing, so he was in need of new socks. (We are boring parents, I know! He's so hard to buy for though!) He does love to play school while at home though. His favorite teacher carries these Sharpie pens, so we got him some of his very own.
Edward - IKEA Horse Finger Puppet, Nemo Figures At IKEA last week, Edward carried this horse finger puppet through the entire store. I told him that we couldn't buy it, so he will be excited to see it in his stocking! Also, until last week, he didn't ask for anything for Christmas. (Except for a real horse. We said no.) Finally, he declared that he wanted Nemo toys. We scrambled to get him some, but we already had his other purchases made. We're just going to stick these in his stocking!
Louis - Toy Story Bullseye, Annie and Clarabel (Thomas) Trains Continuing the theme of the Toy Story characters, Louis will get the final one in his stocking. He'll also get two more train cars to add to his (ridiculous, but SO loved) Thomas the Train collection. He sleeps with at least six trains every night, so we suspect these will join in for the snuggles sometimes.
Fortunately, Chance and I got all these presents wrapped last night; we've hidden them though, because two of my children have issues with impulse control, and one of my children is two years old (enough said). We plan to allow the boys to open their "Need" presents tonight (so Nasko can use his bedding, and we can pack Edward's stroller before heading to my parents' house for a few days!).
Hopefully all your presents are wrapped, ready, and under the tree. We're so grateful that we have been blessed with the ability to buy our children presents, especially some of their wants. It is not lost on us that many families around the world are not that privileged.
[The links in this post do not generate me any money. They are strictly there so I won't have to answer "Where did you get that?!" emails. No one pays me to write this blog, sadly. I just do it because I enjoy it! Also, adding those links helped me look busy as my children are all home on Christmas break and think that I should be at their beckon call. Just no...]