How to Maintain Self-Care During Your Child's Hospital Stay
My middle son, Edward, recently had an invasive neuro surgery in his lower back. Following his procedure, we spent three nights at St. Louis Children's Hospital. Three nights of medical care is minor for some families; I realize that.
During our short stay though, I realized I had to be intentional about taking care myself, so I would be better able to care for my cute patient. For caregivers – whether you are in the hospital for one night or one month – self-care is extremely important.
Today, I thought I'd share the wisdom I gleaned from our time at the children's hospital. Feel free to pass this info along to friends and family preparing for their own child's hospital stay.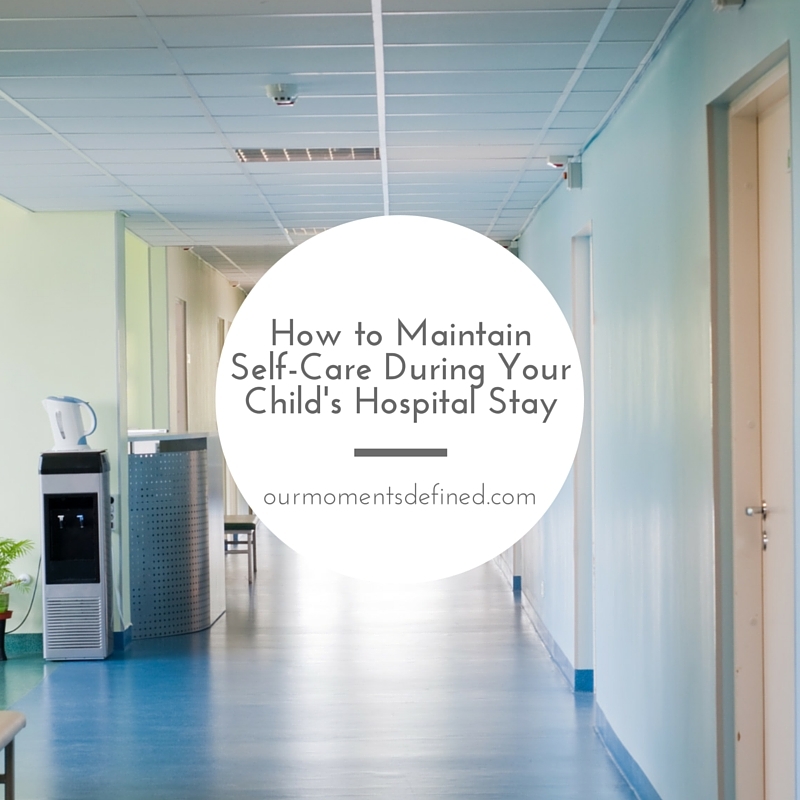 1. Make Daily Hygiene a Priority Through the sleep deprivation, invasive questions, and lack of routine, the moment which made me feel most human was when I'd step out of my morning shower. I purposefully made time to take a leisurely shower every day. It helped to wake me up and make me feel better about myself. Most hospitals have showers available for caregivers.
2. Dress How You Want to Feel Many parents spend their hospital days in pajamas and yoga pants, but I know, personally, if I exist in only lounge wear, I'm more apt to feel sleepy and drained. Even as a stay-at-home mom, I've found I have a better attitude and increased productivity when I wear my "real clothes" instead of just loungewear.
The same is true during a hospital stay. While we were admitted, I wore a fitted t-shirt and skinny jeans everyday. Most days, I even tried to throw on a cute scarf, a belt, or fun earrings. Feeling good about how you look will help your whole attitude remain positive.
3. Eat Well, but Allow Indulgences While most hospital cafeterias leave much to be desired, they are slowly moving towards healthier options. During our hospital stay, I tried to remember the importance of fruits and vegetables in my diet! If there were a cooked vegetable (my food intolerances allowed) I added it to my tray.
I also didn't allow myself to skip meals. Not eating makes me even more tired and causes me to be cranky. In an environment that already gives way to exhaustion, it's important to maintain healthy habits and eat regularly, in order to feel your best.
I must say though, it's ok to indulge once in a while during your stay. In the hospital's cafeteria, I found amazing caramel popcorn which fit my dietary needs. I'm not actually going to admit how many bags of it I ate, but let's just say it was my little treat while we were there. Having this treat (usually after Edward fell asleep at night) gave me something to look forward to!
4. Utilize Donated Services Ronald McDonald House Charities provide services in most major hospitals. Many times, they offer cheap or free housing to families who are staying with their recovering children. They are funded and run entirely by donations and volunteers, but they are there for YOU.
Call ahead and arrange lodging if you know your surgery date or check with your hospital to see if they have any on-campus services
In St. Louis, we specifically utilized the Ronald McDonald Family Room. This space serves as a little piece of home, within the sterile environment of the hospital. The room is decorated with earth tones and picture frames. There are comfy couches, books, and board games provided.
I used the shower in the Ronald McDonald Family Room everyday. It was cleaner and nicer than the showers maintained by the hospital. There was donated shampoo and soap if you weren't prepared with these items (or if you lost yours, like me...) There were free washers and dryers available for use in the family room as well.
To help support the Ronald McDonald House Charities so they can continue to provide services to caregivers, please click here.
5. Go Outside The hospital is a strange place where time seems to get all mixed up! Our schedule was never the same for more than one day, and sometimes we slept for long stretches during the day instead of at night. Going outside helped remind me what time of day it was (and, honestly, which season of the year!).
6. Take a break Whether it be to get in a leisurely shower, to step outside, or to grab a cup of hot tea, allow yourself a break from your child's room. Remove yourself physically in order to take a mental break.
My mom was gracious enough to accompany Edward and I to the hospital. The presence of a second adult allowed for more opportunities to slip away, but shortly after surgery (when Edward wanted only Mama), I took my breaks only while he was sleeping.
7. Bring Pajamas and Slippers One thing I wish I would have known was to bring more pajamas. At home, I wear the same pajamas for a few days before tossing them in the wash, but after just one night in the hospital, my pajamas felt dirty. From adhesives, to medicine, to spilled food, my pajamas got a little gross. I'd honestly suggest one pair of pajamas for each night.
Also, I brought slippers for Edward, but for those late-night bathroom runs, I wish I had thought to bring mine! It wasn't idea to slip my shoes or boots on just to run across the hallway to the public bathroom.
8. Have Something to Do While it seems like a day at the hospital would be very busy, there are still many moments of waiting. Whether we were waiting to see a certain doctor, or even waiting for the initial surgery to be completed, keeping busy helped me maintain my sanity.
I, personally, brought my iPad stocked with ebooks and and my blogging app. My mom brought a needlepoint project and a few books. We were both thankful to have distractions during our downtime.
9. Get Good Rest While the hospital is supposed to be a place for patients to rest and get well, it is not the most conducive environment for sleep. The motto that parents of newborns follow also applies here: Sleep when they sleep. You never know if your child will be awake all night, so you need to catch ZZZs when you can.
Some hospitals observe quiet hours at night, but the rooms are never as quiet as your bedroom at home. I am a light sleeper, so every noise in the hallway would awaken me. To block out some of the noise, I downloaded a fan app for my iPad and iPhone. The sole purpose of the app is to provide white noise sounds, similar to a fan. It did the trick for helping me (and Edward!) sleep well. There were multiple times during our stay when we didn't even hear the nurses come in and out of the room.
In order to be the best caregiver possible, it's important to maintain self-care, even while in the hospital. These are my nine tips, what do you suggest?