Our Moments Defined (Blog Re-launch and a GIVEAWAY!)
Maybe you were wondering why things have been radio-silence here on the blog for a bit (or maybe you hadn't noticed and just chalked it up to my typical inconsistent posting – that's fair...), but in all actuality, it's because I've been thinking, reading, restructuring, and planning. For a little while, I've been feeling like my blog needs a little more vision and direction. I have quite a few faithful readers (thanks to all the ladies my mother pays...) and I wasn't sure if I was adding anything useful to the noisy "conversation" that is already taking place all over the internet and social media.
Despite the fact that most of you read the blog because I have cute kids, I didn't feel like that was enough. (But they are cute...)
So, with much prayer, thought, and love, I am re-launching my blog as "Our Moments Defined."
Over the next few days, I'll take the time to highlight some of the changes around here. (You may have already noticed that the homepage looks drastically different!) But first, I need to make sure that all my peeps find me here at my new address.
My previous page was found at http://momentsdefined.wordpress.com/
The domain (the web address) was hosted by Wordpress. It was all fine and good, but sometimes when I wanted to share the blog with a person in the real world; it was a little cumbersome to tell them the long address. (First world problem, yes?)
I've also learned that, apparently, "grown-up bloggers" own their own domain.
So, I purchased the rights to www.ourmomentsdefined.com! My previous blog will soon stop receiving updates, and all posts will be here, at my new address.
Because I know you won't want to miss a moment of the action (ahem, or a cute picture of my kids) there are some things you can do to ensure you don't get left behind!
First, my blog offers a handy-dandy little email sign-up.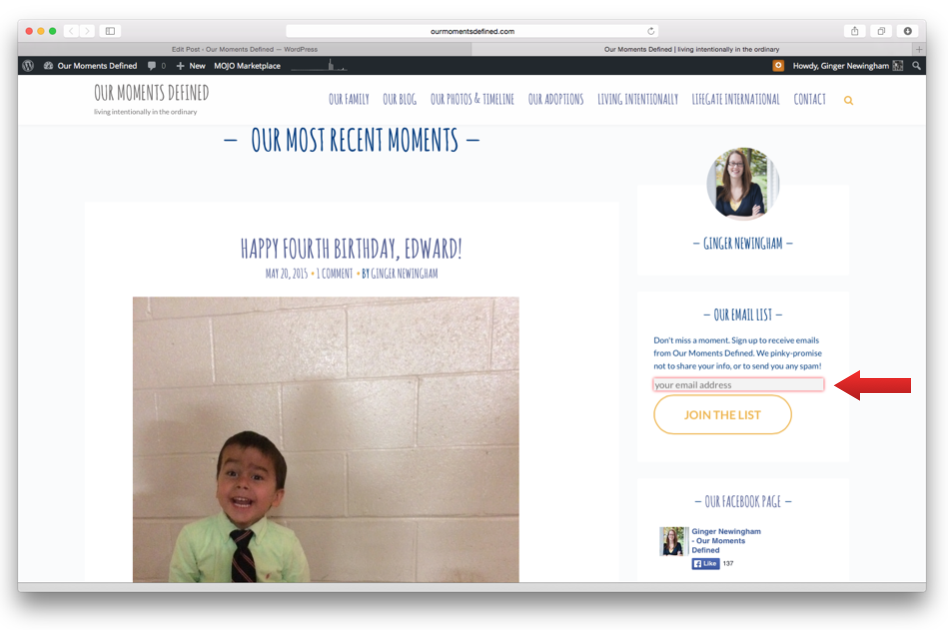 To get to the email sign-up, you'll need to go to my homepage. You can get there by clicking here.
Now, over on the right-hand side of the screen, there is a place for you to put in your email address. Every time I post to the blog, you can receive the post in your email. This is the best way for keeping up with my family!
Second, I recommend finding "Our Moments Defined" on Facebook. A link to our page is here.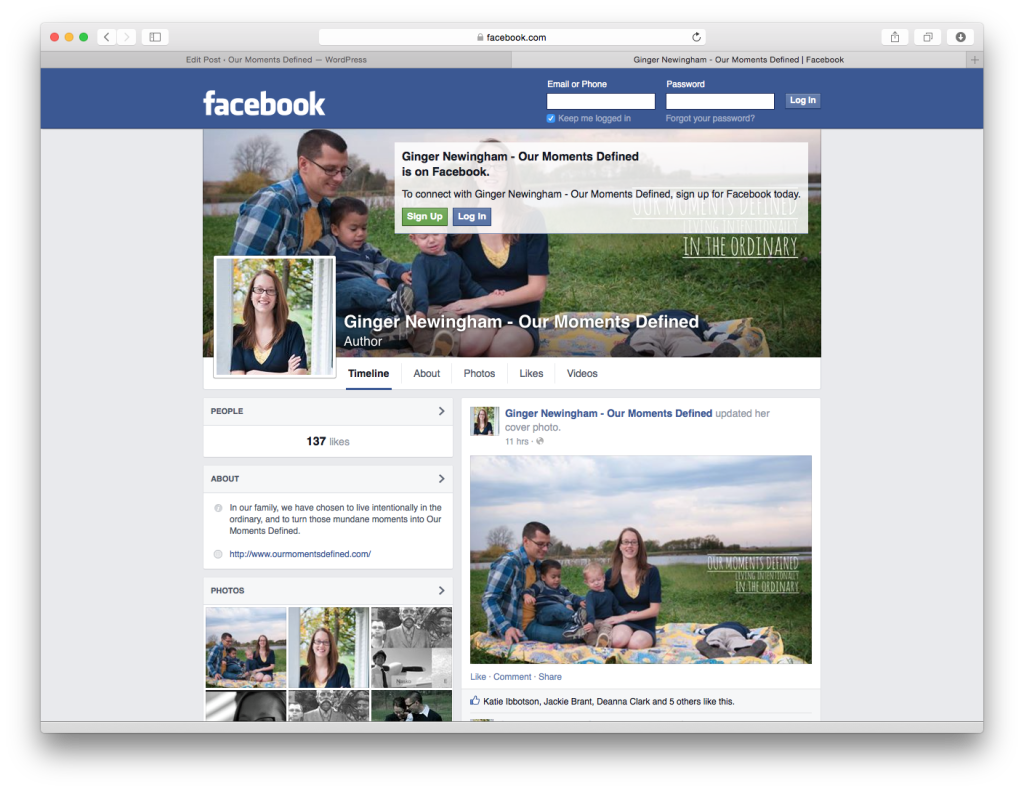 You can also "like" the page very simply from my blog. Just underneath where you signed up for the email list, is a link to "like" our Facebook page.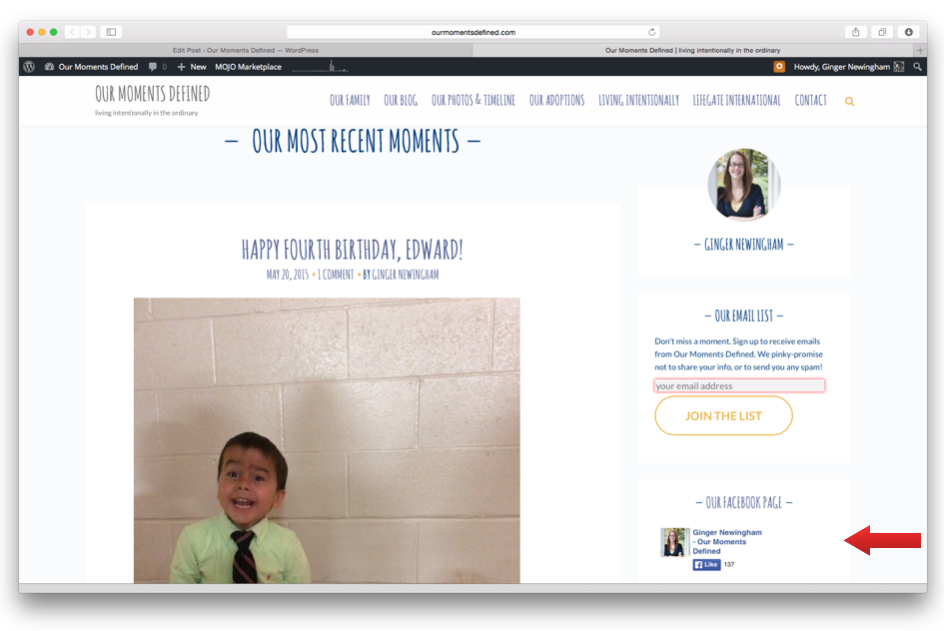 Now, in order to motivate you all to get signed up, and never miss a moment, I'm going to host a giveaway here on the blog! It starts today, and runs through Saturday, June 20, 2015. It will end at 5:00 P.M. CT.
I'm going to give away a $10 iTunes gift card! (If you don't know what to do with an iTunes gift card, just enter, and if you win, you can give it to one of your grandkids. They'll know what to do!)
Each one of you has three opportunities to enter this giveaway. Here's how:
1. Sign up for the new Our Moments Defined email list.
2. "Like" our Facebook page.
3. "Share" my blog - on Facebook, Twitter, or Instagram. (You might write, "I follow this crazy lady and her cute kids on their blog. You should too." Or something... you know.)
Now, after you've done those three things, please leave me a comment (here on the blog or on Facebook) letting me know if you've done all three or any combination. That comment is how I will know to enter you into the iTunes gift card giveaway!
And since most of you came for the cute pictures, here's one with Louis (and Chance and I, sorry about that!) showing that we already have the iTunes gift card here waiting for you!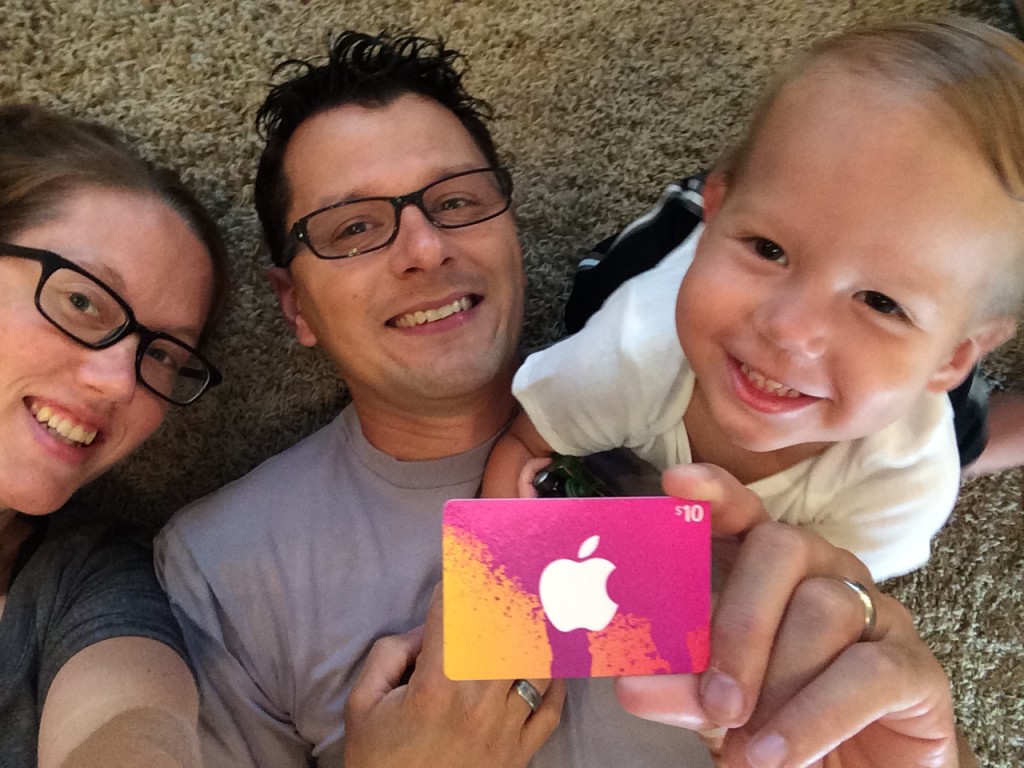 So what are you waiting for? Enter to win, and get signed up so you don't miss a moment!